My Early Memories of Beeston - by Alan Mann
Alan Mann, now in his early 80s, looks back on his early life in Beeston and gives us an interesting insight into an era that has now passed - but, as Alan has said, "those days were fun, but I'm glad they're gone"


We continue to be in touch with Alan and hope to continue with more of his memories.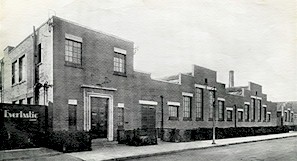 I was actually born in Derby, but my family were at 78 (I think) Denison Street in Beeston before I started school. I remember going next door with my dad to see our neighbour who actually had a radio (then, of course, called a "wireless" by everyone) - quite amazing! We moved from there to 31 Sidney Road and from there to 6 Farfield Avenue. My dad worked for Sellors - the hosiery firm on Regent Street, on the corner of City Road. (To the right of Everlastic, shown here) It was at Sidney Road where we first acquired a radio, it was a mains radio (considered "dead posh") - not one of those sort with an accumulator that needed to be re-charged at the newsagent on Wollaton Road.
In 1935 or 36, while at Church Street School, I was sent to Mr Cosson's room for larking about in the playground, expecting the cane I found him putting on his coat ready to go home. He said "Off you go, boy." and I escaped without even so much as a telling off.
One of my school mates was Russell Old, whose father had a butcher's shop on the corner of Broughton Street and Wollaton Road. We attended what was then known as Beeston Fields Upper Council School.
Many years later, aged around forty-two, I was in the Beeston Post Office and my old headmaster K D Roberts came in - bicycle clips, leather patches on jacket, flat cap, bushy white eyebrows; he came straight up to me and said "Ah yes, Alan Mann. Very good at art, weren't you boy!" I sprang to attention. Here's me, over 40 years of age and deep into adult livelihood springing smartly to attention in a crowded post office. The old-fashioned habit of respect dies hard does it not!!
As a boy, I was in the Lads'Club (17th Beeston Boys' Brigade) and in the bugle band. My mum knew Fred Hallam at his High Road shop, of course and I worked weekends for Oscar Hallam ("By the clock you know our shop") as an errand boy. I do remember collecting watercress for my mum from the roadside streams at the lower end of Beeston and Attenborough. The gravel pits were an idyllic playground for boys with bicycles and catapults. My mum got the family's rations from The Maypole - and had a blazing row with the shop assistant who cut the cheese ration to the exact weight then put the extra bit into her mouth, My mum was furious saying, "I could have had that bit. I've got four to feed!"
The first job I had was with Mr Wood the blacksmith at the bottom of Wollaton Road. I wasn't there for very long before I started my apprenticeship with Fred Wright the plumber who was on Nether Street.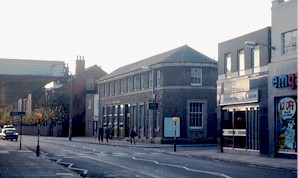 When I was in my late thirties, I left Beeston and went to study in London at North-east London Polytechnic, entering a two year course in social work, a course designed for those who, because of the war, had missed any opportunity for further education. I came back to do social work in my home town and, in those days before the Seebohm Report (1969), I was known as a child care officer but, after Seebohm, we all became "social workers". We had an offiice on Chilwell Road next to Beeston Post Office, a house formerly occupied by one of the first lady doctors in the Midlands, Dr Winifred Thompson, a rather dignified lady who latterly came to visit us in her former home.(Opposite the church, and visible in the distance, behind the trees, beyond the Post Office in this view from the 1980s. The sorting office on the corner of Foster Avenue is now The Last Post pub.)
After a few years, I found work in London where I have remained to this day.