My Memories of Beeston - by Bert Toon
Bert Toon was born in Beeston in 1931, the son of Herbert and Elsie (née Lee) Toon. After National Service, he worked at Ericssons for a while before emigrating to British Columbia, Canada in 1956. Bert has been an avid follower of this site, virtually from its inception and, over the years, has contributed by offering comments and names to photographs. Now, he is keen to put his memories of Beeston down on paper so that we can all share them. He has many photographs too and we will look forward to seeing them here. Thank you, Bert!


Here are the first three installments in Bert's own words. Great stuff, Bert - we look forward to future installments.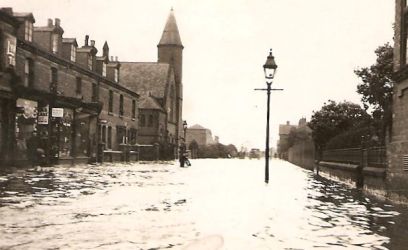 I was born in 1931, in Beeston Boilers general foremanís house, in their gardens at the corner of Hawthorn Grove and Queens Road. My grandfather was Clem Lee, general foreman at the time. We lived there for three years until my grandad had a stroke and passed away. We had to leave the house and moved to 58 Henry Road, along with my grandma Lee and her sister who was in her 70s. There was a flood in Beeston about 1933ish (see Queens Road on the right), so we all had to move to 177 Station Road where I lived until 1949 when I got called up.
I remember the Majestic Cinema being built across the road as I used to go and play in the sand piles as I had a cousin working on the site and it was OK!
At 5 years old I had to go to school at Nether Street. I was there until the war broke out, then on to Church Street, then on to Venn Hall on Dovecote Lane, behind the Baptist Church. When the air raid sirens started we all had to file across the street and go into air raid shelters on the rec. From then on, it was Beeston Fields Boys School. My memories of a few teachers - Mr Roberts (headmaster), Mr Swaby, Miss Critchlow and her rabbits, Miss Wilson, Mrs Silvertand, Mr Merchant.
Here are my early memories of Station Road from Queens road to High Road There used to be chip shop next to the creek that ran under Station Road to Broughs the builders' yard. Over the creek there was Regent Hall with a dance floor upstairs in the building, where my Dad used to play in Ted Whitby's dance band. Then Middle Street with the White Lion pub on the corner, Morris's paper shop and Ma Bailey's junk shop, opposite a fish and chip shop and Peels on the corner. Then up to Foster and Pearsonís timber yard, then a row of shops to the High Road.
I joined the Boys Brigade in 1941 when I was ten. My dad's brother in law was a officer Mr Arthur Johnson. The Captain was Mr Charlie Williams. Great memories of the club - more later.
Going back a few years. I remember the fire at the Humber factory on Queens Road. It was at night and my dad and mam took me to see it. We all stood in the toffee shop doorway across the street.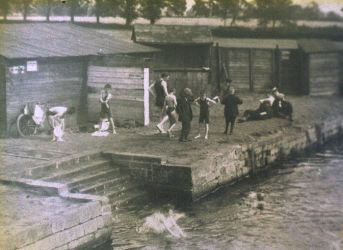 Living in Beeston was safe in those days. One of the highlights in the summer was going down to the canal, swimming at the bridge (This was known as 'Beeston Lido' and is shown left, in the 1930s). There was a caretaker there with two changing sheds and steps down to the canal. When a barge was coming he used to blow a whistle and we had to get out fast. At the weekends, the banks at the bridge were full of families picnicking - great times!
My Dad, his brother and four friends started the Beeston Toreadors Carnival Band. He was the drum teacher, uncle Dan the rhythm section, Frank Fern was Drum Major. I also had an uncle and aunt in the band. Some days the band formed up on Boiler Company Sports field, marched along Queens Road, turned left on Station Road, over the railway crossing and past the Jolly Angler pub to Ellis's farm, where thy practised. After the pub it was all farm land to the locks. After the band finished they went up to the Jolly Angler for a refresher! The children played in the swings and slides outside having lemonade
My Dad played with Ted Whitby's band for 18 years then went onto the Grange Farm restaurant at Toton were his brother had a small band for parties, etc. Dad was the M C for the functions.
Going back a few years, Elsie, my mother, was a Lee family member. She had three brothers and one sister. The brothers - named Sam, George and Harold - all worked down the Foundry as molders, along with my Dad and all my Lee cousins. My grandma Lee had two brothers who were butchers on the High Road, one who had a tobacco shop in the Roman Jewelry shop next to the Prince of Wales pub
Before the war, times seemed ok. Dad was a big match angler and, in season, his Sundays were mostly spent fishing down Trent, always near Attenborough bend. After 12am we all trooped down to see the weight and took him a few sandwiches and bottle of tea. When the fishing season was out,Sunday night was a family walk - one week it was up Wollaton road, over Derby Road, up Sandy Lane or 'Devil Steps', to Wollaton village, to the Admiral Rodney pub for a rest, then all the way back, picking blackberries on the lane. Another Sunday it was along the Trent, over the gravel pits to Attenborough, stopping at The Blue Bell for a rest. They had a play area with swings and slides for the children. One I did not care for was the walk up Humber Road, turning right along Fletcher Road and through a path alongside a brook which I think was Pasture Dyke which joined Tootle Brook that went to the paddling pool, then along side the boulevard to Lenton were it met the River Leen.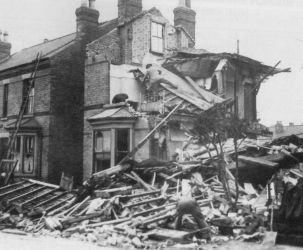 When the war broke out I was 7-years-old. At Station Road we had an air raid shelter in the garden with two bunk beds and seats. Dad was a Fire Warden. When we had a siren go off we got up and went down the shelter. There wasn't much room as my grandma Lee and her sister plus a little sister who was aged about three were all there. One night, in April 1941, we were in the shelter. Dad was out doing his watch when a few bombs dropped on Queens Road and Mona Street - one near the Queens pub and the other in Mona Street. I remember my dad coming to the shelter saying he was going to check on Mona Street as my grandparents lived there, along with two aunts who also lived in houses down there. He came back after a while and said the house next to my grandad had had a direct hit (see right). It had missed their house but blew my grandparents out of their bed. Dad brought them round to Station Road where grandad died the next day. He had had a heart attack. Grandma went back after some damage had been repaired.
I remember one Saturday dad took us to the cinema in Slab Square in Nottingham. At the bus stop after the show there were two ladies and four children crying at the stop. Dad asked them what the trouble was they said they were from London and had been bombed out and had an address in Beeston. Anyway, we all got on the bus and when we got to Station Road, dad said come on in for a cup of tea and rest a bit. The two ladies were sisters and both had a boy and a girl. To cut a long story short, one family stayed with us and the old couple next door took in the other family. Their husbands were firemen in London and could not leave. The 'cup of tea' lasted 18 months!! They went back to London but about six months later there was a knock on the door - it was the family again. They had been bombed out again and said can we have our room back. Finally, they went back and remained good friends right to the end.
Any way, during the war dad played with Ted Whitby's dance band. One of the locations. the Premier Dance Hall above the Long Eaton Co-op at the bottom of Park Road, Chilwell was a regular night on Saturdays and I used to go with Mam and Dad. Mam sold tickets at the door and I used to go into the menís cloakroom and give them a ticket for twopence. As most of the dancers were American soldiers from their camp in Wollaton Park and they liked tipping, often they would give me a shilling or more and say 'keep the change'. Who was I to argue with a soldier - it paid for my Wakes Week in Blackpool!
Iíve got pictures of Boiler Company floats in the Beeston Wakes Parade starting on Markhams Field were Roundhill School is now. Bands and floats, along with various clubs, marched down to The Square turned right onto Middle Street, then down Dovecote Lane to the Rec where there were tents and rides for the kids. Bonfire Night was held on the same grounds. There was always something to do in Beeston.
As I mentioned earlier, I joined the Boys Brigade in 1941 when I was 10 years old and it wasnít very long until I joined the band - drums of course, after my dad, and having lots of drums at home from the local Toreadors Band. My dad used to put new drum head skins on the ones that had been burst by too eager drummers and he taught me how to soak pig skins and then stretch them over the hoops when they were very soft before they dried taut. The Band Officer was Mr Frank Sibley who lived down the Rylands. The officers were Arthur Johnson, Cyril Pie, Walter Morley, Sid Steggles, Les Pritchett and Earnest Stone. The Captain was Mr Charlie Williams. I have never forgotten the many friends I made and I used to keep in touch until they all passed. One of my best mates was Eric Willmott and also Terry Spence and Geoffrey Vickers. Eric moved to Australia where I visited him over a dozen times and saw lots of Australia as he moved around a lot. He came to Canada a few times so we were mates for over 75 years. Sadly, 3 weeks ago his wife let me know he had passed away in hospital. He would have been 91 on the 5th September (2020). When I was there about 20 years ago, I met Harold Hazzledine from Trent Road, near to where Geoff had lived and there was also another Beestonian who had worked at Ericssons. We had our photo taken and there was an article about us in the Nottingham Evening Post.
While in the Boys Brigade, I was in the football team every year until I was 18, when I was called up for National Service. Then, I was in the Royal Air Force Regiment and I have great memories of those two years. I was Battalion Drummer twice which made my dad very pleased.
I still remember the lads in the club. Bernard Gerard, Colin Walster, Stan Walters, Fred Holberry, Ron Brown, Alan Jacques, Vic Hardy, Fred Willmott, the Quidington brothers and Earnest Shrewbury. All good friends who you never forget.
My relations on my mothers side were the Lees - uncles George, Harold and Samuel were all called up in the Great War. Harold won the DSM which I now have. They all came back and returned to work in the Boiler Company. My maternal grandmother Frances Ashton came to Beeston from Radford. Sam Ashton had a tobacco shop on the High road. George and Harold Ashton had Butchers shops on High Road. I remember going into the shop during the war years. My Lee cousins were Albert, Clem, Harold and Morris all from Harold Lee who married Lizzie Oram of Hawthorn Grove. George, Derek and Dorothy Lee came from Samuel Lee. Kenneth and Ivy Lee came from George Lee. Their offspring still live in Beeston and one or two have visited me over the years when they came to Calgary. Some surprised me, knocking on my door and it was lovely to see them. My other relations from the Toon side were the Wakefields on Grace Avenue, Sugdens of Henry Road, Beardalls of Mona Street, Clarks of Dovecote Lane, Hudsons on Mona Street and Bates of Mona Street.
Going back to 1945 to 1949, one of my memories was going poaching with Geoff Vickers. He lived on Trent Road and he used to come up to Station Road, number 177, and wake me up by banging on my bedroom window with the clothes prop. After going down to Mitchels' boat yard, borrowing a row boat and rowing to Clifton side, we bagged a few rabbits and the odd hare. When we heard the gamekeeper's dog barking we used to get back over the Trent fast. Geoff's dad and brother used to go on the gravel pits shooting ducks. It was before it was called Attenborough Nature Reserve. In those days it was gravel pits and bomb craters.
I remember all the troops in Wollaton Park. At first it was a RAF encampment and after they left it was Italian prisoners-of-war. Most of them were working on farms in the area with lots walking around Beeston at weekends. None tried to leave and they seemed happy to be out of the war. Then came the USA Airborne with lots around Beeston. We used to go to the park while they were there. They used to go to the Premier Ballroom, over the Long Eaton Co-op at the bottom of Park Road. When I was 15, I joined the Air Training Corps with Eric Willmott, Geoff Vickers and Harry Hazzledine from Trent Road. I did lots of flying, at least once every six weeks and a weeks camp at a RAF station - Binbrook in Lincoln with a few trips in a Lancaster over the North Sea. When I was visiting Eric Willmott in Australia, one Christmas, many years later, he asked me to go to the little airport in Hervey Bay, Queensland to pick up a parcel - he said. Any way, a few passengers got off and one I seemed to know turned out to be Harry Hazzledine, who I had not seen since 1949, when I got called up for National Service. We had a nice hot Christmas Day with a liquid dinner!!! Eric had been keeping in touch with him in Sydney.
Anyway, back to Beeston - my grandma Lee had three brothers who had shops on the High Road. Sam Ashton had a tobacco shop next to the Roman Jewelers next to the Prince of Wales Pub and the other brothers, George and Harold Ashton, had butchers also shops on the High Road. I remember my dad sending me to Uncle Sam to get some cigarettes as they were hard to get, and to the butchers for a bit of extra meat during the rationing.
Our local doctor was Dr Smith who lived on Dovecote lane in a big house near the War Memorial. The house was taken over by Beeston Council when he passed away - a lovely house with gardens all the way down to Robinet Road.
I spent most of Wakes Week away during the war. One year at Blackpool and the next at Skegness at the same boarding house my grand parents went to in the twenties and thirties. After the war, I used to go to Butlins at Skegness. About six of us went. It was only £8 a week and lots of fun.
Bert has promised to continue this story of Beeston, as he remembers it. He has had a diificult time during lockdown and we wish him well and look forward to more in due course.