Beeston "Comfy Buses" - by Molly Wade
"Comfy Buses", in green and fawn livery, ran originally between Keyworth and Nottingham, the proprietors being Arthur Howe (Shown left in c1933, sitting in one of his green and fawn taxis. Sitting on the running board are Kathleen Mary Morley, Frances Hanson and Hager(?).) and his brother-in-law Louis Powney. They sold the run and moved into Beeston to a plot on the corner of Nether Street and Station Road. Accommodation was a house and garage - both now demolished. They then moved to 32, Middle Street, Beeston - a house called "Netherleigh" - and built a garage to accommodate two buses and two taxis. The house was previously used by Doctor W Smith before he moved to Dovecote Lane - "The Willows."

The house on Middle Street was then used as a private school called "Limehurst" and run by Mrs Hopkinson.

Arthur Howe and his wife Nellie Howe (née Powney) lived in the house and they let off parts to private tenants. They resorted to the original name of &quotNetherleigh".

"Comfy Buses" ran a private works service between Boots, Island Street, Nottingham and Hope Street, Beeston.

When Arthur Howe died, the buses were sold to Bartons, who also took on the drivers, and the garage was occupied by a builder, Mr Moreton, to house his lorries. Mr Moreton later moved to a house on Chilwell Road.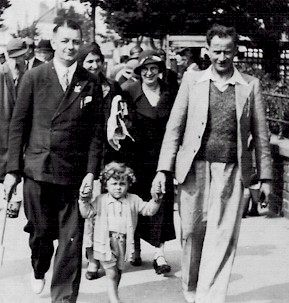 Howe & Powney - Owners of Beeston Comfy Buses
Arthur Howe was born in Alvaston, Derbyshire c1890. His parents were John H Howe, c1863, from Hutton, Somerset and Emily Howe, c1862, from Islington, London. Arthur had three brother - Jack (John H), Bill (William) & Percy - and three sisters - Ellen, Alice & Elsie. His parents had a grocery business in Derby.

Nellie Rose Howe (née Powney) was born in Derby c1886. Her parents were Arthur Powney, c1866, from Coventry and Mary Ellen Powney from Worcester. Nellie had three brothers - Reg (Reginald), Sis (Cecil) & Louis (Lou) - and one sister - Winnie (Winifred Kate). Her father was a self-employed cabinet maker.

Louis Powney was born in Derby c1901.

The photograph on the right was taken at Mablethorpe c1935. It shows:
Left to right front row : Charles Henry Morley, John (Arthur Howe's grandson) & Arthur Howe
Left to right background : Nellie Howe (née Powney) & Fanny Morley (née Drinkwater)