A Railway Accident at Beeston, 1908 - by Grenville Chamberlain
Grenville, well known for his long-time interest in coins and medals and in all things pertaining to Beeston, tells the story behind a small gold medallian which recently came to his notice. This Midland Railway Ambulance medallion was presented to Fred Smith in recognition of first aid administered by him following an accident at Beeston Station just over 100 years ago, on 7th Sept 1908, in which Fred Drinkwater was seriously injured.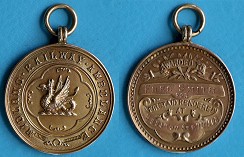 The medallian is in 15 ct gold, 29mm in diameter plus the loop. The obverse bears MIDLAND · RAILWAY · AMBULANCE on a mottled ground around the company crest of a griffin on a torque facing left in a quatrefoil. The reverse has a beaded outer circle. In the upper field is a three part ribbon on leaves and bearing AWARDED TO. Centrally is a panel engraved FRED SMITH FOR below which appears FIRST AID RENDERED AT above a cartouche engraved BEESTON SEP. 7TH 1908. The assay on the obverse is AHD 15 .625 anchor, i, Birmingham 1908-1909 (A. H. Darby, Medalists 51 Caroline Street Birmingham).
Fred Smith was born c1874 at Darley Derby and at the time of the accident was a railway clerk approximately 34 years of age. He was the son of Herbert Smith, a nurseryman, and his wife Lizzie and in 1881 lived at Hazle Bank Darley along with his parents, an elder brother Alfred Herbert Smith and a younger sister Edith Lizzie Smith.
He was very much into first aid and the following year was awarded another medal, this time in silver, for his assistance at an accident at Sandiacre on the 6th September 1909. That same year he was also awarded another silver medal for an ambulance competition and in addition he was awarded a large 40mm diameter bronze medal by the St John Ambulance Association along with two silver bars one for 1909 and the other for 1911.
A brief initial report of the accident appeared in the Nottingham daily newspaper on the 8th of September 1908 but a much more comprehensive account appeared in issue number 33 of the Beeston Weekly Post & Rushcliffe Observer the following Saturday, 12 Seprember 1908.
BEESTON STATION ACCIDENT - BOARDING A MOVING TRAIN
On Monday afternoon a terrible accident befell a Chilwell youth as he was trying to get into a train at Beeston, while it was moving out of the station. The victim of the accident was Fred Drinkwater of Chilwell who is only 13 years of age and who works at Spriggin's lace factory, Long Eaton. He had come home for his dinner for the first time since he had worked at the place, on Monday. He had of course very little time at his disposal, and when he got to the station to go back to Long Eaton he saw the 1.58 train just moving out. He raced up the platform, thinking that he could manage to get in, but in doing so, slipped and fell under the train, which passed over him and severed his right arm just above the elbow. Every effort was made by the porters to prevent him risking his life, but without avail, and the wonder is that the boy was not cut to pieces, and killed on the spot.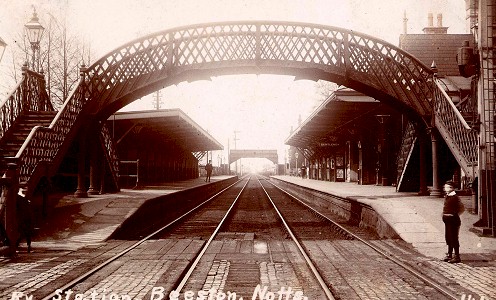 Most of the railway servants at the Beeston Station have undergone a course of first aid instruction, and the boy was immediately attended to by them and conveyed to the General Hospital, Nottingham. It was thus found that the boy's head and body were badly bruised and it was found necessary to amputate the arm. At first his life was despaired of but we are glad to state that he is now progressing as well as can be expected under the circumstances.
The boy had only started to work a fortnight ago and was learning the draughting and designing. It was his custom to stay in Long Eaton for his dinner, but on the Monday for the first time he came home for the meal and got a few seconds late for the train back to work.
It is three years since the last accident on the line at Beeston Station when it will be remembered a son of Mr Bowmer of Imperial-park met his death.
When the boy Drinkwater was picked up from off the line there were a great many people on the Nottingham side of the platform, and Miss F. Riley, when she saw the porters carrying the boy, fainted, and had to be carried into the Victoria Hotel. Miss Riley had only just become convalescent herself, and that afternoon was the first time she had attempted to go to business since her illness. The sight gave her a great shock, as it did several other ladies who were on the platform.
The picture on the left shows Beeston Railway Station as it appeared about the time of the accident which occurred on the platform on the left.
---
Fred Drinkwater was the uncle of Geoffrey Drinkwater the well known local historian and he has written the following recollections of his uncle and provided the photographs of Fred and his family.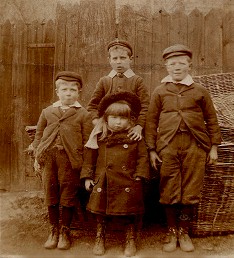 Fred Drinkwater, b.1895 in Chilwell, Notts. d. c1972 in Llanfairfechan, North Wales
Fred, my uncle, was the first-born son, in 1895, of Fred Drinkwater (1869-1934) and Elizabeth (née Chapman). His father was a twist hand who, during the 1930s, worked in a lace factory on Wilmot Lane, Chilwell and lived at 3 Factory Lane, Chilwell within the shadow of Neville's tenement factory. His grandfather was a lacemaker, who was born in Tewkesbury, Gloucestershire most likely of framework knitting stock. The photograph, taken about 1906, shows four sons of Fred (169-1934) and Elizabeth (née Chapman) Drinkwater of Chilwell, Notts. On the left is Ellis (1900-1974), top centre is Harry (1897-1975), on the right is Fred (1895-c1972) and in front is Ernest (1902-c1977).
Fred probably attended the all-age Board School on Meadow Lane Chilwell and unsurprisingly we first learn of him as a lace draughtsman as mentioned in the newspaper report of his involvement in an accident at Beeston Railway Station in September 1908.
At some time between then and 1924, he must have struck out in a different direction. A mantel clock that was his has a plaque stating that it was presented to him by the Staff of the Raleigh Cycle Company on the occasion of his marriage on 24 August 1924.
He worked in the offices, the building of which still remains, on Radford Boulevard in a job involving accounting skills. After losing his right arm, he had taught himself to write in a clear script with his left hand and was able to add concurrently columns of figures in £-s-d. At some time in his later life he became Treasurer and then Churchwarden of Christ Church, Chilwell.
Then, in the 1950s, Fred decided to retire early from the Raleigh Cycle company and along with his wife, Gerty, set up a draper's shop at 33 High Road, Chilwell. The business flourished. He bought a Lanchester car with pre-selector gears, having a tiller (knob) fitted to the steering wheel to accommodate his disability. This was typical of his manifest resolve not to let anything beat him. He played golf, with a handicap of 18; he had a toolkit that he used to good effect for DIY.
In the late 1960s, Fred and Gerty retired to Llanfairfechan in North Wales, living in a large 3-storey house on the promenade, whence he died c1972.