We have been contacted by Kathy from British Columbia, Canada who found a book in a local charity sale which had in it a prize-giving bookplate from the Beeston Men's Sunday Guild. She kindly got in touch and we were able to put together the following about the Guild and the probable prize-winner.

This Beeston-based guild was a non-denominational self-help group, apparently for men of all ages who wished to improve their chances in life. This was presumably based on the concepts promoted by Samuel Smiles (1812-1904) in his book 'Self Help' (1859) which were hugely popular in the second half of the 19th Century.
It was founded in 1896, alongside a separate Women's Sunday Guild, by John Caleb Williams. He became its first President and continued in that role for about ten years. He appears to have been followed in that role by Mr H Spafford who continued until about 1909, during which time a Sick and Annual Society was formed by the Guild which attracted a membership of 300. The next President was Mr F Garnett who was still serving in that role when the Guild celebrated its 50th Anniversary in 1946. In its early years, the Guild had its own publication, 'The Guild Clarion' and ran its own orchestra.
John Caleb Williams - was born in Shrewsbury in February 1865 and was to develop his life along classic self-help principles. During his childhood, he and his mother lived with her parents with any contact with his father unclear. Although it is known that he attended Chester College National School between 1875 and 1878, the nature of his early employment is unclear. In July 1890, he joined the Midland Railway in Derby as a clerk on a wage of 25 shillings a week. It seems that his hard work and abilities were soon apparent as, in October 1890, he was appointed to the salaried staff at £72 16s per annum and, in the following April, he became attached to the company's Land Agents Office. By 1893, he was in a position to marry Anna Matilda Johnson, the daughter of Ezra Johnson, a Chester tailor, draper and Congregational Minister. Within a few years they had moved to live at 28 Cromwell Street in Imperial Park, an area in Beeston, Notts favoured by aspirational professionals. The first of their two daughters was born in 1900 followed by their second in 1903.
In 1896, as we have seen, he formed the Beeston Men's Sunday Guild, no doubt with the intention of passing on the means of his own success to others.The surviving photograph of the group (shown above), probably from about 1908, includes twelve mainly middle-aged men who were then members. It seems likely that the man in the lighter suit near the centre of the front row, is John Caleb Williams.
In 1909, or shortly afterwards, he relinquished his position as President of the Guild, having been promoted with the Midland Railway to Committee Secretary and moved to Leicester. By 1926, when his elder daughter, Margaret Christina, married Reverend William Hooker Rowden, he was working as a Home Director of an India Mission. By 1939, he had been ordained a Minister with the Free Church of England and had become the Incumbent at a church in Tenterden, Kent. He died there in August 1951.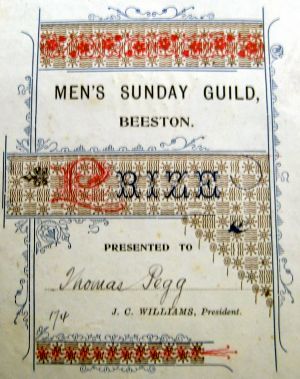 Thomas Pegg – was a member of the Sunday Guild when he received a copy of the book 'The Wild North Land' as a prize. This particular copy was the 10th Edition, published in 1896 and the President is named as 'J C Williams' on the presentation label (shown right) so we can be sure that the prize was awarded after that year. Although there were two men of that name in Beeston at that time, one of them, born in 1886, is likely to have been too young to have been a member and the recipient of the prize. This means that the likely prize winner was the Thomas Pegg who was born in 1853 in Hempsall, Notts and moved to Beeston as a child, with his parents, Daniel & Mary (née Hardy). He worked in a local iron foundry – probably at Foster & Pearson – for all of his working life. In 1878, he married Susannah Fox and they were to have three children, the first of whom died as an infant. Thomas himself died in 1917, aged 64. It is thought likely that the gentleman with the stick, sitting second from the left in the group picture, is likely to be Thomas Pegg.
It was through the life of their son, Harry Pegg (b. Beeston, 1883) that Thomas' grounding in self-help became most apparent. In his early working life, he was employed as an actuarial clerk and later as clerk to a local coal merchant. In these roles he would have learned of investment and business methods and these were reinforced by his long-time involvement with the Loyal Nelson Lodge (Manchester Unity) of The Independent Order of Oddfellows. This non-profit, mutual organisation had been founded locally in 1833 and was supported strongly by tradesmen and working men in particular. Eventually it had acquired its own meeting place on Middle Street, popularly known as the 'Manchester Unity', on a site now occupied by the Tesco petrol station. It too operated on self-help principles, before the establishment of universal unemployment and sickness benefits and the National Health Service, as a non-profit, mutual organisation which supported its members in time of need by the redistribution of its income. Harry Pegg became its Secretary, handling the business of the Lodge with great efficiency. By 1925 he held the position of Registrar of Births & Deaths in Beeston and also began to develop property – a row of shops on Wollaton Road and houses around the corner on Abbey Road. He died in 1940.
His son, also Harry Pegg, continued with his father's personal drive and sense of business and became exceptionally well known as the owner and operator of a pork butcher's shop on the corner of Wollaton and Abbey Roads. Trading with the claim 'Pegg's Perfect Pork Pies Please Particular People', he built a very successful business which may well have owed something to the discipline of self-help that had been introduced to an earlier generation by the Men's Sunday Guild.
Other suggestions for names or other information about this guild would be most welcome