Kathy from British Columbia, Canada contacted us to tell us about a book she had found in a local charity sale which had in it a prize-giving bookplate from the Beeston Men's Sunday Guild. More recently, we became aware of the survival of a trophy that was awarded annually within the Guild membership and a copy of the Guild newssheet, 'The Clarion', dated 1901, that were held within the Beeston & District Local History Society archive.

And, now in 2022, Melanie Sharpe has told us about a Guild prize book that she found amongst the belongings of Jim Sharpe, her late father.


These surviving items have helped us to put together this account of the Guild, a Beeston-based, non-denominational self-help group, originally for men, but later for both men and women, of all ages, who wished to improve their chances in life. It was based firmly on strongly-held Christian principles and, undoubtedly called on the concepts promoted by Samuel Smiles (1812-1904) in his book 'Self Help'(1859) which were hugely popular in the second half of the 19th Century. Its meetings, being held on Sundays as 'Services' but usually outside of traditional church or chapel premises with a programme that was designed to operate within the constraints of the Sabbath.
It was founded in 1896, by John Caleb Williams. He became its first President and continued in that role for about ten years.
John Caleb Williams - was born in Shrewsbury in February 1865 and was to develop his life along classic self-help principles. During his childhood, he and his mother lived with her parents with any contact with his father unclear. Although it is known that he attended Chester College National School between 1875 and 1878, the nature of his early employment is unclear. In July 1890, he joined the Midland Railway in Derby as a clerk on a wage of 25 shillings a week. It seems that his hard work and abilities were soon apparent as, in October 1890, he was appointed to the salaried staff at £72 16s per annum and, in the following April, he became attached to the company's Land Agents Office. By 1893, he was in a position to marry Anna Matilda Johnson, the daughter of Ezra Johnson, a Chester tailor, draper and Congregational Minister. Within a few years they had moved to live at 28 Cromwell Street in Imperial Park, an area in Beeston, Notts favoured by aspirational professionals. The first of their two daughters was born in 1900 followed by their second in 1903.

In 1896, as we have seen, he formed the Beeston Men's Sunday Guild, no doubt with the intention of passing on the means of his own success to others. The surviving photograph of the group (shown above), probably from about 1908, includes twelve mainly middle-aged men who were then members. It seems likely that the man in the lighter suit near the centre of the front row, is John Caleb Williams.

In 1909, Williams relinquished his position as President of the Guild, having been promoted with the Midland Railway to Committee Secretary and moved to Leicester. By 1926, when his elder daughter, Margaret Christina, married Reverend William Hooker Rowden, he was working as a Home Director of an India Mission. By 1939, he had been ordained a Minister with the Free Church of England and had become the Incumbent at a church in Tenterden, Kent. He died there in August 1951.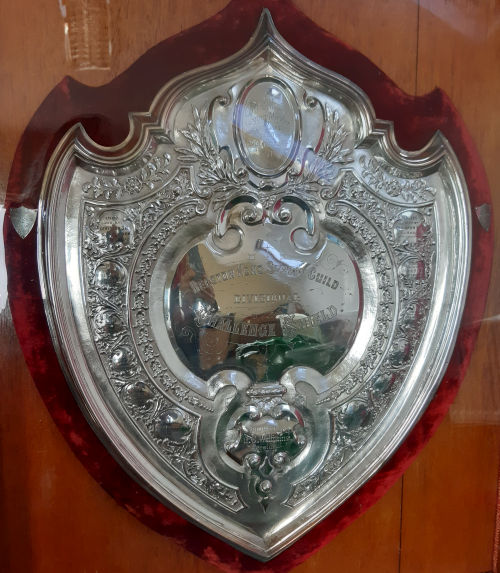 The surviving newssheet, dated 1901, can be seen by clicking here. It gives a good insight into the range of benefits that had been developed for members of the Guild in the first five years in addition to the weekly Service. These include a savings bank, a Sick & Annual Benefit Society - which, at its height, had a membership of 300 - and a 'Happy Saturday Evening', a temperance occasion, held in alternate weeks during the winter months.

In 1902 a trophy (shown right) was introduced that was awarded to the leader of the team of members of a 'Division' that performed best in the year. While it is not clear how the 'Divisions' represented, it is know that the winning Division IV in 1913, led by William Twiggs, had the best average attendance in the past year. The trophy was awarded up to 1915 when it was discontinued, no doubt because many of the members had enlisted in the war. The trophy itself was retained by the last winning section leader, Joseph Durance who had also won it 1908, 1910, 1911, 1912 and 1914. It was highly prized within the family and passed down through the generation until his grandson, finding it overlarge for a modern home, passed it to the Local History Society.
Joseph Durance - was born in Great Gonerby, Leicestershire in about 1851. In his early career, he worked on the railways and was a porter in Dewsbury, Yorkshire when his first wife, Elizabeth Rebecca, died in 1882, leaving his with their three young children. After marrying Mary Catherine Morris in her native Lincolnshire, in 1885, he went in to make a complete change of direction in his career, becoming a lace maker and moving to Beeston and, soon after, to Chilwell, at first on High Road, near the Hop Pole and then on West Gate - later Park Road - where he died in 1931, aged 1931. At the Guild meeting, held on the day of his death, the President paid tribute to him, 'so genial a character' who had been a member since its inception. The seven children of his second marriage meant that he was the father of ten in all. Most if not all of his sons served in the Great War, including Frank Morris Durance (1888-1961) the father of Joseph Albert Durance who donated the trophy. Frank served with the Leicestershire Regiment but was discharged in 1917, severely disabled but was eventually able to find a suitable job in Mansfield and where he and his wife, Chilwell-born Alice née Beeston who he had married at Attenborough Church in 1908, raised their three children.

Based on the most likely evidence, the Division leaders who were awarded the trophy, and the year of the award, were :

G Faulkner (1902 & 1904) - probably George Faulkner who was born in Upton, Northamptonshire in 1853. By 1880, he had moved to Chilwell to work on the land and married Barton-born Elizabeth Hollingworth in 1878. The couple raised seven children. After his wife died in 1894, aged only 33, the family moved to live at The Green, Chilwell with George's widowed mother-in-law and George found work as a road labourer, with Stapleford Urban District Council. He died in 1935, aged 82.

A Smith (1903) - Not specifically identified

Samuel Wesson (1905) - was born in Sneinton, Nottingham in 1855. In 1880 he married Ann Hesketh but they were to have no children. They made their home on Middleton Street, Beeston with Samuel finding work as an iron turner with Foster & Pearson and its successor, Beeston Foundry. In December 1920, the company held a special commemorative dinner to honour Wesson's 40 years service, along with over 100 other employees who had been with the company for over 15 years - four of them over 25 years but none close to Wesson's achievement. He died in March 1927, aged 71.

James Story Ebblewhite (1906) - was born in Hesleden, Durham in about 1856. He married Isabella Todner in 1878 and they went on to have six children. He worked as a commercial traveller in canned goods. After moving to Nottingham in about 1890, the family had moved to Beeston by 1901, first to Hall Croft before settling at 'Hesleden' (clearly named for his birthplace) on Devonshire Avenue where he was to continue to live for the remainder of his life. After Isabella's death in 1916, he married Minnie Greatorex, the widow of another commercial traveller, in the following year. He died in October 1952

T Clarke (1907) - Not specifically identified

Charles Thomas Dixon (1909) - was born in 1869 in Sutton, Lincolns. In 1891 he married Harriett Ann Green and they went on to have five children. They moved to Beeston early in the 1900s after Charles had served as a coachman to a Bramcote family. By 1911, the family was living at 62 Station Road, Beeston with Charles employed as a domestic Chauffeur. Their son, Charles Thomas Dixon, enlisted with the Sherwood Foresters in February 1916 and, after only the most basic training, when his battalion was sent to Ireland in response to the Easter Uprising in Dublin and in the subsequent chaotic encounter, Private Dixon was one of those tragically killed (see more here). Charles Thomas senior, who lived at 22 Melrose Avenue, Beeston for the last twenty or more years of his life, died in 1959, 'aged 92'.

William Twiggs (1913) - likely to be the William Twiggs (1850-1925) who was. in turn, Beeston's lamplighter, sexton and recreation ground attendant (see more here)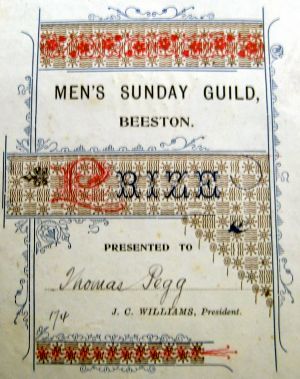 In some ways, the Guild operated like a traditional Sunday School, in particular with their custom of offering book prizes for achievement and/or attendance. Also similar to Sunday School prizes, the Guild's book prizes had a label naming the recipient and the books that has recently appeared in a British Columbia charity sale and from the possessions of the late Jim Sharpe are typical examples. In the case of the British Columbia find, the recipient, Thomas Pegg, received a copy of the book 'The Wild North Land' as his prize. This particular copy was the 10th Edition, published in 1896 and the President is named as 'J C Williams' on the presentation label (shown right), all pointing to the award being for the early years of the Guild. This is what we know about Thomas Pegg, the recipient:
Thomas Pegg – although there were two men of that name in Beeston at that time, one of them, born in 1886, is likely to have been too young to have been a member and the recipient of the prize. This means that the likely prize winner was the Thomas Pegg who was born in 1853 in Hempsall, Notts and moved to Beeston as a child, with his parents, Daniel & Mary (née Hardy). He worked in a local iron foundry – probably at Foster & Pearson – for all of his working life. In 1878, he married Susannah Fox and they were to have three children, the first of whom died as an infant. Thomas himself died in 1917, aged 64. It is thought likely that the gentleman with the stick, sitting second from the left in the group picture, is likely to be Thomas Pegg.

It was through the life of their son, Harry Pegg (b. Beeston, 1883) that Thomas' grounding in self-help became most apparent. In his early working life, he was employed as an actuarial clerk and later as clerk to a local coal merchant. In these roles he would have learned of investment and business methods and these were reinforced by his long-time involvement with the Loyal Nelson Lodge (Manchester Unity) of The Independent Order of Oddfellows. This non-profit, mutual organisation had been founded locally in 1833 and was supported strongly by tradesmen and working men in particular. Eventually it had acquired its own meeting place on Middle Street, popularly known as the 'Manchester Unity', on a site now occupied by the Tesco petrol station. It too operated on self-help principles, before the establishment of universal unemployment and sickness benefits and the National Health Service, as a non-profit, mutual organisation which supported its members in time of need by the redistribution of its income. Harry Pegg became its Secretary, handling the business of the Lodge with great efficiency. By 1925 he held the position of Registrar of Births & Deaths in Beeston and also began to develop property – a row of shops on Wollaton Road and houses around the corner on Abbey Road. He died in 1940.

His son, also Harry Pegg, continued with his father's personal drive and sense of business and became exceptionally well known as the owner and operator of a pork butcher's shop on the corner of Wollaton and Abbey Roads. Trading with the claim 'Pegg's Perfect Pork Pies Please Particular People', he built a very successful business which may well have owed something to the discipline of self-help that had been introduced to an earlier generation by the Men's Sunday Guild.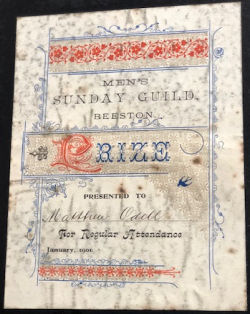 The book found amongst the belongings of Jim Sharpe in Rutland, is a beautifully presented copy of "Through the Dark Continent" by Henry M Stanley, published in 1899. As a label (shown right) found inside shows, it too was a prize awarded by the Guild in its early days - this time to Matthew Odell in January 1901, for regular attendance. This is what we know about him and his family:
Matthew Hickling Odell – was born in Nottingham on 26 June 1863 at a house in Queens Square, Nottingham, the home of his mother, Sarah Odell. His middle name was that of his father, Henry Hickling. Sarah had been born on the village of Chalton in Bedfordshire early in 1841, the eldest of eight daughters of Daniel Odell, a farm labourer and his wife Elizabeth (née Simmons). Theirs would have been a very difficult life, struggling to support their large family with the pittance then offered to those labouring in the fields around the villages of Bedfordshire, as elsewhere in rural England at that time. As soon as they were old enough, Elizabeth and the daughters tried to make a contribution by working at home in the then local cottage industry, as straw hat plaiters. For her part, Sarah had, by 1861, entered domestic service and was working as a housemaid in the household of Thomas Cranfield, a substantial farmer in the Bedfordshire village of Southill. Although we have no details, it appears that, over the next year or two, she had moved to Nottingham, probably in domestic service. Tragically, for her father and her sisters still in Bedfordshire, life was to get even worse when, in 1863, Elizabeth died. aged only 43. In the following year, Daniel married Eliza Dear and three further children were born to the couple over the next five years. But the family's circumstances were still very difficult, such that, in 1869, Daniel and Elizabeth, as well a their youngest daughter, were admitted to the Bedfordshire Workhouse for four weeks. Although, somehow, they were able to get back into the community and find a place in Luton, by now Daniel's health was poor and he was not able carry out farm work but somehow survived for the time being by taking a lodger and by Eliza working as a charwoman.

In Nottingham, Sarah would have been concerned for her family's problems back in Bedfordshire but had to concentrate on the issues around her own life. Happily, she was able to make a home with Henry Hickling, who worked as a labourer, and, certainly by 1871 they were living at Cross Cut, Radford, Nottingham where another son, Harry (sometimes known as Henry) was born. By 1881 the couple were using the surname 'Hickling' and continued to do so for the remainder of their lives, although, as far as can be determined, it seems unlikely that they ever actually married. By 1881, the couple and their family of two had moved to 4 Hart Street, Nottingham where they supplemented Henry's wages as a factory labourer by taking in five lodgers. Henry died in May 1901 and, for the time being, with all the children now married and left home, Sarah was making a living as a cotton cleaner and had taken in a boarder at her home at 4 Ebury Terrace, Nottingham.

For his part, their son Matthew found work as an iron moulder after leaving school and was to continue in this role, through several employers, for upwards of thirty years. By 1883, he had met and married Louisa Dudley, the youngest child of James Dudley and his wife Louisa (née Farnsworth). James had been landlord of the Durham Ox in Grantham up to his early death in 1876, aged 54, after which daughter Louisa had taken a position as a domestic servant at The Grovenor Hotel on Mansfield Road, Nottingham. Matthew and Louisa married on 4 October 1883 at All Saints Church, Nottingham and made their home at 97 Station Street, Loughborough. From that point, they readopted Matthew's birth surname, his mother's maiden name of "Odell", as his family's name. Many of the next generation and onwards were to modify it and adopt the name "O'Dell" as their surname. Matthew had taken a moulding job in Loughborough and it was during their time there that their first three children - Mabel, James William and Elizabeth - were born.

By September 1894, when their son Matthew and his twin sister Nelly were born, the family had moved to live at Beeston, eventually if not immediately, at 55 City Road with Matthew senior working at one of the local foundries - either at Foster & Pearsons or, more likely, at the newly formed Beeston Foundry which later became Beeston Boiler Company. Sadly, this period of their lives was not without its sadness as, in 1895, daughter Nellie - Matthew's twin sister - died when she was less than a year old.

It was during their time in Beeston that Matthew, clearly keen to participate in anything that provided an element of self-improvement, joined the Beeston Men's Sunday Guild, probably around the time of its formation in 1896. It seems he was a regular attender such that, as we can see, he was awarded a prize in January 1901 for regular attendance.

We can only speculate, but it is possible that his membership of the Guild gave him the confidence for their next move. Whatever was the case, by 1911 the family had moved to 188 Kirkwhite Street, Nottingham where Matthew set up as a coal dealer on his own account. By 1915 he had moved his business to 221 Wilford Road, Nottingham and was to continue there for much if not all of the rest of his life. There was more sadness in the family when, in 1918, their second daughter, Elizabeth, died unmarried, age 27. The picture (Right), which has been kindly provided by his great-great-granddaughter, Sally Masson, shows Matthew Hickling Odell with his horse and cart, undoubtedly from this era, probably in the 1930s and possibly taking part in celebrations for King George 5th's Jubilee celebrations in May 1935. Matthew died in 1937, aged 73 after which his widow went to live with her married daughter Mabel and son-in-law, George Muggleton, in Ilkeston. She died there in 1949, aged 85.

Matthew and Louise's eldest son, James William, served during the Great War with the Army Service Corps and was working as a prison officer and still unmarried in 1939 when he and his mother were living with his sister's family in Ilkeston. Matthew and Louise's younger son, Matthew, helped his father in the coal business after leaving school but this changed abruptly when he enlisted as a Gunner with the Royal Garrison Artillery to serve during the Great War. After his return to civilian life he found a job with the railway and, in 1923, married Nellie Broomhead, the daughter of Frederick Broomhead, a printing machine mechanic and Elizabeth his wife who, by then were living on Trent Boulevard in West Bridgford. At first, they lived in the Mansfield area, where their two children were born, until promotion to the position of station foreman took him and his family to live and work at Bourne in Lincolnshire. Here he went on to represent Labour on the local Council and was an enthusiastic worker for Bourne Town Football Club. Both Nellie died in Bourne - Nellie in 1952, age 62 and Matthew in April 1975, aged 80. Descendants of the family remain in the town to this day.

This then, appears to be the clue to how the book came into the possession of Jim Sharpe. Although he was born and died in Ryhill in Rutland he did spend some time in Bourne as a young man and, in fact, was a prominent player for Bourne Town Football Club. It seems highly likely that the book was passed to him by Matthew at that time.
---

John Caleb Williams was followed for a relatively short while in the role of President by Henry Spafford who continued until about 1909. Spafford, born in Shrewsbury in c1865, had worked as a policeman before coming to Beeston where he managed the night-time security of the silk mill and, latterly, served its then owner, Samuel Watson, as butler. He was also an active Freemason.

The next President was Henry Fred Garnett, appointed in 1909 served for upwards of forty years and was still serving in the role when the Guild celebrated its 50th Anniversary in 1946. His tenure in that position was hugely successful and he was to lead its regular meetings, which included an uplifting speaker and orchestral and vocal music inside a framework based on the religious principles defined at its inception, and the firmly held beliefs of its leaders - not least. those of Garnett himself. In March 1920, women were invited to join and it was thereafter known as the 'Beeston Sunday Guild'. Numbers attending the meeting continued to be strong throughout the years up to the Second World War - 60 members attended the meeting in May 1930, for instance. From the beginning, most meetings were held at Church Street School but, by 1935, the venue changed to Acacia House on Acacia Walk, the home of the Adult School. In January 1946, a celebration of the Guild's 50th Anniversary was held at Acacia House when a message from its founder, John Caleb Williams, was heard and the considerable achievements of the Guild were recalled But, in a changing world, now with a Welfare State and improved education and opportunities, it did not have the appeal and attraction that it had enjoyed in its hey-day. It had served its purpose and now was to close down gracefully.

There remains, however, the clear need to say more about the life of the man who had played such a major part in the success of the Guild:
Henry Fred Garnett - was born in Gainsborough, Lincolnshire in January 1869. one of four children born to Henry and Mary (née Porter) Garnett. His father, a mariner who worked out of Hull, died in 1873 when Henry Fred was aged only four, and his mother married William Beard, a Nottingham-born tailor, in the following year. The family moved to Nottingham where, it seems, Henry Fred learned the bakery trade as, by the time of his marriage, in March 1891 aged 22, to Farndon-born Elizabeth Rockley, he was already self-employed as a baker from their home in Sneinton, Nottingham. Their marriage took place at Morley Memorial Chapel on Blue Bell Hill, Nottingham which had opened in October 1889 and had only recently been registered for marriages, such that their wedding was the first to be held at that venue. Their choice of a Primitive Methodist chapel was a clear indication of their Non-Conformist beliefs which were to guide their whole lives - although specific affiliations were to vary at times, often with a Wesleyan Methodist emphasis and, for 10 years, he was a Deacon at Beeston's Union Church on Dovecote Lane. Taken as a whole, it was a set of beliefs in service to others that showed in a practical way when, in September 1904, while cycling along the Wollaton Canal, he noticed a ten-year-old boy in danger in the deep water. Without hesitation, he jumped in and rescued the boy and was later awarded a Royal Humane Society Certificate to mark his bravery.

In the late 1890s the family - which then included their two sons - Henry Fred junior (b. 1892) and William (b. 1895) - had moved to Beeston and Garnett had set up as a baker and confectioner on Lower Regent Street By 1911, the family and business had moved to 194 Station Road, Beeston where their two sons assisted for a relatively short time, as young men, before service during the Great War in the Royal Navy with William certainly and his brother possibly, transferring to the RAF when it was formed in 1918. After the war, both sons, each of which had played their part in the musical activities within the Guild, each developed successful careers as music teachers and were outstanding musicians in their own right. Henry Fred junior becoming the conductor of The Nottingham Philharmonic Orchestra and the organist at the Wesley Chapel on Broad Street, Nottingham.

Henry and Elizabeth where were to continue living and trading at Station Road until about 1925 when they moved to a bungalow at 38 Bramcote Road, Beeston in preparation for their retirement in about 1930. An attempt to become a local Councilor in 1931, standing as a Liberal, was a rare unsuccessful venture.

He died, aged 88 in October 1957, followed two years later by his wife Elizabeth, aged 89.
Other suggestions for names or other information about this guild would be most welcome