Pop-up notes are active on this page - Click any note number to view


© David Hallam - 2010
More about the History of the Site of Grange Avenue

A collection of deeds, that have been made available to us, allow us to look in more detail for the properties that made up Edward Smithís Grange Avenue development and the background of two ladies who became one the first residents of one of the houses. As usual, you can find out more about the families involved by using the links from the menu in the left margin.


As we have seen. Edward Smith developed Grange Avenue as a residential street in 1894-5 on land which he owned between Chilwell Road and West End, Beeston. This land had been acquired by him, in two parcels during the previous decade. These are seen, coloured orange 1 on the two plans, obtained from property deeds 2 and shown below. While the two plans ("A" and "B" respectively) originate from separate ownerships, it is clear that they match as adjacent properties - that is, on the ground, the right edge of the orange and blue pieces in A form the left edge of the orange piece in B. Plan "A" also shows other adjacent parcels (coloured blue and green) not acquired by Smith but having origins in common with the Smith piece shown on that plan.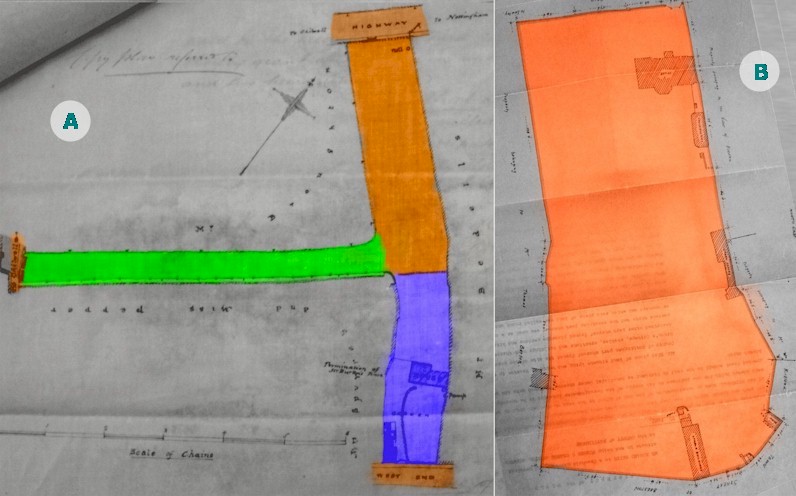 The largest piece consisted of the land at the rear of The Grange (now the Police Area Headquarters), where Smith lived with his family, extending to West End in the south-west. This property (Plan "B") had been acquired by Smith in September 1885, having established himself as a lace manufacturer in Nottingham, as a substantial residence of style for his growing family. As we have seen, by 1891 he had been able to retire and, by 1894, had embarked on the development of Grange Avenue.
The history of this parcel, corresponds to the history of The Grange itself. Originally known as Bonds House, this late Georgian house appears to have been built by Edward Bond, a Beeston farmer. In 1841, he was living there, with independent means, with his wife Ann and two servants. By 1851, he was a widower and he was now sharing the Bonds House with Francis Butcher Gill and his family. Gill was a partner, with John Watson, in F B Gill & Co which operated the silk mill in Beeston - which was, at that time, employing 530 hands. It is not clear whether Gill already owned the property or if he acquired it after Bondís death in October 1851, but he clearly had an interest in it by 1857 when he and his brother-in-law, Henry Oldknow Huthwaite conveyed the property to William Bedells - when Huthwaite took back a mortgage to assist Bedalls with the purchase. In 1872, William Bedalls conveyed the property to William Kirkland, the Beeston lace manufacturer and son of Henry Kirkland, the local Methodist pioneer. On this occasion, the purchase was partially financed with a mortgage provided by Samuel Watson, the then silk mill owner and others. Kirkland lived there with his family for some 13 years. It is not clear who developed the site to offer the amenities for genteel living that Edward Smith assumed when he acquired the property in 1885 but these extracts from the description of the property conveyed show that they were substantial:
| | |
| --- | --- |
| | "pleasure gardens and kitchen gardens ... a croft or orchard ... walled around and containing 2 acres 3 roods and 22 perches" |
| .. and, the | "capital messuage, dwellinghouse or tenements situate on the North West portion of the ... land" - i.e. the house itself |
| .. and, the | "stable, coachhouses, groomís cottage" |
| .. and, the | "hothouses, conservatories, garden house and other erections" |
For this apparently desirable property, Smith paid £3,500 (about £280,000 in today's vales), an amount which required him to borrow just £1000 from a group of Nottingham private investors - but which he was able to repay within two years.
Desirable it may well have been but Smith clearly had his eye beyond "pleasure gardens" and on the development potential of the land to the rear of the house. This part of the land became the major part of the Grange Avenue development - whilst, for the time being at least, Smith and his family continued to live in The Grange.
A smaller piece of land, of 2341 square yards to the south west of the first parcel, was acquired from his neighbour, Thomas Burton, in 1887. Although Smithís reason for the purchase of this piece is not known, it seems likely, as we have already surmised, that he had already had his eye on developing the Grange land. Whatever the original reason, it is clear that this piece added a useful extra width to the main piece, as well as access to Chilwell Road.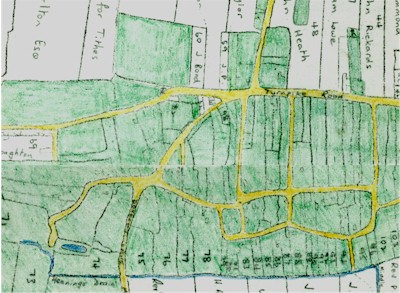 This piece of land was originally part of a T-shaped croft with the "upright" part of the "T" extending from Hall Croft to what became The Grange property, where it joined the "cross piece" which extended from what is now Chilwell Road to West End. This croft had existed in this form since ancient time, being clearly identifiable on the Enclosure Award map of 1809 - by which time it had long been in private hands.. Its distinctive "T" shape can be seen clearly towards the left hand side of this portion of the Enclosure map which includes the central village core (Move your mouse over the image to highlight the croft in red).
It is known that, by 1842 - and probably long before - the croft was owned by John Cheetham, the oldest son of a large family which had farmed extensively in both Beeston and Chilwell since early times. In turn, it is probable that he had inherited the land from his father, also John (c1752-1826), who had also been allocated a large acreage to the east of what is now Wollaton Road (in the general area of what is now allotment gardens, north of Abbey Road). Known as Beeston Fields, the name is still used for the area to this day. Despite his ownership of the Beeston croft, John junior (who was born in 1779 and appears not to have married) appears to have been more involved with the family's Chilwell interests 3. He died in October 1842 leaving his Beeston holdings, including the croft, to his brother Charles, subject to an annual payment of £12 each for life to his unmarried sisters, Sarah and Mary 4.
There had been seven brothers originally, all sons of John and Sarah, but by the time John jnr died in 1842, only brother Charles was active in farming locally and appears to be the oldest survivor. Three others had died in the recently preceding years, Thomas (of Nottingham) had died in 1836, Joseph (a Beeston Malster) had died in 1841) and Samuel (a manufacturer), had died of injuries, while on a business trip to Edinburgh in 1841. Their youngest brother, Henry, was by then well established as a chemist in Nottingham and was named as another executor in his brother John's will 5. Charles continued to work the 175 acre farm at Beeston Fields until after 1851 when he and his wife Elizabeth, retired to live on the High Road in Beeston 6.
In September 1866 7, Charles Cheetham agreed to sell the close, including a house fronting on West End, to Thomas Burton for £340 8. Thomas had been born in Wollaton in 1803, where his parents, John and Hannah (née Gedling 9) Burton were publicans, Thomas worked as a malster, remaining unmarried until comparatively late in life, living with his parents and, no doubt, supplying their inn. His parents had both died by 1853 when, in 1860, aged 57, he married for the first time, to Hannah Hand, then only 23, with their first child, Ellen, following shortly after. The 1851 census shows how much his life had changed - having retired as a malster and set up in a new home in Strelley, Notts with his wife and daughter. Two more daughters were born at Strelley to the couple, Ann in 1862 and Phoebe in 1864 and now, in 1866 with another child about to be born, the couple moved to their new home in Beeston.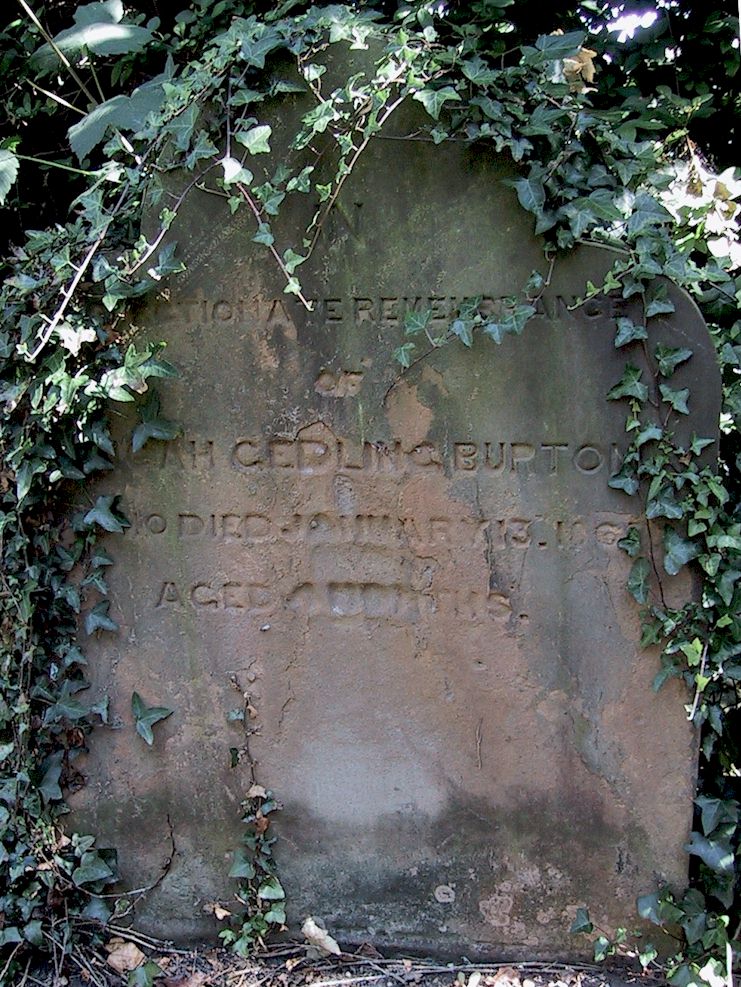 The new home brought an immediate tragedy. Their son, Micah Gedling Burton 10. was born almost immediately after moving in but, sadly, died only four months later, in January 1867, and his short life is remembered on a surviving - and rather forlorn - memorial in a corner of Beeston churchyard (See right and click to enlarge). Despite this early loss, Thomas' family was able to settle down in the house at West End, Beeston with Phoebe and the widowed Ellen 11 lived on there for a while after Thomas' death, leaving at estate of £2,136, in 1888 - although their mother left to live with her daughter Ann's family - she had married George Harry Hallam, a cigar department manager in 1885 - in Carshalton, Surrey 12. As we have seen, Thomas sold a parcel of land to the rear of his house and garden to Edward Smith in 1887, the year before his death and eventually, certainly by 1901, Phoebe, Ellen and Ellen's son moved to the London area 13 and the house itself was sold.
Thus, by 1887, Edward Smith had in his possession all the land to support the residential development he envisaged - significantly, this included the piece he had recently acquired from Thomas Burton which gave him additional width and access to Chilwell Road. A period of planning, design and preparation - including the provision of drainage - then took place, before the start of actual building in February 1894. Most of the properties within the development were pairs of semi-detached houses but one of the earliest properties to be built was a larger, detached house - now number 9. It was the deeds for this property that provided much of the inspiration for this account and it is fitting therefore that we examine something of its subsequent history and that of its early occupants.
The Carter Sisters - Priscilla (b. in about 1832) and Rebecca Carter (b. in about 1835) were the daughters of a wealthy Nottingham lace manufacturer, William Brown Carter (1802-1887). Although his origins are obscure, it is clear that his progress in business was both spectacular and early as, by 1851, he had retired and was living in some style with his wife Mary (née Holmes c1801-1863) and family of eight at their home on Hounds Gate, Nottingham 14. The two sisters, along with a third, Henrietta (b. about 1839), stayed with their father before and after their mother's death in 1863 and up to his own death in 1887. During much of his time in retirement their father served as a Wesleyan local preacher. The sisters' older sisters married particularly well; Catherine Holmes Carter (c1827-1900) to Alexander Gailey a tea merchant, in July 1857 15; Mary Maria Carter(c1829-1901) married George Johston Scales who had worked as a bankers' clerk at Smiths Bank in Nottingham, although the couple settled in Hornsey, Middlesex, from where George operated as an Australian Agent 16. Two brothers also prospered; Hanwell Holmes Carter (c1833-1907) practiced as a solicitor in Nottingham 17 and William Rawson Carter (c1836-1922) became a wholesale grocer in Sheffield 18. Their youngest brother, George Marsden Carter (c1841-1864) died as a young man at the start of a career in commerce.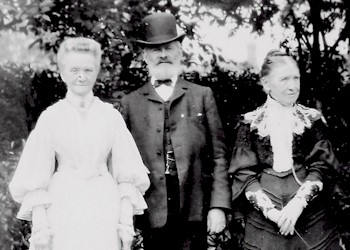 Given this overall family position, it is not surprising that, when it came to preparing his will in April 1883, William Brown Carter (shown right with his daughters Rebecca - believed on the left - and Priscilla - believed on the right) had most concern for the well-being of his three unmarried daughters. Except for family portraits, which he left to his son Hanwell, he left all his household effects to Priscilla, Rebecca and Henrietta. To Priscilla and Rebecca he left an outright legacy of £2000 each and, to Henrietta, he left a similar amount but in trust for her to receive the income with the capital amount going to Priscilla and Rebecca, or the survivor of them, on her death 19. After leaving £1000 to his daughter Mary Maria, he left the small residue - the estate was valued at £7,080 - equally between all his children.
Thus it was that, following their father's death in June 1887, Priscilla and Rebecca became financial independent 20 and, apparently, keen to leave Nottingham for the suburbs. By 1891, they had moved to Ivy Villa, Queens Rd, Beeston 21. Somehow however, Edward Smith's development of Grange Avenue came to their notice and they became one of his first tenants in perhaps the most significant of the houses, the detached house at number 9 (Shown left, as it is today). So different was this house from the others that were built that it seems likely that he built it to their wishes - as a retired lace manufacturer himself, he may well have known the family and he would have welcomed the security of tenants of their standing. However it was, the sisters moved into the property immediately after its completion in February 1895.
Quite why they needed such a large house is difficult to understand. Whatever the reason, the sisters continued to live in the house until 1916 when they each died there, just weeks apart - Priscilla in the first quarter of that year, followed by Rebecca on 26 May 22. Edward Smith, of course, still owned the house and continued to do so, along with many if not all of the houses on Grange Avenue, even after he moved away from Beeston to live in Mapperley Park 23. However, in March 1925, the house, then known as "Lansdowne House" was sold, for £1,100 to William Henry Doughty. In turn, he sold the house, then known as "The Elms", in May 1948, to Edwin Percy Reece. It later years and in later ownership, the house fell into disrepair but, happily, it is now in the ownership of a family that is bringing it back to the style in which it was built. No doubt, the Carter sisters would approve.
Return to Top of Page
Return to Top of Page
© David Hallam - 2010