© David Hallam 2007 - 8


The Boer War Memorial at Beeston -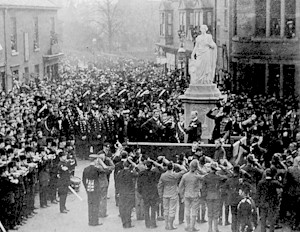 The Boer War memorial now stands in Broadgate Recreation Ground but originally stood prominently in Beeston Square, immediately in front of the then Public Offices, where it was unveiled in February 1904.
The memorial is in Portland stone and takes the form of a symbolic figure of Hope, on a raised pedestal, with one hand holding a wreath. while the other rests on a sacrificial altar of the early Roman type. The design is by Mr A Marshall A.R.I.B.A of Nottingham who was commissioned after an open competition.
The photograph shows the unveiling by Colonel Rolleston, D.S.O., supported by H.W Cooper (Chairman of the memorial committee), Lieutenant-Colonel Browell and others.
The inscription on the front of the base reads :
This memorial was erected by public subscription to the honoured memory
of Beeston soldiers who lost their lives during the Boer campaign, 1898-1902,
in the cause of an United Empire
This account is currently being expanded. A fuller version will appear early in 2009
Rededication: On 31 March 2007, the Boer War memorial was rededicated at a new location on Broadgate Recreation Ground. The following photographs were taken at that time.

The memorial dated 1903
- a symbolic figure of Hope -
in its new position


The newly restored
names of the fallen
(see below)


The Mayor of Broxtowe,
Councillor Doug Wilcockson,
welcomes everyone


Buglers mark the beginning of a
two minute silence


A performance on the experience
of war by Beeston Fields Primary
School pupils


The inscription giving the names of those remembered on the memorial had been badly eroded for many years. Now that the wording has been restored it is now possible to re-discover something about the men :

Private William Taft, killed at Battle of Roodewal (Rhenoster River) on 7 June 1900 - apparently the son of William and Ellen Taft who was born in July 1884. This means that, at about 16, he was probably the youngest of the five men who died.

Private Arthur Villiers, of 2nd Grenadier Guards, died on 7 July 1900 of enteric fever, at Pretoria where he is buried, - nothing further is known about this man.

Lance-Corporal Frank Stapleton, of 4th Derbyshire Regiment, killed in action on 7 June 1900 at Rhenoster River - was born in 1880 in Stapleford, Notts to Charles, then a railway labourer, and Hannah. He would have been about 20 at the time he was killed. His mother died when he was seven and his father then married Eliza Peberdy in 1890 and had become a farm bailiff on Middle Street, Beeston by the time of his son's death.

Private George Hallam Williams, of 12 Company Imperial Yeomanry, South Notts Hussars, died of enteric on 14 May 1901 at Noupoort ("Nauport" on the memorial) - was born in Beeston in 1879 so was about 21 when he died. His parents were George, a joiner, and Sarah Williams (née Clarke).

Private John William Cunnington, of 12 Company Imperial Yeomanry, South Notts Hussars, died on 26 June 1900 of wounds received on 1 June 1900 at Lindley where he is buried - was born in Cropwell Butler, Notts in about 1879. one of four sons of John, a gardener, & Georgina Cunnington.

I am indebted to Brian Kaighin for additional information relating to the place, date and circumstances of the death of these men. Brian specialises in aspects of the Boer War and maintains a comprehensive database of names.