© David J Gunther - 2008

They Had Beeston Connections - George Edward Hodgkinson
George Hodgkinson was known affectionately as "Mr. Coventry". The Rt. Honorable Richard H.S. Crossman, Member of Parliament characterized George as a staunch trade unionist, pioneer shop steward, chief conveyer of shop stewards, city councillor and Alderman, Mayor of the city and Honorary Freeman. Richard Crossman even submitted George's name for knighthood, but that never happened. The following narrative, written by David J. Gunther, George's 2nd cousin who lives in America, summarises George's life from interviews with family members, information derived from the Warwick University, Modern Records Centre and from George's writings and memoirs and his autobiography, "Sent To Coventry".
George Edward Hodgkinson was born 9 August 1893 on Villa Street in Beeston, Nottinghamshire, the eldest of four sons born to Walter Hodgkinson and his wife Charlotte, initially a Twisthand in the Lace trade. George took his Christian name from his maternal grandfather, George Wormell, a cobbler and part time chimney sweep. George was raised in the Methodist tradition while attending the Wesleyan & Primitive Methodist Chapel in Beeston.
When the bottom fell out of the lace trade, the earnings of George's father was limited to the odd job. The Hodgkinson economy was constantly under strain, the relocation of the Humber Bicycle Company to Coventry left Beeston in an industrial vacuum during 1908. From the age of ten, George, accompanied by his younger brothers, helped the family firm clean the flues of boilers at the Lancashire firm of Goddard and Humber. (George's father and Uncle John & Edward started a Chimney Sweep & Copper Flue Cleaning business). During this time, George attended the Beeston Adult School, Nether Street School and the 17th Notts Battalion Boys Brigade Bible class. His pet name as a school lad was "Eddie". At age 11, George obtained employment with a local dairyman and with special permission from the Headmaster was permitted to arrive at school a half hour after starting time. The children were to go to work and earn money as soon as possible. He left school at age 13 and went to work for the Dairy farmer (Walter Holmes) full time. On many occasions spare milk was given to take home and since it was free it constituted a large part of George's diet. Free? A high price had to be paid in due course! Dangers lurking in un-pasteurized milk were then unknown. George's mother died of tuberculosis of the lungs when he was 14. During this period he and his three brothers were split up for a year and he lived with his Uncle Thomas Wormell. His father Walter remarried, to Rosette Bryan, and the family was reunited. Shortly afterwards, George's step-mother Rosette noticed a tuberculosis lump on George's neck, which was removed before the disease could progress further. After being discharged from the hospital, George worked for a series of engineering firms, including the Beeston Boiler Company. Determined to equip himself with engineering skills, he enrolled for evening classes at the University of Nottingham. It meant an eight mile walk for three nights each week. George's political development during this period was much influenced by Herbert Smith, the Secretary of the Beeston branch of the Amalgamated Society of Railway Servants. Mr. Smith encouraged George to read "Ruskin" and George stayed with the Smith family during the 1911 Railway men's dispute, an event which made a strong impression on him. George's views were also influenced by the harsh conditions he witnessed in the Beeston Foundry Company and by his mother's death, an event which he felt was hastened by the inequities of the class system. George was encouraged by Herbert Smith to become a practicing Quaker at the age of seventeen and also began to court his daughter, May Smith.
George left Beeston at age 20 and acquired a job as "fitter and turner" at Dilworth & Carr in Preston, Lancashire. Here George taught the Preston Adult Sunday School at the Quaker Friends meeting house, and attended the Harris Institute on machine drawing where he completed his engineering education. In 1913, he joined the Independent Labour Party and the Amalgamated Society of Engineers. At age 21 he moved to Coventry to assume a position with the Daimler Company; where he lived at 47 Harnell Lane West. On Boxing day 1914, he married May Smith in the Beeston Parish Church. They lived at Eld Road, Foleshill and then 30 Middlemarsh Road in Coventry. At age 23 he became a "Conscientious Objector" which led him to becoming the first shop steward at the Daimler Company in Radford. During this time his wife became pregnant with their first child, Ellen. George continued to take a leave of absence from work on Sunday afternoons to teach Sunday School. His religious beliefs strengthened his feelings against the war. He attributed his election as first convener at the Radford plant to the fact that he had successfully defied pressure from his co-workers to enlist, thus proving his merits as a man of leadership material. As a shop steward, George played a leading role in local strikes over the dilution issue and in the embargo dispute of 1918, the latter prompted by the Government's attempts to prevent engineering workers moving to better paid jobs. During the embargo dispute, a clumsy unsuccessful attempt was made by authorities to enlist George on the false premise that he himself was a dilutee. In 1919, George led a sit in protest at the factory in an effort to ensure that the wartime levels of pay were maintained in peacetime. During the summer of 1919, George was nominated by his union for an Amalgamated Society of Engineers (ASE) scholarship to Ruskin College in Oxford. He accepted and spent a year there on a course that included economics, political science and English literature. During this period, George rented his house; while his wife, (May) and child (Ellen) returned to Beeston to live with his in-laws. George found Oxford intellectually stimulating; he was impressed, for instance, by a lecture of G.D.H. Cole's although guarded in his enthusiasm for Cole's ideas. In addition, it was an enlightening experience socially; one of George's friends was the Earl De La Warr, an aristocrat with Labour sympathies. Letters written by George to his wife May, attest to his strength of his awareness of the class struggle. Though enthusiastic about the possibilities of direct action, his continuing faith in parliamentary government differentiated him from revolutionary speakers such as Arthur McManus. At Oxford, George was elected to Secretary of Sports & Athletics. During his term break he would peddle his bicycle from Oxford to Beeston.
Following College (age 27) he returned to Coventry to find his reputation as shop steward preceded him. In October 1920 he found work at Humber Company. On New Year's Day, 1921, his fellow workers elected him as their shop steward. The next day, he was fired. In 1921, George stood unsuccessfully as a Labour candidate for the Radford ward in the elections for poor law guardians. George's longest period of employment at this time was for fourteen months at the B.T.H. factory in Rugby. This ended when the firm locked out AEU members as part of a general confrontation between the Engineering Employers' Federation and the unions. Unable to find work and with the family to support ( - a second child had just been born), George was driven to humiliation of having to seek poor relief. A short-lived engineering job at Wildt in Leicester left him no better off until, in January 1923, he finally regained employment with Daimler in Coventry. Even so, this was conditional on his not organizing as a shop steward. He later claimed that his experiences during this period radicalized him within the Labour movement.
In October 1923, he resigned from his job with Dailmer to resume his political career working full-time as the Labour Party agent in Coventry, a position George was to hold for the next thirty-five years. Then in 1924, at age 31, his wife May died from severe asthma.
The disastrous aftermath of the engineers' lockout had reduced membership of the AEU in Coventry to a fraction of its 1920 level. It was therefore not surprising that labour activists in Coventry turned their attention towards building up the now neglected local party. George capitalized on this; the party's debt of £240 was erased; women's sections were established and membership rose rapidly. In the General Election of 1923, George managed the campaign of A.A. Purcell for the Coventry seat. Purcell duly became the first Labour Member of Parliament (MP) for Coventry by a margin of 346 votes, although he was to lose the seat a year later.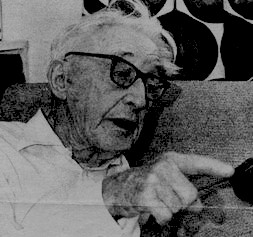 The year 1926 was eventful for George. George married Carrie Wilson, a friend of the family. During the General Strike, George was seconded by the Labour Party to play a leading role in organizing resistance on the strikers' behalf. Indeed, George personally produced the local strike bulletin using a Gestetner cyclostyle. He and three members of the Council of Action (an ad hoc body spawned by the Coventry Trade Council) traveled to London in a vain attempt to persuade the TUC to continue the struggle. The prospective Labour candidate for Coventry at his time was Philip Noel-Baker, who held the seat between 1929-1931. In 1931, George and Carrie had a son named Philip, who later attended Bablake School in Coventry. (Might he have been named after Noel-Baker?). George shared Noel-Baker's internationalist and pacifist leanings but preferred to campaign on more pragmatic domestic issues. After Noel-Baker's success in a by-election at Derby in 1936, the Coventry Labour Party chose Richard Crossman to succeed him as the Coventry candidate. George and Richard became close friends and political allies; George admired Crossman's intellect and energy, while Crossman was a self-confessed disciple of George's expertise in the areas of local government and party management. Dick would often stay with the Hodgkinson's during his visits to the constituency.
Our picture (left), taken later in life, nevertheless shows George making a point strongly - as he had done throughout his life.
George's career as a Coventry councilor began in 1928 when he won the Radford ward. At that time, Coventry was dominated by a coalition of small businessman and tradesmen. In contrast to the parsimonious approach of their opponents, the Coventry Labour Party, advocated a program which included increased spending on housing and education. The exodus of the middle-class Coventarians from the city in the 1920s and 1930s weakened the grip of the coalition and in 1937 the Labour Party won control of Coventry Council. George duly became the first Labour leader of Coventry but, after a year, he made way for Sidney Stringer. George and the Labour group were of like mind that it would be unwise for him to continue to combine his role as a full-time party official with the position of council leader. Like George, Stringer was a skilled engineer, and formerly both a member of the Independent Labour Party and a shop steward. The structure evolved by the Labour group on Coventry council meant that Hodgkinson and Stringer were forced to rely on force of argument and strength of personality to get their way. Before every major decision, a secret ballot was held among the Labour councilors, the result of which was binding on the leadership. The Labour council immediately began work on a 5 year capital works program. Ironically, given George's background, there were tensions with the unions caused by the council' s decision to award an increase to lower paid workers that was larger than the norm agreed nationally. In addition, George's hopes of a scheme to introduce worker participation on municipal transportation services foundered amidst intransigence of both unions and management.
After the out break of war, George became vice-Chairman of the War Emergency Committee in Coventry, the coordinating body for local government during hostilities. George and his family survived the long term WW2 bombings of Coventry during the German air raid of 14-15 November 1940 and again in April 1941. Their house at 1 Browett Road, Coundon was damaged on the roof by the blast from nearby bombs that removed some roof tiles. George and his wife were busy during these raids, putting out incendiary bombs with sandbags, whilst Philip (aged 9) sheltered under the stairs inside the house. George believed that it was only his intervention, together with his colleagues, which dissuaded the Minister for Home Security from declaring martial law in Coventry in the aftermath of the blitz. Gas, electricity and water supplies were cut off completely in the wake of devastation. As chairman of the council's gas committee, George was instrumental in organizing the restoration of gas supplies both to the city and to the shadow factories strategically placed outside Coventry. Gas pipes were laid, for instance, to the Alvis plant in Holyhead Road, which enabled the factory to continue producing components (Spitfire superchargers) vital to the war effort. George's wartime responsibilities also included organizing communal feeding centers. He was resourceful in this, borrowing crockery from colleagues in Stoke and cutlery from the authorities in Sheffield. As a result, a restaurant was set in Well Street Congregational Church, which George believed served as a prototype for British Restaurants later in the war.
The devastation of Coventry city center presented a dilemma in terms of its redevelopment. George, in his capacity as a member of the Planning and Redevelopment Committee, played a major role in persuading his fellow councilors to accept bold changes envisaged by the city architect, Donald Gibson. George's views on this matter had been made clear as early as 1937, when he "look(ed) forward to the day central property would be required by the Corporation for laying out the center of the city on the lines followed by continental cities"1.
In January 1941, George's concern that lengthy bureaucratic procedures would hamper the reconstruction of Coventry city center prompted him to lead a delegation to meet Lord Reith, Minister of Works and Buildings. George pronounced himself satisfied with the Minister's attitude and shortly afterwards, the council gave its approval to Gibson's plans.
Dame Laura Knight painted an oil painting of "Princess Elizabeth opening Broadgate, May 2nd, 1948". The painting portrays Alderman G. Hodgkinson, Chairman of Planning Committee. It hangs in the Herbert Art Gallery & Museum, Coventry and was published in the National Portrait Gallery in London2.
In early war years, the Coventry Labour Party began to show a great deal of interest in mobilizing support in factories. George himself campaigned on behalf of sheet metal workers, who were locked out of the Cornercroft plant after a dispute over Christmas shopping in December 1941. Close links established between the Coventry Labour Party and communist activists in local factories were reinforced by unofficial co-operation in the Coventry Trades Council and the Anglo-Soviet Unity Committee. George shared the suspicions of some communists that production difficulties were exacerbated by; the Fascist sympathies of certain managers. In 1942, he accused fifth columnists of deliberately leaving machinery idle at an Alvis factory. George's feelings about this issue was evident when two young Scottish women were sent to prison for persistent absenteeism in the same year. The "two Jeans" case became a something of a cause celebre. Indeed, Hodgkinson and Stringer, who had both acted as magistrates in the case, were summoned to appear in front of the AEU District Committee in 1942 to explain themselves. In this instance, as in others, George seems to have acted in what he perceived to be the wider interest of the community rather than a narrower sectional interest. In the following year, George expressed his renewed fear that Coventry's plight would be ignored by the government, "It was feared that the bombed towns were going to be....forgotten and left to their own resources when the war was ended."3.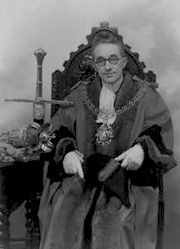 George went on to become the Mayor of Coventry in 1944-45 (See left) and used his position to urge a bold and rapid program which laid the foundations for the modern city after the wartime destruction. To facilitate this, he was one of the prime movers in the purchase of the council of 1426 acres of freehold land in the city just after the war. Coventry faced immense problems after the war ended: by December 1945, there was a waiting list of over 10,000 for council accommodations. Yet George's anxieties about potential central government refused to grant the city special grant aid in lieu of destroyed property. Together with the inadequate income from the rates, George and his colleagues had to contend with a shortage of building labour. In October 1946, only a quarter of the required number of labourers were available for council building schemes. Nevertheless, the council did manage to provide 3,000 permanent homes in the period 1945-1951. In addition, the city recovered economically, earning the title "boom city" in the British national press.
While George's political career in local government had flourished, his hopes for a parliamentary seat in 1945 were dashed. Richard Crossman had been installed as candidate for the Coventry East constituency and George Hodgkinson seemed assured of the nomination for a parliamentary seat for Coventry West. At the last moment, however, Transport House vetoed his nomination on the grounds that he was a paid party official. This was the greatest disappointment of George's life. Instead, Maurice Edelman was selected for the seat which he won. When Crossman was re-elected in the 1955 General Election, his majority slumped alarmingly from 12,671 to 6,104. Crossman felt the deficiencies in George's running of the campaign and a long-term decline in the local party organization were responsible, and George blamed the candidate's own style. The quarrel that ensued divided them for years. George described the position of Coventry Borough Labour Party in the period as "Bevanite with a capital B"4. George's expressions of his own opinions on this and other national issues were circumscribed by his position as a party agent. His own views were hinted at years later by the dedication of his autobiography to Bevan. In 1958, George Hodgkinson retired as a party official.
Coventry Council's achievements in the first two decades after the war include the building of the Belgrade Theater and advances in the areas of nursery education and Meals on Wheels. George ignored advice from the Transport House to concentrate purely on local party matters and continued to play a major role in the council's affairs. His membership of the strategically vital Policy Advisory and Finance Committees continued unabated throughout the 1940s and 1950s. In addition, his interest in participatory forms of local government was reflected in innovative ideas such as survey opinions of council tenants. Nevertheless, suspicions that George and his colleagues were becoming increasingly out of touch with social trends in the 1950s were lent credence by Labour's declining performances in local elections in the closing years of that decade. George's public pronouncements sometimes betrayed a hint of Puritanism which sat uneasily with the prevailing mood of an age of increasing affluence. A few years earlier, for instance, he had denounced as "scandalous" the large sums of money spent on greyhound racing "when we are trying to build up brighter prospects for our children"5. George never wavered to the call of his Christian upbringing. He was known to spread the gospel at street meetings, sometimes preaching a dozen sermons in sequence. He was known as the stained glass saint of the Labour Party but George said, "stained, yes, but glass be dammed".
In 1962, George was made an Honorary Freeman of the city of Coventry. George was a frequent visitor to Eastern Europe after the war and often deplored what he felt were the crude distinctions between the Eastern block and Western Europe. In this, he was not untypical of the Labour movement in Coventry, where many shop stewards, in particular, had long sympathized with the struggles of the Soviet Union. George himself especially admired the Yugoslavian system of government. On 6 April 1970, at the 25th anniversary of Liberation, The city Assembly of Sarajevo, Yugoslavia conferred the Honorary freedom of the city on George Hodgkinson, who is the only Englishman to receive and enjoy it.
In 1967, George lost his council seat when the Labour Party was swept from power in Coventry. His autobiography, "Sent to Coventry", written at Crossman's insistence, was published in 1970. George continued to live an active life thereafter. For instance, he maintained his involvement with the University of Warwick. On 28 June 1975, the University of Warwick conferred the Honorary Degree of Master in Arts at the Coventry Cathedral.
Philip Hodgkinson remembers his father, as a good father, an even better grandad and his mum and dad as a devoted couple. George remained close to his brothers, but particularly Albert, the oldest of the three, who also lived in Coventry. Philip recalls, "He and Albert often went fishing together. Fishing was an important part of my Dad's life. Most Sundays we all went off early in the morning in the car with a picnic and a primus stove to the country where my Dad 'disappeared' to a nearby river bank, returning in the evening after a long day in the country. It was his way of removing himself from the tensions of politics and the attentions of the public, trying to enlist his help, just for one day in the week. He was not to be disturbed from his fishing or family. I know he was incorruptable in both his private and public life."
George also loved to play his football. Even when retired in his 70's, he could be found playing with his children and grandchildren at "No man's land" in Hatfield. George was a genial, sincere man of simple tastes; a near teetotaler, he lived in a council house at 1 Browett Street, Coventry on principle until his death. On 18 August 1986, George, age 93, suffered a heart attack at the wheel of his F-registered Riley 1300. It careered out of control and smashed into a traffic control box near the Holyhead Pub on Holyhead Road, Coventry. Rev. Peter Perry performed a Valedictory service held at the Coventry Cathedral on 29 August 1986. His remains are at the Canley Crematorium in Coventry.
---
Footnotes
1 Midland Daily Telegraph, 27 Jan 1937
2 as ISBN 0904017 74 5-Pbk.
3 Coventry Standard, 23 Oct. 1943
4 Modern Records Centre, University of Warwick, MSS.11/3/7/164: Hodgkinson to Philip Noel-Baker, 12 Mar 1955
5 Coventry Standard, 8 Mar 1947

The author wishes to thank the staff of the Modern Records Centre at the University of Warwick for their assistance, particularly for the information in the entry in their name authority file relating to Hodgkinson (GB 0152 AAR0947) - "Hodgkinson, George Edward (1893-1986), Coventry Labour Leader, Labour Party Agent" and MSS 154/3/HKN/23 - "Biographical Notes ... George Edward Hodgkinson".

For those interested in learning more about George Hodgkinson; consider reading the following:
"Sent To Coventry" (1970)
Letters to his wife
"A Shop Steward at Oxford" ed. Richard Storey (1980)
Coventry & the Movement for World Peace: writing & speeches, 1971-1975 ed David Sutton (1981)
Coventry's Friendships: The search for International Understanding (1987)
Hodgkinson papers (MSS.23 - Modern Records Centre, University of Warwick)
David Sutton papers (MSS.252 - Modern Records Centre, University of Warwick)
Coventry Borough Labour Party papers (MSS.11 - Modern Records Centre, University of Warwick)
Richard Crossman papers (MSS.154 - Modern Records Centre, University of Warwick)
Coventry Evening Telegraph Year Book and Who's Who (1986)
Biographical notes of George Edward Hodgkinson (c1976) (unpublished JN 920 H689 - Coventry Central Library)
Hodgkinson papers at Coventry Records Office (refs. 702, 980, 1134)
Coventry Evening Telegraph, 29 Aug. 1986
Richard Storey & Philip Hodgkinson; Coventry Evening Telegraph, 1944-1945