Claims to Fame -
It is said that most people can claim some kind of "Claim to Fame" - a sometimes tenuous connection with a famous figure - which is perhaps a variation on the often quoted "Six Degrees of Separation" theory - which states that we are connected in some way to everyone else on the planet through a chain of acquaintances that has no more than five intermediaries. This rather surprising claim, which is well based but has not been proved conclusively (though some have come close), relies on social networks, acquaintances, "knowing someone who knows someone else", a friend of a friend, and so on, as well as everyday and family connections. On this basis, this page would be essentially endless !
On this page we name several famous people from history who had some kind of definable connection - which we have limited to family relationships - with Beeston connected people. We think you will be surprised !
William Shakespeare - yes, the Bard himself ! His origins are very well known. Born in Stratford on Avon, Warwickshire in 1564 to John Shakespears, a wealthy glover and alderman, and Mary (née Arden), he married Anne Hathaway in 1582. His career as an actor, playwright and poet began in about 1585 with most of his most famous works produced between 1589 and 1613 after which he retired to Stratford, where he died in 1616. Today, his work is as popular as ever and is played and studied throughout the world.
Although William and Anne had three children (including twins), it appears, and it is generally accepted, that there are no direct living direct descendants. The closest we can point to are descendants of William's siblings. He had seven brothers and sisters, four of whom lived to be adults. Of these, his sister Joan appears to have the most identified descendants and it is through this line that most of those who claim to be descendants originate. And so it is for those that we can identify in Beeston.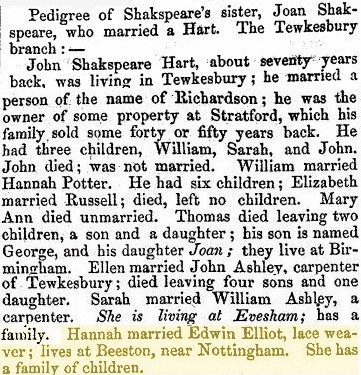 Joan Shakespeare was John and Mary Shakespeare's fifth child, born in 1569. After three other daughters died young, Joan became their only surviving daughter and therefore William's only sister. She married William Hart and they had four children. The Beeston descendents trace their line through their son Thomas Hart (1605-1661), seven generations earlier than Hannah Hart who was born in Tewkesbury in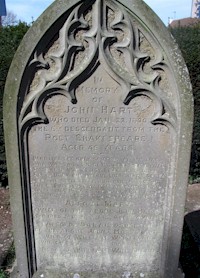 1809 but who came to Beeston sometime around 1845. Mention of her and her connection with Joan Shakespeake appears in Notes and Queries, 23 April 1864, Page 341 and is shown in the extract given here (click the image for the whole article). Her grandfather, John Shakespeare Hart (1755-1800) had married Mary Richardson of Tewkesbury in 1774 and had moved from Stratford, probably at that time, Their third child, William Shakespeare Hart (c1778-1834) and his wife Hannah Potter (c1781-1848) were Hannah's parents. They were clearly fully aware of their connection with William Shakespeare and, indeed, the headstone for John Shakespeare Hart at Tewkesbury Priory proudly makes the connection, (see left and click it to see a larger image), albeit incorrectly, since the relationship is with Joan and not her brother William, the poet.

George Elliott (b. Tewkesbury 1836, died Beeston 1912), worked as a lace maker, He married Lucy Grossmith in 1868 and they raised four children in Beeston.
Ann Elliott (b. Tewkesbury 1837) married George Beardall, a Beeston silk throwster
Edwin Elliott (b. Tewkesbury 1840) married Emma Roadley at Beeston in 1864. After working initially as a silk throwster, he had become a fruiterer by 1871.
William Elliott (b. Beeston 1846) married Harriett Johns and worked as a lace maker in Beeston,
Thomas Elliott (b. Beeston 1849) married Mary and had at least two children
Alfred Elliott (b. Beeston 1852, d. Beeston 1912) married Elizabeth Burnham in Beeston in 1878. They kept the Royal Oak pub in Beeston and had six children. Their eldest child was Alfred Elliott who was well known as a butcher in Beeston. The more complete story of this family can be see here.

John Maynard Keynes

- was, of course, an economist - in fact, probably the most influential economist of the 20th Century, whose ideas - collectively known as "Keynesian Economics" - continue to carry weight today.

Born in Cambridge in 1883, the son of an academic economist, Keynes won a scholarship to Eton and then to Kings College, Cambridge where he graduated with a first in Mathematics in 1905. By the beginning of the Great War, he had established himself as a Cambridge academic with influential views, such that his ideas were actively sought to advise the Government on the economic problems that arose. eventually serving as a Treasury Civil Servant with an incisive style that became legendary. At the Versailles conference, which met to agree the post-war settlement, Keynes advised the British team led by Lloyd George, and argued against punitive reparations for Germany. He argued that excessive punishment, with a resulting impoverished nation would encourage a rise in extremism in Germany. His advice was not followed but his predictions became a tragic reality. During the inter-war period, he continued his academic career and published several ground-breaking works, including the two-volume Treatise on Money (1930), The Means to Prosperity (1933) and The General Theory of Employment, Interest, and Money (1936). These offered ways in which the unemployment of that era could be addressed and his ideas were eventually, to effect the way Roosevelt tackled the depression in America. By the time of the 2nd World War, Keynes was suffering from poor health, having had his first heart attack in 1937. Nevertheless, he worked tirelessly on solutions to the economic problems of the war period and its after-effects. In September 1941 he became a Director of the Bank of England and received a hereditary peerage in the following year, taking the title Baron Keynes, of Tilton in the County of Sussex. In the summer of 1944, he took an important role in the meetings that established the Bretton Woods Agreement which set the basis for international monetary regulation that was adopted in the post-war period. Immediately following the War, with Britain in a perilous financial position, he was part of the delegation that negotiated revised terms for its existing debts and additional funds to assist the rebuilding of the British economy. On 21st April 1946, only weeks after returning from America, he died at his home in Firle, East Sussex, aged 62.

What is less well known is Keynes' membership of the Bloomsbury Set, an intellectual grouping of artists, writers and philosophers - many of whom had been educated at Kings or Trinity College, Cambridge - that made London's Bloomsbury area their base in the first four decades of the 20th century. And too, Keynes had a personal interest in the ballet and in opera and give substantial financial support to Covent Garden and the Sadler's Wells Ballet Company as well as ensuring their survival while they were shut down during the War. He took a leading role in the establishment of the Arts Council of Great Britain and was its first Chairman in 1946. It was while persuing his interest in the ballet that, in 1921, he met the Russian ballerina, Lydia Lopokova and, in 1925, they married. Their's was a happy, though childless, marriage with Lydia able to give her husband much needed support during the difficult war years and immediate post-war period in which, despite severe health problems, Keynes played such a key role.

In fact, John Maynard Keynes was closely related to two prominent local brothers, William and Charles Neville who lived in Beeston and then in Chilwell, and who themselves found success as lace manufacturers. Though they were both born in Radford, Nottingham (in 1847 and 1849 respectively) they had each moved to Beeston as young adults. By 1871, William was making lace on Chapel Street and already employing 9 men. By 1881, he had been joined in partnership by Charles and they were employing 31 men and 17 women in the factory which they had taken over just on the Beeston side of the Chilwell boundary on Chilwell Road. In 1886, they build a major addition - with the distinctive lantern roof which was a feature of many lace factories at that time - at right-angles to the original building, on the Chilwell side of the boundary. This major factory became known as Neville's Factory and continued as a lace factory, latterly with tenants, until it was eventually, after 1934,gradually taken over by Myford Lathes. By 1891 William and Charles had moved to Chilwell, where they were to live with their families, in adjacent properties on East Gate (now Park Road).

The father of the Neville brothers, was William Neville who was born in the Mile End area of London in 1817 but came to Nottingham early in his life and became a successful lace agent. He in turn, was the son of William & Ann Neville and the brother of Anna Maynard Neville (1819-1907). In 1851, Anna had became the second wife of John Keynes (1806-1878) of Salisbury, Wiltshire, who had inherited the family brush making business but passed it to his brother, preferring to follow his interest in market gardening, specialising in roses and dahlias, a field in which he became a national authority. Despite this success - and John's service as Mayor of Salisbury in 1876-7 - the family, having made its money in "trade" and being nonconformists (they were active Congregationalists) faced great difficulties when it came to ensuring that John Neville Keynes (1852-1949), their only son, received the education that they sought for him. In particular, his mother and his aunt Mary - his father's sister - were determined that he would succeed academically. Despite all the difficulties, having first gained a B.A. from University College, London, he was eventually able to enter Pembroke College, Cambridge with a scholarship where he graduated in Moral Sciences. This abled him, assisted after his father's death in 1878 by an inheritance worth £800 a year, to settle into a career in the Cambridge academia. His involvement within the Congregationalist community and his work as a tutor, brought him into contact with a Newham College student, Florence Ada Brown, the daughter of John Brown, a Bedford Minister. In 1882, they married and set up the home on 6 Harvey Road, Cambridge where they were to live throughout their marriage of over 67 years. John Maynard Keynes, their first child, was born in 1883, followed by Margaret Neville Keynes in 1885 and Geoffrey Langdon Keynes in 1887. Each was to become famous in their field - John Maynard, of course, as the famed economist, Margaret was, like her mother, a Cambridge social worker and married Archibald Hill, winner of the 1922 Nobel Prize for Physiology, and Geoffrey became a renowned surgeon.

Members of the wider family, not least those in Beeston and Chilwell, would have been fully aware of the achievements of those in Cambridge, not least because of the diligence and energy of William and Charles' aunt, Anna Maynard Neville. Throughout her life, she kept contact throughout the wider family. She undoubtedly visited her brother and her nephews in Nottinghamshire regularly - possibly accompanied by her son - and was certainly visiting Chilwell in 1901. On that occasion, she would had news of her son, by then well established with his family in Cambridge, and also of the progress in life of her three grandchildren. Although, Charles died in 1918 so did not live to appreciate the full impact of the work of John Maynard Keynes, his brother Charles, who died in 1926, would however have known of Keynes' involvement in the post-war settlement. As first cousins, they would, no doubt, have been intensely proud of his growing fame.

Clement Richard Attlee - who was, of course. the post-war Labour Prime Minister who, many felt unexpectedly, won the General Election of 1945 against his Conservative opponent, Winston Churchill, having previously served as Deputy Prime Minister during much of the War years. During his six year term at the top, he oversaw big changes, notably the establishment of the welfare state and the granting of independence to India. His Government also had to deal with the huge financial difficulties that Britain faced after the War. During the resulting negotiations with America in particular, he would, of course, have worked closely with John Maynard Keynes who, as we have seen, took a key role in these difficult talks. His government also adopted the Keynesian economic principles of full employment maintained by government stimulus.

Attlee was born in Putney, London in 1883, the son of a successful solicitor, Henry Attlee. This comfortable, middle-class background gave him a private education which included the prestigious boys' public school, Haileybury College, going on to University College, Oxford where he graduated with a Second Class Honours degree in Modern History. After training as a lawyer, he was called to the Bar in 1906 but then followed his developing interest in social problems after he had seen the poverty and squalor of London's East End while helping out at Stepney boys' club, sponsored by his old school. This led him to join the Independent Labour Party and the Fabian Society and to begin an active political career. After service in the Great War, when he rose to the rank of Major he became Mayor of Stepney and, in 1922, was elected as the MP for Limehouse. In 1935 he became leader of the Parliamentary Labour Party, a position he held for 20 years. After Labour's defeat by Churchill's Conservatives in 1951, he continued to lead the Party in Opposition until 1955. Following his resignation he was award the Order of Merit, was made Earl Attlee and Viscount Prestwood and received the Order of the Garter. He died in 1967.

Attlee's connection with Beeston is tenuous and it is unlikely that he ever had any knowledge of it. Arthur Richard Calvert (1852-1922) was born in Clapham, London but, as the son of a Church of England clergyman, his early life involved several moves by the family. His father, William John Calvert had originated from Nottinghamshire and it was here - in Radcliffe-on-Trent - that his son Arthur settled after his marriage in 1880 and from where he established himself in practice as an architect and surveyor. It was in that role that he made his mark in Beeston, after being retained to design the street layout and architectural drawings for Grange Avenue, Beeston and the houses that were built there for Edward Smith in about 1893.

Meanwhile, in 1886, his father who had been a widower for nine years, married Emily Attlee who, as the sister of Henry Attlee, Clement's father, was the future Prime Minister's aunt. While it is quite possible that both Emily and her step son were aware of Clement's growing career, both had died - she in 1929 and he in 1922 - before the peak of this remarkable career. Tenuous the connection is - step-mother's nephew - but real all the same.

A more complete story of the Calvert family, the building of Grange Avenue and the connection with the Attlee family may be seen here.

© David Hallam - 2011