Pop-up notes are active on this page - Click any note number to view


The Personalities behind Beeston's Cinemas -
The development and operation of the cinemas that served Beeston during the first 75 years of the 20th Century involved individuals that can certainly be identified as classic entrepreneurs. Each is mentioned in context in the Beeston cinema page and here we look at some of these personalities in more detail :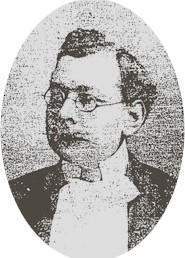 Waller Jeffs - achieved considerably success as a showman in the first decade of the 20th Century and, as such and as we have seen (see main text) was the first, it is believed, to exhibit film shows in Beeston. He had been quick to realise the potential of moving pictures - and turned recognition into action in a most decisive way. But, there had been little in his earlier life to point to the direction his life was eventually to go.
The son of a surgeon - Robert Smith Jeffs, who was himself the son of a surgeon - he was born in Marylebone, North London towards the end of 1861, 1 His full name was Osmund (sometimes "Osmond") Waller Jeffs, which he used throughout his life, dropping his first name only during his period as a showman. By 1871, Robert and his wife Sarah had moved their family to Higher Bebington, near Birkenhead in Cheshire 2 where they lived an apparently genteel life with a domestic servant to assist with the running of the household. Besides Osmund - who was the oldest - there was to be two other sons, the youngest born in 1874, about four months or so after Robert's early death, aged just short of 50. 3
By 1881, Sarah had returned to Higher Bebington with her three sons and had established herself as a lodging house keeper. 4 Osmund, the elder of her sons, now aged 19, had started work as a clerk in the offices of a Steam Shipping Company - in all probability the Pacific Steam Navigation Company 5 which had its offices at 31 James Street, across the Mersey, in Liverpool. Later - at least by 1891 - he had risen to be its cashier. 6 However well regarded he was by his employer and how good an employee he was - and it appears from the positions he held, he was so regarded and was conscientious in his job - it looks likely that his true interest lay elsewhere. During this period in his life, he remained single and seems to have devoted all his spare time to a developing interest in scientific study - notably in geology and The Wirral - the part of Cheshire in which he lived - was certainly of geological interest. He became a member of the British Association for the Advancement of Science and, although relatively young and an 'amateur' amongst many distinguised academics, he was not content to take a passive role. His work on the study of fossilised chirotherium footprints which were discovered locally was highly regarded 7 and - perhaps a small indication of the direction of his interest in his later life - he advocated the creation of a collection of geological photographs which were made eventually into a series of prints and lantern slides for distribution to subscribers. From 1889 to 1896 he served as the Secretary to a committee that formed and managed the collection 8 - an onerous role but, perhaps significantly as things turned out, not the true figurehead.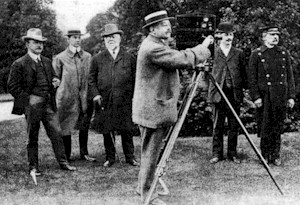 Towards the end of 1892, aged 32, he married Elizabeth Walker Black 9 and it was in the years that followed that his life began to change. Three years later he gave up his role as Secretary to the British Association committee Perhaps his status as a 'gentleman scholar', rather than a 'true academic', had taken him as far as it would go and it was time to move on - or perhaps he wanted a new challenge. After experimenting with journalism and as a lantern slide lecturer he eventually, from about 1901, found success and acclaim - some would say, somewhat bizzarly - as a showman - and particularly in the emerging cinema industry. The photograph on the left, shows Jeffs filming, watched by a group of apparently wealthy individuals, complete with chauffeur.
From his base in Birmingham 10 - where he had a particularly strong following - he branched out with a travelling show which, while introducing a wider population to film, was to become the cause of his declining fortunes as local entrepreneurs saw the opportunity and opened purpose built cinemas - notably in Birmingham where he had been eclpsed by the arrival of full-time cinema.
Despite the personal blow from the loss of his wife - who died in 1909 11 - Osmund was able to adapt to this latest period of change by settling in Stratford on Avon as manager of the Picture House cinema - a role that he continued up to his death on 1 July 1941. 12 He is buried in Brandwood End Cemetery in Kings Heath, Birmingham. 13
Henry Peberdy - was born in Loughborough, Leicestershire in November, 1867, the eldest of two children born to Frederick and Anne (née Bramley) Peberdy. By 1871, the family had moved to Radford, Nottingham where Frederick found work as a lace maker 1. Henry had already followed his father into the lace trade and would have become the main breadwinner to the family when Frederick died in 1884, aged only 40 2. Henry's sister Eliza was only 15 at that time but would have been already contributing to the family income in what undoubtably would have been a difficult time for them and their widowed mother. There is no doubt that Henry and his sister provided that support although what they did to achieve this during the years between their father's death in 1884 and 1890/1891 - when, as we will see, they married - is not known 3. What does appear to be the case is that, somehow and somewhere, Henry picked up skills as a fish dealer and greengrocer. During that period too, it seems he developed his skills - probably acquired originally at a young age - as an amateur musician.
In June 1890, Eliza married Charles Stapleton, a widowed farm labourer who was living in Beeston and it was there, on Middle Street, where the couple set up home with Eliza, aged 21 and fifteen years younger than her husband, becoming step-mother to four sons from Charles' first marriage and was to have five of their own between 1891 and 1906 4. One of these sons, Frederick (b. 1880) was killed in the Boer War and is remembered on the War Memorial in Beeston.
In October 1891, Henry married Charlotte Freeman, the daughter of John and Eliza, then living with her widowed mother in Beeston but born in Ireland - as were her two younger sisters - from where her mother originated. Charlotte's father, had died in 1882 which had left Eliza and her family in much the same financial position as Anne Peberdy and her family 5. Nevertheless, after Henry and Charlotte married, they were able to set up in business on their own account as a fish seller - and eventually greengrocer - on Queens Road, Beeston in one of a row of shops opposite Mona Street 6.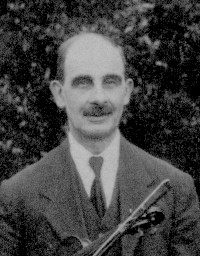 It was from this simple base that Henry and Charlotte developed a family life which was undoubtably shaped by Henry's enquiring mind and his interest in new ideas - in particular, mechanical innovation. In the early years, the couple would have been busy with their two young children and the business - although Anne Peberdy was living with the family at that time and, no doubt, could help - but, when Waller Jeffs brought his travelling moving picture show to Beeston sometime in the first few years of the 20th century, Henry recognised an opportunity which interested him - and he set out to offer moving pictures to the people of Beeston. His financial resources could not have been large, but somehow he found enough to acquire a hand-cranked projector and a few short films - enough to get started in a small way by showing films to a small audience in the dark evenings in his back yard with a screen fixed to the back wall. But he had discovered something for which there was a demand beyond what could be provided in those limited surroundings and, after first hiring Station Road Sunday School for successful showings to a much wider audience, he made a decisive move. Showing the instinct of the true entrepreneur, he opened, in the summer of 1907, what was effectively Beeston's first permanent cinema - the Cozydrome - in the old Silk Mill. The venture was a success with good audiences, paying a small admission to watch a changing programme of movie entertainment, supported by musical interludes performed by Henry and with Charlotte looking after the 'front of house' detail. This enterprise continued successfully for over three years, until much needed safety legislation arrived with conditions that Henry was unable to meet. But he had identified the demand clearly and, where he had led, others soon followed. As our story of local cinemas has decribed, from the flurry of iniatives that followed were to emerge two purpose-built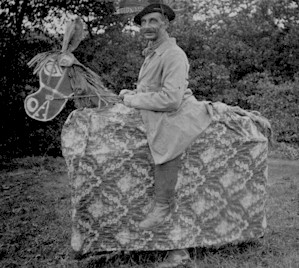 cinemas but not before two earlier short-lived developments had been displaced. Henry had been approached for his support and involvement in these early efforts but turned down all such offers - he was clearly his 'own man', confident in his own ability but not willing to compromise the independence that that implied. He simply moved on, to live his life in his way.
Henry and Charlotte continued to live at the Queens Road address for the rest of their lives, making a modest living in their shop and living within their means. Henry using his mechanical ingenuity and practical skills to take on various pieces of bric-a-brac from the local markets - sewing machines, projectors and the like - to make them saleable again to turn a little profit. In his spare time he was a keen angler and also continued his musical skills with the violin, organ, banjo and piano and by playing the violin in a local amateur orchestra - which can be seen here. (Our picture of Henry, shown right, is from about 1910 and shows him holding his violin) and played his part in community occasions - apparently with a sense of humour as can be seen in this picture of him dressed in a horse costume in a pre-war Beeston Carnival!
Henry and Charlotte's eldest grandson, Cyril Peberdy has fond memories of visiting his grandparents at Queens Road and has reminded us that, remarkably, the property never had an electricity supply and there were only two gas lights. His account of his expeditions with his grandfather, in search of magic lanterns, sewing machines and cinematographs that he could restore, the evenings when the old films would be shown and the tales told of the old Cosydrome days and other unforgettable moments can be read here 7 .
Charlotte died on 9th January 1942 8 and Henry in 1947 9. They are buried in Beeston Cemetery.
Henry and Charlotte had two sons
Frederick Peberdy (1893-1920), was born in Beeston and started work there as a butcher, later taking a job as a porter with the Great Central Railway in Nottingham. In November 1915 he enlisted in the Sherwood Foresters but a subsequent low medical categorisation (flat feet) meant that he was transferred to the Labour Company as fit for Home Service only. He served in the United Kingdom until August 1917 when he discharged to the Reserve on the grounds of a serious heart condition. He was finally discharged in February 1919.
In October 1916, Frederick had married Annie Elizabeth Bailey but they were to have just a brief life together as Frederick died, early in 1920; there were no children. Annie was a widow for 68 years before her death, aged 90, in 1984. 10.
Augustus Henry Peberdy (1898-1983), was also born in Beeston and worked as an assistant at Doar's grocery store in Beeston Square before enlisting in the Army, joining the Lincolnshire Regiment in May 1916. In was posted to France as a signaller in June 1917 but, after suffering mustard gas at Bray in August 1918 he was returned to the UK for treatment for damage to his lungs, stomach and right leg. After convalescence, he was discharged in 1919.
In 1926, he married Kate Rowland, the daughter of Edward Rowland, a domestic groom and his wife Janet. At first, the couple lived at Cromwell Street, Nottingham but, in 1931, moved to Skegness where they opened a boarding house in partnership with Kate's parents. In 1940, the family moved to Hucknall,Nottinghamshire where Augustus Henry was then employed with Rolls Royce as a sheet metal worker. The couple had three sons. Augustus Henry died in 1983, aged 84, and Kate in 1993, aged 90. 11.
Sam Weller Widdowson - The Widdowson family of which Sam Weller Widdowson was part, had its origins as victuallers, hosiers butchers, millers and farmers - and more - in Hucknall Torkard, Nottinghamshire. His grandparents - Robert Widdowson (1782 - 1846) and his wife Hannah (née Alcock, c1780-1863) - prospered with the help of a generous inheritance from Robert's father who died in 1800, first as victuallers at the Half Moon Inn - where he also set up a bakery and a butchers shop. He then acquired land, partly a quarry, on Baker Street, at The Connery, where he built a windmill so that he could produce his own flour. Here too he built himself a fine house, known as Mount Pleasant with formal garden, orchard and stabling. He also built cottages on his land for his workers. Described as a 'driving force' in Hucknall, he was clearly a remarkable man, having involved himself and been highly successful in the large variety of enterprises that he took on. After his death in 1846 from epilepsy, a disease that he had suffered from for many years, Hannah continued at Mount Pleasant while farming 70 acres, in partnership with their son James, for the 17 years of her widowhood 1.

In this outline of the lives of the next three generations of the Widdowson family, we get a picture of zeal and determination and, where it mattered, family co-operation. From within this web of family enterprise emerged one man - Sam Weller Widdowson - who brought benefits to Beeston - both in industry and entertainment.

Sam's grandparents, Robert and Hannah had six sons and three daughters. The sons had been taught and encouraged by their father to take over and continue his various businesses and, almost without exception, each was able to use this start in life to develop their different yet complimentary careers. By almost any standards, the family can be seen as a remarkable dynasty. In the main, they lived well, employing domestic servants, developed their respective businesses well and often accumulated and passed on substantial wealth. It was to be the pattern for later generations too.

As we have seen, Levi and Ann Sam's parents, had ten children. Almost without exception, they responded well to the opportunities of the era in which they lived and they prospered - collectively adding around £15 million in today's values to overall family wealth :
Alfred Widdowson (1840-1905), continued his father's butcher's business from 83 Main Street, Bulwell. He married Elizabeth Smith of Bulwell and they had just one daughter who died as an infant. Alfred's estate was valued at £5,242 15.
Emma Widdowson (c1842-1907) married at the comparatively late age of 43, her husband George Paige was in business as a tobacconist at 42 Main Street, Bulwell. Nine years later she was widowed - her husband leaving an estate of only £2 - and Emma lived out her life with various widowed sisters. At her death, she left £1,993 16.
Henry Widdowson (1844-1881), continued his father's butchers' business from Church Square, Hucknall Torkard. He married Rebecca Pilkington and had six children. He apparently died suddenly, probably while at his shop. He left an estate worth about £370 17.
Edwin Widdowson (c1846-1935), had a remarkable career. Having started as a butcher's boy in the family business, he soon started in business at 48 Main Street, Bulwell as a chemist and druggist, clearly prospered from the start, and eventually moved over to become a wholesale druggist and colouring manufacturer. By 1901, the family were living in some style at Forest House on Hucknall Lane in Bulwell and left the amazing amount of almost £100,000 in his estate (over £5 million in today's prices). He married Rebecca Halton Jephson from Sutton in Ashfield (who died in 1929, leaving £2,711) and they had eleven children 18. One of their sons, Henry Jephson Widdowson, operated cinemas in the Nottingham area 19.
Lucy Widdowson (b. c1849), married James Tomlinson a maltster and general dealer from Kimberley, Nottinghamshire, where the couple made their home and raised their seven children. After James' early death in 1889, when he left £730, Lucy continued to operate as a general dealer in Kimberley 20.
Sam Weller Widdowson (c1851-1927), the main focus of this account, is examined in some detail below.
Walter Widdowson (c1854-1936), after starting out in his father's trade as a butcher at 36 Main Street, Bulwell, he went on to develop a successful hosiery finishing business. He married Hephzibah Caulton from Moulton in Lincolnshire and they had six children. Like too many families, they suffered badly during the Great War; at least four or their five sons served in the War, one died of wounds in 1919 and one was invalided out 22.
Helen Widdowson (c1860-1908), married her second cousin, William Widdowson - a chemist and druggist who traded on North Sherwood Street, Nottingham and at least three other locations - but was widowed in 1898 when William died, aged 45 23.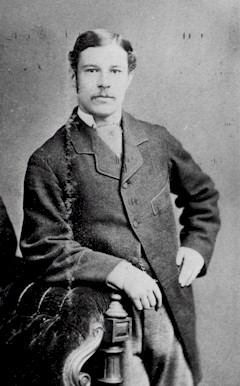 Sam Weller Widdowson himself, (shown left, undated but probably from the 1870s) was born in 1851 in Hucknall Torkard, Nottinghamshire 25. As we have seen, he was the sixth child (fourth son) of Levi and Ann Widdowson who first operated a butchery business in Hucknall before moving, before 1871. to Bulwell where Levi owned tenanted property as well as in Hucknall. It was while living with his parents in Bulwell that Sam took what may have been his first job, as a bookkeeper 26 but soon moved into the mainstream of lace manufacture.

Sam applied the same energy he displayed in the business world to his passion for sport, an interest that took in cricket, athletics and, above all, football. His contribution to the development of the game in Nottinghamshire - and, indeed, nationally - was immense. He was an early member of Notts County Football Club and, in 1865, a founder member of Nottingham Forest Football Club - where he devoted much of his energy. During his long playing career with the club, he showed his flair as an innovator at a time when the game was developing, both in terms of its rules and the tactical methods used. As captain in 1873, he developed the 2-3-5 formation that was adopted as the standard in the game for more the 70 years. He also developed the shin guard that was soon standard equipment amongst players. In March 1880 he played for England against Scotland at Hampton Park, scoring one of the England goals. Between 1879 and 1884 he served as the club Chairman at Forest while continuing to play up to 1885, after which he was appointed to the Football Association Council. By this time, his all-round prowess had made the name of Widdowson synonymous with Nottinghamshire sport 27.

In 1879, he married Harriett Laslett, one of eleven children of Thomas, a master tailor & Harriett Laslett, of Margate, Kent. As a Roman Catholic, Harriet's marriage ceremony was held at St Barnabas Cathedral in Nottingham and their children were all brought up as Catholics. While at least one of Thomas and Harriett's seven sons followed his father into tailoring, one set up as a publisher and bookseller in Kensington, London and at least two had moved to Nottingham by 1861, first finding work as clerks and then moving on as an auctioneer and a furniture dealer respectively 28 It seems that their sister Harriett followed them to Nottingham where she met and married Sam Weller Widdowson.

The couple set up home at 7 St Anns Hill, Nottingham, while Sam was still working for others, but gaining valuable experience in the lace trade as a warehouseman - probably for Thomas Adams, the celebrated Nottingham lace manufacturer as, by 1885 Sam had become a Director of Thomas Adams & Co Ltd 29. . By 1888, Sam had established himself as a lace manufacturer such that the couple had been able to move to 1 Wellington Square, Derby Road, Lenton where they had begun to live in a style - typically with three servants and private education for the children 30 - that they were able to maintain for the remainder of their lives. By 1894 they had moved on to Waterloo Crescent, Nottingham and then, by 1902, had moved to The Hall, Middle Street, Beeston 31 - which provided both increased prestige and increased size in which to accommodate their now large household - including their nine children.

It was in 1904 that Sam was involved in the building of Falcon Works on Brown Lane - now Station Road - in Beeston, trading under the name of Widdowson & Truman. 32. More details of that aspect of his life may be seen here.

It was in 1912 when, probably looking to diversify his interests away from lace manufacture, that Sam involved himself in the venture which was to build and operate the Picture Palace, Beeston's first purpose-built cinema. The venture had been initiated by one Louis Parker who, it seems, had sought financial backing from local businessmen. This proved an over-ambitious project for Parker who soon lost control to Sam, who formed The Beeston Picture Palace Ltd, with himself and his brother Edwin Widdowson as the controlling directors 33. This is not the only cinema investment in which the Widdowson family became involved; it is known that their involvement extended to The Palace cinema in Stapleford and, it is thought, other 'Palaces' in the Nottingham area. Edwin's son, Henry Jephson Widdowson, described himself as a 'Cinema Proprietor' in 1929 and in 1935 34.

The Palace became a popular venue for an evening's entertainment and, despite competition from The Palladium further along the High Road, probably represented a good investment. However, by 1923, it is possible that Sam, now in his later years, was not able to give it his full attention. He therefore decided to dispose of The Palace and it was sold, in June of that year, to Joseph Henry Hunt Allsop (see below) and remained in the ownership of the Allsopp family until it closed in in 1960.

In his latter years, Sam, his wife and those of their family still at home, lived at 13 Meadow Road Beeston. He died of pneumonia in May 1927, his widow living on until October 1945. They are both buried in Beeston Cemetery with two of their daughters who died unmarried 35. Sam's estate was valued at almost £10,000 which would equate to about £440,000 using today's prices. 36.

Sam Weller Widdowson and his wife Harriett Mary had nine children :

The Allsop Family - took over the Palace cinema in 1923 and ran it for 37 years until its closure in 1960. Joseph Henry Hunt Allsop, who acquired the cinema originally, was born in Leicester in 1871, the son of Charles Henry Smith Allsop and Elizabeth (née Hunt). Father, followed by son, spent had all of their working lives in the boot and shoe industry - most, if not all working for the firm of Black & Son, and mostly in the Leicester area.

Charles had worked his way up through the company, as a clicker, then foreman and, after several years as the manager of a shoe factory in Bristol, had returned to Leicestershire for the rest of his working life as the manager for Blacks, clearly valued and trusted by his employer. He did well, eventually employing a domestic servant 1 and retiring with his wife Elizabeth to Mablethorpe, where he died in January 1921, aged 70. He left what was then a substantial estate of nearly £6000 2 which, after provision for his widow, will have trickled down within the family and, in part, was probably invested in the Palace at some stage.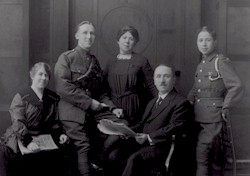 Charles and Elizabeth had four children. Their daughter, Florence Harriet Allsop, married Richard Iliffe a self employed music teacher. Two of the sons, Joseph Henry Hunt Allsop and John Robert Allsop, each followed their father into the boot and shoe industry - apparently both for Blacks. Both appear to have prospered, particularly Joseph who eventually took over from his father as manager at Blacks. He had married Minnie Kate Watkins in 1895, while the family were living in Bristol 3. Their family are shown here in about 1917 - click the photograph for details. Another of Charles and Elizabeth's sons, Charles Edward Smith Allsop, moved to Bradford where he worked for the Corporation as an electrical engineer and later was described as a salesman. 4.

It was 1923 when Joseph decided to enter the cinema business by purchasing the Palace at Beeston. He was then aged 52, probably financially independent and apparently looking for an investment which would also offer an interest for the later part of his life. He was also taking on what appeared to be an excellent opportunity to develop a true family business - because, in addition to himself and his wife, their two sons, Charles Edward Stanley Allsop, then aged 26 and Leslie Joseph Allsop, then aged 19 and their daughter Florence Phyllis Allsop, Charles' twin sister, all came to Beeston with their parents and took on various active roles in the running of the cinema, with Charles as General Manager. The family settled into their new home at 7 Cavendish Place, from where Joseph settled down to semi-retirement while keeping an eye on his investment.

This arrangement continued for about 23 years during which time, the business faced competition from two new generation cinemas - and responded decisively with a complete rebuild of the cinema - and the threat of a super-cinema which, in the event, did not materialise. It also coped well with technological change and the constraints of the War years 5. During this time, all of the sons and daughters had married - first Charles who married Annie Wright in 1926, then Florence who married Reginald Samuel Sumner in 1927 and, in the follow year, Leslie had married Annie Irenie Windebank - and, of course, there were now grandchildren to consider. In September 1946, the Palace was transferred as a going concern to a new company, Palace Cinema (Beeston) Limited, in which his three children, Charles, Leslie and Phyllis, joined their father as Directors, effectively sharing the Palace between all the family members. 6
The family continued to operate the Palace as a family business for another 14 years, a period which saw the passing of Minnie in 1955. Phyllis in 1956 and Charles in 1958 and - alongside the family's continuous efforts to respond to change - the gradual and relentless decline in patron numbers. It was left largely to Leslie (shown here with his wife Annie in 1953 - click for more detail) to manage the end-game - a sale of the Palace to the developers in 1960. Joseph was to pass away within weeks 7 but, at the end, he could look back at a period of 37 years in which the family had worked together, had given the people of Beeston a cimema-going experience that was as good as anything else in Beeston and had remained independent - one of the few - to the end.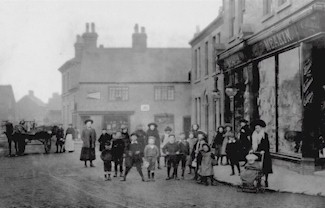 Thomas Meakin - Thomas James Newbutt Meakin was born in Kimberley, Notts in 1868 1, the eldest son of Thomas Meakin, a blacksmith, and Mary (née Newbutt) his wife. His childhood was spent in the Selston and Greasley areas of Nottinghamshire, the family presumably moving as his father found work in the various coal mining communities in that area but, by 1891, the family had setttled in Radford and Thomas had started work as a lace warehouseman 2.

In 1896 he married Priscilla Leaversley, the daughter of a Nottingham lace maker 3. By 1901, the couple had moved to 4/6 The City, Beeston and he had established himself as a draper and was already employing others 4. His parents, then retired, lived next door at number 2 with Mary, an unmarried youngest daughter who assisted in Thomas' drapery business for many years. By 1911, the business had expanded to include house furnishing and he had developed the property in The City to include a substantial purpose-built shop and adjacent furniture warehouse 5. This building, shown left, survives today but has been much modified and is in use as a day nursery. Also by 1911, Meakin had opened as a draper at 14-16 High Road, Beeston, in newly converted frontage in the ground floor of what had been the Silk Mill and continued to trade there for the rest of his life.

By 1912, as we have seen, he had noticed the considerable interest that was generated by early attempts to show movie films in Beeston and the early success of the Beeston Electric Picture Pavilion which had just opened on the High Road and decided to diversify his business interests in that direction. His first move was to convert the old Wesleyan chapel building on Chapel Street, Beeston as a cinema. However, his move into the business soon prompted his competitor to an ambitious move to provide a more permanent cinema, in turn prompting Meakin to match the move with his own, purpose-built cinema on the High Road.


Acting decisively, Meakin formed Palladium (Beeston, Notts) Ltd and, with other local investors, acquired a site on the High Road, next to the Durham Ox pub and built the Palladium cinema there. It opened on 31 January 1914 and was extremely popular, competing - and co-existing - alongside its competition, The Palace, for many years. In July 1927, however, Meakin sold his interest in The Palladium - presumably a controlling one - to Ezekial Shapeero and retired from the cinema business.

He died in August 1935, aged 67, in Blackpool, presumably while on holiday, leaving an estate of just over £10,000 6. He and his wife, who died in 1939, are buried with his parents in Beeston cemetery, where a memorial survives.




Return to Main Beeston Cinemas Page
or
Return to Top of This Page


Notes on Waller Jeffs



Notes on the Peberdy Family



Notes on the Widdowson Family
More detail of the Widdowson family may be seen in articles written by Ann Widdowson which were variously published in the Hucknall Torkard Times in 2003, September 2008 and June 2011.



Notes on the Allsop Family



Notes on Thomas Meakin





Return to Main Beeston Cinemas Page
or
Return to Top of This Page





© David Hallam - 2010