In Memory of
ARTHUR EDWARD BARNES
Pioneer 244818
3rd Field Survey Company, Royal Engineers
Who was killed in action on Sunday 1st July 1917
Age 35

Buried Plot II Row B Grave 11
Henin Communal Cemetery Extension
Pas de Calais, France

Commemorated in Perpetuity
by the Commonwealth War Graves Commission
&
Remembered with Honour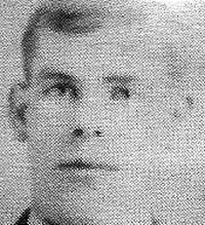 Arthur Edward Barnes was born in Buxton, Derbyshire in 18812, the third son, fifth child, of William Henry and Emma (née Siddall) Barnes. By 1901, the family had moved to Beeston and was living at 62 High Road from where William Henry was trading as a tobacconist. By then, Arthur was working as a farm labourer3. In 1902, Arthur married Sarah Ann Cooper, the daughter of John and Emma (née Elliott) Cooper.4. At first, the couple set up home in Beeston, where their first three children were born - Beatrice Alice in 1903, William Henry in 1904 and Joseph Frederick in 1908 - before moving to Salford, Lancashire, where Arthur took up a position as stationery engine tenter in a paper mill5. In 1911 they were living at 7 Soho Street, Salford. Another son, George Albert had been born in Salford in 1910 and a further son, Charles Edgar was born there in 1912. By the time their sixth and final child was born in 1914, they had returned to live in Beeston.
When war came in August 1914, Arthur was amongst the earliest to join the colours - in fact, it is believed that he had already served in the Robin Hood Rifles, which had flourished as a volunteer regiment in the years leading up to the war. Now, on 5th September 1914, he enlisted with the 1/7th (Robin Hood) Battalion6, part of the Regiment's Territorial Force which, was, in turn, part of the North Midland Division. In the months up to February 1915, the battalion was engaged in initial training, moving to Derby, Luton, Harpenden, Harlow and Braintree7.
On 25 February 1915, Private Barnes was with those in the battalion which left Southampton and landed in France, as part of the 139th (Forester) Brigade and soon saw action in the trenches in the Ypres salient, incurring substantial casualties. In July the battalion was in action around Sanctuary Wood and Hooge, east of Ypres, facing terrifying flamethrower attacks and very heavy fighting and casualties. The battalion war diary for the 30th July describes desperate fighting during which, with heroic effort, it was just possible to hold the line. Private Barnes was one of the many casualties on that day, being wounded in the left foot. After treatment, he was able to rejoin the battalion on 5 September but. two weeks later, was transferred to the 9th Entrenching Battalion, one of a number of such battalions used to improve existing defences in anticipation of a German offensive, which could be used as a reserve force if needed.
Continuing problems with his wound necessitated further treatment in December 1915 and January 1916, following which he was transferred to the Royal Engineers as a cook. In April 1917. he was transferred to the 3rd Field Survey Company of the Royal Engineers as a Pioneer. This was one of several specialist units which had developed to survey the ground, create maps and identify the position of the enemy even when he could not be seen8.
On 1st July 1917, Pioneer Barnes was killed. The tragic circumstances were described by Lieutenant G B Howarth, when writing to his widow :
" he was standing with a friend at the door of a dug-out when a single shell, without warning, burst at his feet, killing both instantly.
The officer then went on to pay tribute to his cheerfulness, his willingness even with the toughest jobs and his eagerness to help his comrades9. He was buried in Henin Communal Cemetery Extension.

Henin-sur-Cojeul is a village in the Department of the Pas-de-Calais, about 8 kilometres south-east of Arras. Henin Communal Cemetery is approximately 0.75 kilometres south of the village with the Extension on its east side. This extension was made between April and November 1917, chiefly by the 21st and 30th Divisions. It was used for 15 burials at the end of August 1918 and enlarged after the Armistice when 68 graves were brought in from Henin British Cemetery. It now contains 193 burials and commemorations of the First World War. 18 of the burials are unidentified and special memorials commemorate two casualties buried in Henin British Cemetery whose graves were destroyed by shell fire10.

Pioneer Barnes was posthumously awaited the Victory Medal, the British Medal and the 1915 Star11. His Army financial effects of £7 6s 7d were paid to his widow, as sole legatee, on 3 October 1917 and she received his War Gratuity of £13 on 5 November 1919. She was also awarded a weekly pension of £1 11s 5d for herself and five children12. At the end of the war, she and her children were living at 13 Regent Street, Beeston but, in the 1930s, she moved to 5 Derby Street, Beeston, She died in 1968, aged 8513.

Arthur's younger brother, George Albert Barnes, served as a Sapper in the Royal Engineers during the War. In October 1916 he was awarded the Military Medal for conspicuous gallantry in laying communication wires under heavy shell fire14. He was wounded in January 1917, survived the War and died in 1947.

An older brother, Frederick William Barnes, was a pioneer in motor cycle development and racing. After several years possibly working for the Humber Company, he was appointed, in 1905. as chief engineer of Zenith Motorcycles which had been established in 1903 in Finsbury Park, London. During the interwar period, he played a very active part in competitions at Brooklands and elsewhere. He was killed when a bomb was dropped on Chichester, Sussex on 10 February 1943.15.
---
Footnotes
1The photograph of Henin Communal Cemetery Extension is from the Commonwealth War Graves Commission website. (http://www.cwgc.org)
2He was baptised at Beeston Parish Church on 1 March 1893. The register records his birthday as 12 January 1888.
31901 Census, Piece 2671 Folio 92. Arthur's siblings who were still with their parents were Elizabeth Emma (b. c1880), George Albert (1883-1947). Charles Edgar (b. c1886) & Beatrice (b. c1888). Harriet Louisa (1873-1909), Joseph Henry (b. 1875) & Frederick William (1878-1943) were then living elsewhere.
4Sarah Ann was born in Beeston, Notts in Q2/1883 (Basford Registration District 7b 172). They married at Beeston Parish Church on 29 November 1902.
51911 Census, Piece 24055 RD465 SD4 ED12 Sched 57. Their oldest daughter was then living with her paternal grandparents in Beeston.
6This enlistment date and all other details of his service are from his Army Service Record which can be viewed on ancestry,com. His service number while serving with the Sherwood Foresters was 2307, The number 265431 is also recorded on his medal card.
7Details of 2/7th Battalion's formation and deployment is from the Sherwood Foresters Wikipedia entry (en.wikipedia.org/wiki/Sherwood_Foresters) with detail from the Battalion's War Diary (on ancestry.com).
8The development and work of the Field Survey Companies is more fully described on The Long Long Trail website at www.1914-1918.net/re_survey.htm.
9This extract from the letter of condolence received from the officer is believed to have appeared in the Beeston Gazette & Echo (see his entry on the Nottinghamshire Great War Roll of Honour site).
10This description of Henin Communal Cemetery Extension is based on that included in the Commonwealth War Graves Commission website.
11Arthur's medal awards are recorded on his Medal Card, available on ancestry.com.
12Army Registers of Soldiers' Effects, 1901-1929, available on ancestry.com. Details of the pension for his widow and children is from his Army Service Record.
13Her death on 8 March 1969 was recorded in Basford Registration District (of which Beeston was part) in Q1/1921 (Ref 7b 526).
14His award of the Military Medal appeared in The London Gazette on 29 October 1916.
15More details of Frederick's remarkable career and of Zenith Motorcycles can be found on a variety of websites, including en.wikipedia.org/wiki/Zenith_Motorcycles and www.gracesguide.co.uk/Zenith_Motors. He can be seen at http://1.bp.blogspot.com/_lVCC9aDALT4/TUx7YE2U1pI/AAAAAAAANC4/6sXy81uxeXU/s1600/Picture_2.png , chatting with rival James L. Norton, founder of Norton Motors, in 1910, at Titsey Hill hillclimb. The possible early connection with the Humber Company, more probably in Coventry rather than Beeston, has not been verified.



Return to Top of Page