In Memory of
WILLIAM EDWARD BARSBY
Private 44578
2nd Battalion Lincolnshire Regiment
Who died on Wednesday, 31st July 1918
Age 19

Buried Givet German Cemetery
One of 14 Casualties whose graves could not be found
Name Recorded in Sedan-Torcy, French National Cemetery, France

Commemorated in Perpetuity
by the Commonwealth War Graves Commission
&
Remembered with Honour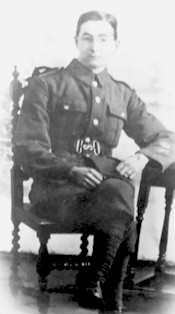 William Edward Barsby was born in the village of Kilby in Leicestershire on 23rd March 18992. He moved with his family at the age of eleven and lived with his parents, Daniel and Alice Barsby, at 84 Upper Regent Street, Beeston. It is known that he attended Nether Street School, joining on 10th October 19113 and leaving just two years later on 15th March 1913.
After moving to Beeston, William joined the Boys Brigade, were he spent two happy years, later joining the Beeston Old Boys. Before entering for War service he was employed by Messr's Norris and Hewitt.
Having attested to join up at eighteen, he enlisted in the Lincolnshire Regiment and joined the 2nd Battalion as a private in January 1917, saying goodbye to his parents, his brothers, Harold and David, and sister Lottie at Beeston Railway Station.
The 2nd Battalion Lincolnshire Regiment: were garrisoned in Bermuda at the outbreak of the Great War. They were recalled and arrived in France in November 1914. Their first major action was at Neuve Chapelle in March 1915.
After training Private Barsby was in a draft of men sent to the front in France in April 1917, to replace the terrible losses which had occurred in 1916. He was soon in the thick of action being part of the battalion's Lewis Gun Section.
Private Barsby was captured and taken prisoner during the German Spring Offensive in March 1918, and eventually imprisoned in Germany. It was there that he succumbed to illness, and died of Pneumonia, the 39th member of the Old Boys to die in the war. He was buried in the German Givet Cemetery. His name can also be found on the panels of the French National Cemetery at Sedan-Torcy.
Sedan-Torcy is a town on the River Meuse, in the Department of the Ardennes, close to the Forest of Ardennes and some twenty four kilometres south-east of Charleville-Mezieres. Sedan-Torcy French National Cemetery was made in 1923 and adjoins the cemetery at Torcy on the west side of the town. The cemetery is situated on the Chemin de Glaire. The Commonwealth graves are in Plot XX. The cemetery contains 45 Commonwealth burials of the First World War, nine of which are undientified. The graves came from the German Cemeteries of Carignan; La Cachette, Nouzon; Liart; Maubert-Fontaine; and Walcourt (Namur). Special memorials commemorate 14 casualties buried in Givet German Cemetery and Maubert-Fontaine German Cemetery whose graves could not be found. Also buried in the cemetery are ix Commonwealth airmen of the Second World War, five of whom are unidentified4.
Private Barsby was one of the 14 British soldiers, buried in Givet German Cemetery and Maubert-Fontaine German cemetery whose graves could not be found.
---
Footnotes
1The photograph of Sedan-Torcy, French National Cemetery is Commonwealth War Graves Commission website (http://www.cwgc.org).
2In the 1901 Census he is recorded in Kilby, aged 2. A younger brother, Harold Cecil, is aged 2 months. His father is then working as a lime stone quarryman. (Kilby, Leics - 1901 Census : Piece 2958 Folio 78)
3School Admissions Register, enty 4092
4The description of Sedan-Torcy and the French National Cemetery there, is based on that included on the Commonwealth War Graves Commission website. (http://www.cwgc.org)



Return to Top of Page