In Memory of
THOMAS WALTER CHURCH
Sapper 48494
150th Company, Royal Engineers
Who died on Sunday, 5th August 1917
Age 40

Buried Row A. Grave 2
Wieltje Farm Cemetery, Ypres, West Flanders, Belgium

Commemorated in Perpetuity
by the Commonwealth War Graves Commission
&
Remembered with Honour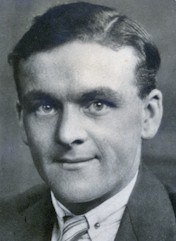 Thomas Walter Church was born in Wooton, Bedfordshire in 1877, the son of Thomas, a house painter, and Hannah (née Redman). When Thomas was about 3, the family moved to Nottingham. In 1897, Thomas married Catherine Hannah Tudor in Nottingham. Catherine was the daughter of Henry Linthwaite Tudor, a commercial clerk and Annie (née Ganley) but, when Catherine was about 10, her mother died leaving eight children. By 1891, the children were being brought up by their 75 year old grandmother, Lucy Tudor, and her 81 year old widowed sister at their newsagents at 21 Oliver Street, Nottingham.2
In the early days of their marriage, then living in Hermon Street, Nottingham3. Thomas found whatever work he could to support his young family - in 1901, for example, he was working as a bar man in a public house but, by about 1908 the family had move to Beeston and Thomas had found work in his father's trade as a house painter. By the time of the census in 1911, Thomas and Catherine were living at 12 William Street, Beeston with seven children4.
By the time of his death in August 1917, Thomas' family, including his wife and nine children5, whose ages ranged from 20 months to 20 years, was living at 121 Queens Rd, Beeston. His eldest son had also joined the Colours and, at the time of his father's death, he was serving in Mesopotamia. On the Friday before he was killed his wife had received a letter to say he would be coming home on leave. Mrs. Church and two of her sisters had now been notified that there husbands were lost in the conflict.
This tribute to Sapper Thomas Walter Church is from the Beeston Gazette & West Notts Echo:
In addition to following the occupation of house decorator and painter in civilian life, Sapper Thomas Walter Church devoted his leisure to electricity and wireless telegraphy, in which he became an expert prior to joining the Royal Engineers in September 1914. The following year he was sent to the Dardenelles, where he had an exciting experience of being chased by a Turkish sniper and in his efforts to escape the engineer collided with a rock, the consequence being that his knee was put out of its socket and he was invalided home in November 1915.

Church recovered and he was sent to France in August 1916, and was a participator in a titanic explosion, but his company never lost a man. As a trophy of the battlefield he sent home a German helmet.

While laying tracks after the capture of German lines on August 5th, a shell burst during the enemy's heavy bombardment, and Sapper Church was killed by the concussion only a small mark on his shin revealing any external injury.

A letter of condolence to Mrs Church from his Commanding Officer, giving details of the circumstances of his death and of his character can be seen by clicking on the small image on the right
With five children still of school age, Catherine must have found the period following her husband's death extremely difficult - as, it has to be said, did many others who were widowed or whose loved ones returned badly injured. It is times like this that are testing for a family with additional resposibily falls upon the older children who were at work and it is a great help and comfort to be part of a close-knit that seems to have existed in the area where the family apparently continued to live6.
Eventually, of course, the various family members married and raised families of their own. Jack, Thomas and Catherine's 3rd son, lived on Humber Road South until his death in 1969, working in the lace industry all his life. Jack's son Ronald lived on Evelyn Street until the early 70s, when he then moved to Stapleford after the family home was demolished. He worked with Jack at A W Black's lace factory before leaving to join the Royal Navy. Afterwards, he worked for the Barton Bus Company before moving to REME at Chilwell Depot, where he was a foreman on the electrical section for fighting vehicles. His son Peter Jack Church, now lives in Long Eaton. Leslie, Thomas and Catherine's 4th son, only nine when his father died, became an artificial silk spinner before running the Town Arms in Plumptre Square in Nottingham. He and his wife Edna had three children7; one married and went to live in Australia, one went to South Africa but died young and the youngest married and, following a successful career in British Aerospace and Computer Sciences Corporation, he retired to support his wife in the development of Fair Trade in Hull - and their two sons, respectively, did research work in theoretical astrophysics and studied for a PhD in Computer Science at the University of Cambridge. It seems, Thomas Walter Church's enquiring mind lives on.
---
Footnotes
1The photograph of Wieltje Farm Cemetery is from the Commonwealth War Graves Commission website. (http://www.cwgc.org)
2Nottingham, 1891 Census, Piece 2691 Folio 62. 3Nottingham, 1901 Census, Piece 3165 Folio 25. The couple then had three children, the eldest being 3. Hermon Street is a short street, running between Derby Road and Ilkeston Road, close to Canning Circus in Nottingham.
4Beeston, 1911 Census, Piece 20432 ED7 SD3 Schedule 13. Their oldest son, also Thomas Walter, aged 13, was already working as a carrier's labourer. The couple also had two children who had died young.
5These children and their approximate ages were Thomas Walter (20), Florence (18), Hilda May (17), Arthur Leonard (14), Jack (11), Leslie (9), Alice (6), Frank (4) and Ivy (20 months).
6It is known that the family stayed on at the Queens Road address for several years as Leslie Church gave that address when joining the Boys Brigade in October 1921 although the family is not there in 1932 (Beeston Directory). By 1952, it appears that Catherine may have moved to 8 Mona Street (Beeston Directory). This may be supported by the discovery of a memorial urn in Beeston Cemetery worded "Tommie Church - from friends at the Queens Hotel" - which is on the corner of Mona Street. It is believed also that at some stage, Catherine moved to live with Florence, her unmarried eldest daughter, possibly in Ilkeston.
7Two of these, Marlene and Tom, appear in our collection of Beeston Fields Junior School photographs.



Return to Top of Page