In Memory of
JOHN THOMAS COWLISHAW
Private GS104290
43rd Garrison Battalion The Royal Fusiliers (City of London Regiment)
Who Died on Thursday, 17th October 1918
Age 41

Plot V Row G Grave 9a
Les Baraques Military Cemetery, Sangatte, Pas de Calais, France

Commemorated in Perpetuity
by the Commonwealth War Graves Commission
&
Remembered with Honour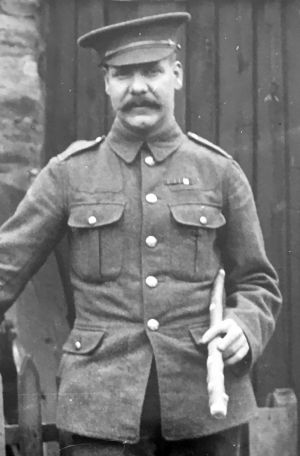 John Thomas Cowlishaw was born in Sheffield in 18772, the fifth of six children of Thomas Clixby Cowlishaw (b. 1844, Sheffield) and Emma, his wife (b. c1847, Sheffield née Stanforth). John is recorded as having served in the South African War3 and, apparently for that reason, he does not appear in the 1901 census. In 1902, after his return, he married Florence Hartley in Sheffield4 and their first two children, Florence and John Thomas, were born there, before they moved to Beeston some time between 1906 and 1907. A third child, Wilfred was born in Beeston in 1907 but, sadly, died just over a year later. By 1911, the family was living at 62 Lower Regent Street, Beeston, with John working as a bicycle frame grinder5. Their fourth child, Joseph Harold, was born in Beeston in 1911.
As an 'old soldier', it appears that John was very keen to enlist when war came in August 1914, as he did so in the following month with the Sherwood Foresters6. It was the beginning of over four years of war service which, probably because of his age and likely state of health did not follow a typical pattern. After early training - which may not have been as basic as for those with no army experience at all - he was attached to the 11th (Service) Battalion after it was formed in Derby in October 1914 and moved to Frensham to join 70th Brigade of the 23rd Division. They moved to Aldershot in December and to Shorncliffe Camp in Kent and then Bordon Camp in Hampshire in early 1915. The battalion as a whole landed in France on 27 August 1915, still with 70th Brigade but now with 8th Division7. However, Private Cowlishaw was not posted to France until 23 September 19168 so it is unclear whether he joined 11th Battalion there. As it is known that he was, at some point, attached to 12th (Labour) Battalion, Royal Berkshire Regiment9 it is perhaps more likely that he joined that battalion after it too had arrived in France in August. As a labour battalion, it would have been engaged in a wide range of general work - including road and rail maintenance, moving stores and more basic tasks such as salvage, bathing and sanitary provision, etc - in support of the front line battalions.
In April 1917 labour battalions, such as the 12th, which had operated at the Divisional level, where all brought together in a more flexible structure within The Labour Corps. 12th Battalion became 162nd and 163rd Labour Companies under the new regime. Area Employment Companies were also formed to undertake routine tasks in specific fixed areas. These units were considered suitable for men who were physically less capable of undertaking more demanding work. Private Cowlishaw's posting to 986 Area Employment Company10 appears to show that his physical health was then in decline. Indeed, when in May 1918 the 43rd and 44th (Garrison) Battalions were formed by The Royal Fusiliers (City of London Regiment), Private Cowlishaw was posted to the 43rd, a battalion that was based at Rouen and provided guards at the Army Headquarters in that area. By October 1918, despite these less strenuous duties, it seems that Private Cowlishaw's health condition was such that he was sent to hospital in Sangette where he died from meningitis11 on 17th October.
Private Cowlishaw was buried in Les Baraques Military Cemetery, Sangatte on the western side of Calais, France. In April 1915, No.6 Base Supply Depot was started at Calais to help relieve the pressure on Boulogne and to provide a base nearer to the front than Havre or Rouen. The base remained open until the last Commonwealth forces left France in March 1921. The 30th, 35th and 38th General Hospitals, No.9 British Red Cross Hospital and No.10 Canadian Stationary Hospital were also stationed in the town providing about 2,500 beds. For three years, Commonwealth burials were made in Calais Southern Cemetery, but it later became necessary to start a new site and in September 1917, the first burials took place at Les Baraques. The cemetery continued in use until 1921. The cemetery now contains 1,303 Commonwealth burials of the First World War, together with more than 250 war graves of other nationalities, all but 2 of them German. The cemetery also contains seven Second World War burials. The cemetery was designed by Sir Herbert Baker12.
Private Cowlishaw was posthumously awarded the British War Medal, the Victory Medal and 1915 Star13. His financial effects of £8 15s 8d were paid in two parts to his widow on 13 February and 22 May 1919 and she also received his War Gratuity of £19 on 20 December 191914.

Florence remained a widow and lived out her life in Beeston, latterly at 64 Alexandra Crescent. She died in 1960, aged 78. Their daughter Florence married Herbert Wood at Beeston Parish Church in 1927 and they had two children. In 1939 they were operating a greengrocery at 84 Queens Road, Beeston. She died in 1993, aged 89. Their son, John Thomas, married Helen Elizabeth Thurman at Beeston Parish Church in 1926. They were living at 73 Queens Road, Beeston with their three children in 1939, when John Thomas was working as a press tool fitter. He died in 1976, aged 71. Their other surviving son, Joseph Harold was employed at Bennetts Garage on Beeston High Road. He married Margaret Miriam Waplington in 1935 and set up home at 9 Endsleigh Gardens, Beeston and went on to have two children. He died in Surrey in 1984, followed by his widow in 200215.
---
Footnotes
1The photograph of Les Baraques Military Cemetery is from the Commonwealth War Graves Commission website. (http://www.cwgc.org)
2His birth was registered in Sheffield Registration District in Q4/1877 (Ref 9c 445).
3Based solely on his obituary, presumably provided by his widow as part of his memorial page on the Commonwealth War Graves Commission website.
4There marriage was registered in Sheffield Registration District in Q3/1902 (Ref 9c 881)
5Beeston, Notts: 1911 Census, Piece 20432 RD429 SD3 ED7 Schedule 155. Their then two surving children were Florence (b. 1904, Sheffield) and John Thomas (b. 1905, Sheffield). Their third surviving son, Joseph Harold, was born in Beeston later that year.
6As his Army Service Record has not survived his date of enlistment has been calculated based on the amount of his War Gratuity, His entries in 'Soldiers Died in the Great War', his medal card and the medal rolls indicates that he first joined the 11th Sherwood Foresters (Notts & Derbys Regiment) with a Service Number of 7383
7Details of the formation and deployment of 11th Sherwoods are from the Forces War Records website at www.forces-war-records.co.uk/units/319/sherwood-foresters-nottinghamshire-and-derbyshire-regiment.
8The date of his arrival in France is recorded on his Medal Card.
9His attachment to 12th Royal Berkshire Regiment is recorded in his Medal Roll entry.
10His transfer to 986 A&E Co, Labour Corps (Service Number 579029) and 43rd Royal Fusiliers (Service Number GS104290) is recorded in his Medal Roll entry.
11The cause of death is recorded as 'Sickness' on his entry in the Army Register of Soldiers' Effects. Information provided by descendents tells us that the cause of death was meningitis.
12This description of the Les Baraques Military Cemetery is based on that the Commonwealth War Graves Commission website. (http://www.cwgc.org)
13Details from John Thomas's Medal Roll entry and his Medal Card - available on ancestry.com.
14Details from his entry in the Army Register of Soldiers' Effects, 1901-1929 - available on ancestry.com.
15Details of the family in the post-war period are derived from standard genealogical sources, including the 1939 Registration.



Return to Top of Page