In Memory of
GEORGE COXON
Private TF/3048
1st/8th Battalion Middlesex Regiment
Who died on Saturday, 16th September 1916
Age 20

No Known Grave. Pier & Face 12 D
Thiepval "Memorial to the Missing", Somme, France

Commemorated in Perpetuity
by the Commonwealth War Graves Commission
&
Remembered with Honour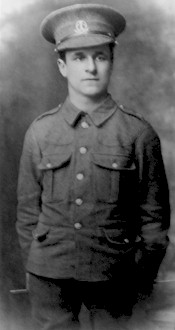 George Coxon was the son of James and Susannah Coxon of Humber Road Beeston Notts. He was born on 22nd January 1895. He was educated at the Nether Street Schools, and after leaving there at the age of 13 he found work in the Angular Hole Factory. He was to reach the age of 15 before he was registered and joined the 17th Company Boys Brigade at the premises of the Anglo Scotian Mills on Villa Street. He joined the Boys Brigade on August 14th after being at work for two years. The Boys Brigade Register shows the family living at 4 King Street. On this date the family consisted of father, 2 sisters and 6 brothers, his mother having died.2
George joined the army in 1914 eventually being posted to 1st/8th Battalion Middlesex Regiment, a Territorial Battalion. When Britain declared war with Germany on 4th August 1914 the 8th Battalion, Middlesex Regiment was in the Middlesex Brigade, Home Counties Division, and were based at Hanworth Road, Hounslow: they spent a few days at Sheerness, then on to Sittingbourne. The 8th was one of new Territorial Battalions which had been reformed by the Territorial Act of 1907.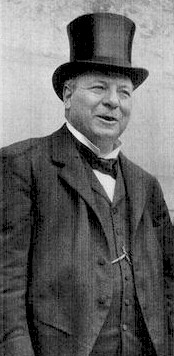 Haldane's Reforms: Once the Regular Army had been organised as a continental Expeditionary Force, it would be necessary to provide forces for home defence. In December 1905, the Balfour government collapsed, and Sir Henry Campbell-Bannerman became Prime Minister, leading a minority Liberal government. Richard Haldane (Pictured right) was appointed Secretary of State for War. Campbell-Bannerman offered him the post of Attorney General, then the Home Office and had offered the War Office to two other men before Haldane offered to take it. Despite this inauspicious beginning, he would become, in the words of Douglas Haig &quot.the greatest Secretary of State for War England has ever had".
Creation of the Territorial Force: Haldane's proposal anticipated that the existing tripartite division of the Army - the Regular Army, the Volunteers/Yeomanry and the Militia - should be changed into a two-part structure, with an Expeditionary Force and a home-defence Territorial Force based on County Associations. It essentially abolished the existing Volunteers and Yeomanry, and used them to create a new Territorial Force of fourteen infantry divisions, fourteen cavalry brigades, and a large number of support units, all raised, organised and financed by local organisations but liable for service under War Office command. These changes were embodied in the Territorial and Reserve Forces Act 1907 which passed the Commons with little opposition.3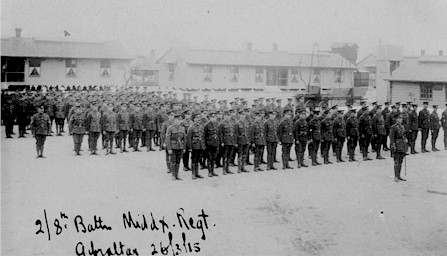 One of these Territorial battalions, the 1st/8th Middlesex's left the Home Counties Division and proceeded by ship to Gibraltar landing there on the 17th September. The battalion where there to stay until February 1915 when they returned to England. (the picture, left, shows the 2nd/8th Battalion in Gibralter on 26th March 1915) On the 9th March 1915 the battalion sailed for for France were they landed at Havre. Two days later they became part of the 85th Brigade, 28th Division, This was to be the start of many moves. On the 21st June 1915 the battalion amalgamated with the 1st/7th Battalion and from 23rd June to 27th August they became part of the 25th Brigade, 8th Division. On 23rd October Private Coxon who was with the 8th was on the move yet again with the battalion when it became part of the 70th Brigade, 8th Division. On the 9th February 1916, there was yet another move for the young private when the battalion became part of 167th Brigade 56th Division in France.
POTTED HISTORY OF THE 1ST/8TH MIDDLESEX REGIMENT ON THE SOMME, SEPTEMBER 1916

4th

Entrained at St. Riquier for Corbie and from there marched to Bois des Tallies

6th

Via Citadel Camp to Billon Farm

9th

In Casement trench

10th

Trenches in front of Leuze Wood

11th

"A" & "B" Companies at midnight attacked German positions on Ginchy-Morvel Road, objective reached - some ground gained and held after strong counter attacks, later withdrawal to bivouacs near German Wood. Casualties:165

14th

Support positions between Wedge Wood and Leuze Wood

15th

Attacked-heavy casualties while moving forward to Leuze Wood and during the attack down south-east side of Bouleaux Wood at 1.40pm

18th

Withdrew to Leuze Wood, and then to German Wood - Casualties: 245
It was during this time that Private Coxon died, having no known grave it must be assumed he was missing believed killed in action. He is therefore commemorated on the Thiepval Memorial
---
Footnotes
1The photograph of the Thiepval Memorial is from the Commonwealth War Graves Commission website. (http://www.cwgc.org)
2Susannah, his mother, had died in 1908, aged 55. Susannah (née Gash) was James' second wife whom he married in 1876; they had at least eight children and there was three from his first marriage. The 1901 Census for Beeston, records the family living at 39 Dagmar Grove, Beeston. James (b. in Spondon, Derbys about 1842) worked as a tailor. (Census Piece 3153 Folio 136)
3The sections on the Haldene Reforms and the creation of the Territorial Force are quoted from and based on an entry in Wikipedia:
Haldane Reforms, http://en.wikipedia.org/w/index.php?title=Haldane_Reforms&oldid=304761946 (last visited July 28, 2009).



Return to Top of Page