In Memory of
ENOCH HENRY HARPER
Sergeant 265808
2nd/7th Battalion Sherwood Foresters
(Notts & Derby) Regiment
Who was killed in action on Tuesday 5th June 1917
Age 29

Buried Plot I Row D Grave 8
Metz-en-Couture Communal Cemetery British Extension
Pas de Calais, France

Commemorated in Perpetuity
by the Commonwealth War Graves Commission
&
Remembered with Honour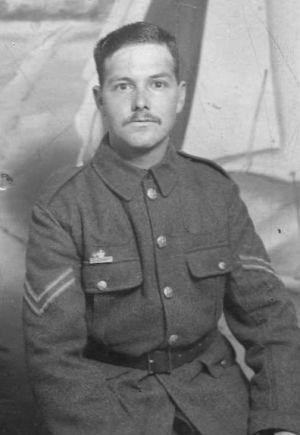 Enoch Henry Harper was born in Beeston, Notts in 18882, the eldest son, second child, of Arthur and Sarah Ann (née Rodgers) Harper. In 1891, the family - then including three children - was living at 13 The City, Beeston with Arthur working as a coal miner3. By 1901, one of their sons had died in infancy and another had been born, the family had moved to 17 The City, Arthur was working as an iron moulder remained and the 13-year-old Enoch had recently started work as a labourer at the Humber cycle works in Beeston4. In 1909, he married Lois, the daughter of Thomas Henry and Sarah Ann (né Wright) Cox and set up home at 12 The City, Beeston. Their first daughter, Florence Alice, was born in 1910 but sadly died after just a few months5.

By 1911, Enoch was working as a twisthand at Swiss Mills, Beeston6. Their second daughter, Ada, was born later that year and a third, Sarah A, in the following year7.

When war came in August 1914, Enoch was amongst the many who rushed to join up. It is believed that he enlisted at Nottingham on 13th October 1914 with the 2nd/7th Battalion Sherwood Foresters (Notts & Derby) Regiment8.

The 2nd/7th Battalion Sherwood Foresters had been formed in September as a duplicate of the already well-established Robin Hood Rifles which had flourished as a volunteer regiment in the years leading up to the war and now became the 1/7th and left for France in February 1915. 2/7th became a second-line battalion, part of 178th Infantry Brigade in the newly formed North Midland Division and set about training its raw recruits who, in these early days, were billeted in Nottingham and surrounds, many of then in their homes. Training was limited to drill, and elementary tactical exercises9.

Things began to change at the end of January 1915 orders when 178th Brigade - of which 2/7th was part - was moved to it's War Station in the grounds of Luton Hoo in Bedfordshire. Here, the battalion took part in more advance training. Training continued throughout 1915, during which time several drafts - typically consisting of two officers and 160 other ranks - left to reinforce the first line in France.

In August 1914 the political controversy of "Home Rule" for Ireland had been put aside when the Great War overshadowed all differences between politicians and over 250,000 Irishmen of whatever belief pledging their allegiance to the Crown and the cause of patriotism. Increasing food shortages in the towns, particularly in Dublin began to breed unrest such that, at Easter 1916 a group of intellectuals, backed by a force of about 3000 made their move. The first shot fired by the rebels was outside Dublin Castle when a policeman was killed. The rebellion spread across Dublin culminating in the leader of the insurgents, Patrick Pearce the insurgents' leader, declaring an independent Irish Republic from the steps of the Post Office. The reinforcements that were quickly summoned from England to counter this rebellion consisted of the 176th and 178th part Infantry Brigade of the 59th North Midland Division - including 2/7th Sherwoods Foresters. Enoch Harper, possibly by then a corporal, was one of their number10.

There had been a number of setbacks, even before the troops arrived in Ireland. Crucially, Lewis guns and grenades were left behind, leaving the inexperienced troops to face the rebellion with only their rifles and bayonets. Nevertheless, the Brigade marched through the fine spring day, reaching Dublin without opposition. However, it was here that they ran into devastating enemy fire, hit the ground and suffered casualties while trying to locate the source of the attack. The battalion Adjutant, Captain Dietrichsen, was shot down while trying to get the men to move forward. Most of the battalion's casualties occurred during this tragic encounter. When eventually, the shortage of grenades was rectified and fresh troops arrived to relieve the exhausted and demoralised 2/7th, the revolt was eventually suppressed. it had been a difficult time for the men of the 2/7th which they no doubt reflected on during their return to England in January 1917. There would be much more to come after the battalion moved to France in the following month.

It was during the relative routine of trench life, on that Sergeant Harper (as he had, by then become) was killed. The battalion's war diary describes the incident - one of many that had become almost routine - in just a couple of sentences :
"Digging and wiring of 2 new posts at Q 5d.3.7 and Q 5d. 9.5; A little enemy shelling of our trenches in front of Bilkern Farm at 10pm. One hit was obtained killing 1 NCO and 2 men"11
It seems likely that the NCO referred to was Sergeant Harper. He is buried, along with the other two men, in the cemetery at Metz-en-Couture and was posthumously awarded the British and Victory Medals12.

Metz-en-Couture is a village situated in the extreme south-eastern corner of the Department of the Pas-de-Calais. The British Extension is next to the Communal Cemetery, adjacent to the D29B, 2 kilometers to the east of the village.The British Extension was begun in April 1917, and used until March, 1918, and two graves were added in the following September. These original burials, made by Field Ambulances and fighting units, are in Plots I and II; Plots III and IV were added after the Armistice by the concentration of graves from the immediate neighbourhood. There are now nearly 500, 1914-18 war casualties commemorated in this site. Of these, almost 50 are unidentified13.

Enoch's Army financial effects of £7 17s 10d were paid to his widow in two parts on 4 & 21 October 1917 and she received his War Gratuity of £15 on 21 October 191914. In 1921, she married Edwin Walker, who had also served in the War with the 15th South Lancashire Regiment15. He was the son of Edward ('Ted') Walker who was the landlord of the White Lion ('The Top House') pub in Bramcote, Notts between 1907 and 1922. Edwin died in 1956 and Lois in 1979 (aged 91) having lived out their lives in Bramcote

Enoch's youngest brother, Harry Harper, also served with the Sherwood Foresters and was killed in action in March 1918. Their mother, Sarah Ann Harper was spared the heartbreak of losing her two remaining sons - she had lost a third as an infant - as she died in 1916 at the relatively young age of 49. Arthur Harper, their father died in 1943. Their only sister, Florence Ruth Harper, had married Percy William Booth in 1910. Both lived out their lives in Beeston and are buried together in Beeston Cemetery16.
---
Footnotes
1The photograph of Metz-en-Couture Communal Cemetery British Extension is from the Commonwealth War Graves Commission website. (http://www.cwgc.org)
2He was baptised at Beeston Parish Church on 1 March 1893. The register records his birthday as 12 January 1888.
31891 Census, Piece 2671 Folio 92. Enoch's then surviving siblings were Florence Ruth (b. 1885) & Thomas William (1890-1892). Another brother, Harry, was born in 1895. Although there is evidence that another sibling died as an infant, details have not been found.
41901 Census, Piece 3153 Folio 125
5Lois was born in Borrowash, Derbyshire in 1888. They married at St Saviour's Church, Nottingham on 25 December 1909. Their first daughter, Florence Alice, was born in Basford Registration District (of which Beeston was part) in Q1/1910 (Ref 7b 274) and died there in Q3/1910 (Ref 7b 105).
61911 Census, Piece 20432 RD429 SD3 ED7 Sched 107.
7Ada's birth was recorded in Basford Registration District (of which Beeston was part) in Q3/1911 (Ref 7b 531). Sarah A's birth was recorded there in Q3/1912 (Ref 7b 522). 8This enlistment date is given in his entry on the Nottinghamshire Great War Roll of Honour website. It matches closely to that calculated based on the amount of his War Gratuity, which indicates an enlistment date of November 1914.
9Details of 2/7th Battalion's formation and deployment is from the Sherwood Foresters Wikipedia entry (en.wikipedia.org/wiki/Sherwood_Foresters) with detail from the Battalion's War Diary (on ancestry.com).
10This synopsis of the Easter Rising and the battalion's involvement is derived from the many accounts that are widely available
11This extract from the battalion war diary is from the entry for June 5th 1917 (which may be viewed from ancestry.com)
12Enoch's medal awards are recorded on his Medal Card, available on ancestry.com. He would not have qualified for the 1915/15 Star as this was awarded for service under fire in Belgium or France
13This description of Metz-en-Couture Communal Cemetery British Extension is based on that included in the Commonwealth War Graves Commission website.
14Army Registers of Soldiers' Effects, 1901-1929, available on ancestry.com.
15Their marriage was recorded in Basford Registration District in Q1/1921 (Ref 7b 526). Edwin was recorded as an absent voter in 1918/19 while serving with the 15th South Lancashire Regiment No 9 Company ('Remembering the People of Bramcote' - Bramcote History Group 2010).
16His memorial page may be viewed here.
17Sarah Ann Harper's death was recorded in Basford Registration District (of which Beeston was part) in Q2/1916 (Ref 7b 215). Arthur's death was recorded there in Q4/1943 (Ref 7b 181).
Florence Ruth Harper (1885-1975) married Percy William Booth (1884-1955) at Beeston Parish Church on 24 December 1910.



Return to Top of Page