In Memory of
FRANCIS HAZZLEDINE
Gunner L/42626
"C" Battery, 102nd Brigade, Royal Field Artillery & Royal Horse Artillery
Who died Tuesday, 16th October 1917
Aged 19

Buried Plot XIII. Row A. Grave 16
The Huts Cemetery, Dickebusch, West Flanders, Belgium

Commemorated in Perpetuity
by the Commonwealth War Graves Commission
&
Remembered with Honour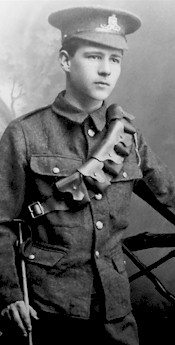 Gunner Francis Hazzledine enlisted in the Royal Field Artillery at the Derby Road Recruitment Centre in Nottingham on 13th September 1915. He was born in Beeston in 1898, the only son and second child of Francis & Ann Hazzledine and lived with his parents at "Leopold Cottages", 59, Humber Road2. He attended the Nether Street School and was a keen member of the local Lads Club, where he secured three medals and an anchor during the many happy years he spent there.
Previously employed as a Surgical Mechanic, until September 1914, he was stationed locally at Wollaton, when he first joined the colours. It was during his training that he was unfortunately taken ill and hospitalised for a short time. After recovery he was sent to France in June 1916, but returned back to England a year later where he again spent time in hospital suffering from shell shock, and it was here that he received news that his uncle, Private George Hazzledine, had been killed in France.
After returning again to the front line, he was part of a team of Gunners positioned in a Gun Pit, on Tuesday 15th October 1917 during the "Battle of Third Ypres" which was struck by an enemy shell. He died instantly; his body was brought down to the wagon line, and later buried in a cemetery some five miles from the front. Buried either side of the 19 years old gunner, in Huts Cemetery, in Belgium were two officers of his battery who had been killed the day before. The cemetery gets its name from a line of huts that housed some field ambulances. These were kept busy from a line of gun positions, of the Royal Field Artillery. Over 70% of all burials in The Huts Cemetery came from Artillerymen, killed by the Germans shelling their positions.
There is a private memorial to Gunner Hazzledine over the grave of his parents and only sister who are buried in Wollaton Road Cemetery, Beeston The grave and memorial are just to the right of the main entrance and can be clearly seen from Wollaton Road.3
The Huts Cemetery is located 6 kilometres south west of Ypres town centre. This cemetery takes its name from a line of huts strung along the road from Dickebusch (now Dikkebus) to Brandhoek, which were used by field ambulances during the 1917 Allied offensive on this front. Much of the cemetery was filled between July and November 1917 and nearly two thirds of the burials were of gunners from nearby artillery positions The cemetery was closed in April 1918 when the German advance brought the front line very close. The advance was finally halted on the eastern side of the village, following fierce fighting at Dickebusch Lake, on 8 May. There are now 1,094 Commonwealth burials of the First World War in the cemetery.4
---
Footnotes
1The photograph of the Huts Cemetery is from the Commonwealth War Graves Commission website. (http://www.cwgc.org)
2This was the address of his parents as recorded in the Commonwealth War Graves Commission records. In 1901, the family were living at 7 Salisbury Street, Beeston, Notts. Francis, his father (born about 1874 in Beeston), worked as a railway labourer. His mother was born in about 1876 at Cheltenham as Ann Blackwell. They married at Beeston Parish Church in 1895. His sister, Annie Elizabeth was born in 1896 and married Thomas William Cockerill in 1919. Both father and son used the name "Frank".
3The memorial at Beeston also remembers his father (who died in 1937), mother (died 1957) and sister (died 1983, with her married name, Annie Cockerill)
4The description of the cemetery is based on that given on the Commonwealth War Graves Commission website. (http://www.cwgc.org)



Return to Top of Page