In Memory of
CLARENCE HAZZLEDINE
Private 16335
2nd Battalion King's Own Yorkshire Light Infantry
Who died on Monday, 3rd May 1915
Age 21

Buried Plot VIII. Row B. Grave 26
Boulogne Eastern Cemetery, Pas de Calais, France

Commemorated in Perpetuity
by the Commonwealth War Graves Commission
&
Remembered with Honour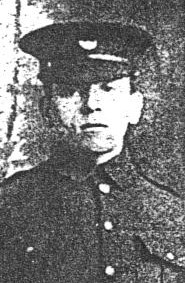 Clarence Hazzledine was born in Beeston on 25th May 1893 the son of William, a coal miner, and Sarah Ann Hazzledine (née Spray) of 4 Denison Street, Beeston2. He was one of twelve children born to William & Sarah Ann, one of whom died as an infant. He attended the Church Street School3 and, as a lad, he could be found in the congregation at Wollaton Road Primitive Methodist Church. After leaving school he found employment at the Angular Hole Drilling Company4. He was a keen sportsman, his chief sport being boxing where he took part in many local tournaments.
He enlisted at a Recruitment Centre in Nottingham and joined the Kings Own Yorkshire Light Infantry on the 4th September 1914 and was sent to France as part of a draft on 16th February 1915. He took part in the operations around La Bassee and was wounded by a German sniper during the "Battle of Hill 60" and was taken to Boulogne Hospital where he died of his wounds some days later on 18th April 1915.
Boulogne Eastern Cemetery - is one of the Town Cemeteries and stands on high ground on the eastern side of Boulogne, on the road to St. Omer.
Boulogne was one of the three Base ports most extensively us by British armies on the Western Front, throughout the 1914-18 War. It was closed and cleared on 27th August 1914, in consequence of the retreat of the Allies; but was opened again in October and, from that month to the end of the war, Boulogne and Wimereux formed one of the chief Hospital areas. The dead from the Hospitals at Boulogne itself were buried until July 1918 in the Cimeteire de L'East, one of the town Cemeteries. It was found the ground in the Eastern Cemetery was being filled up, in spite of repeated extensions to the south, and a new cemetery at Terlincthun was chosen.5
---
Footnotes
1The photograph of Boulogne Eastern Cemetery is from the Commonwealth War Graves Commission website. (http://www.cwgc.org)
2This address is given on the CWGC site. In the 1891, 1901 (Piece 3153 Folio 20) and 1911 (Piece 1223 RD429 SD3 ED2 Sced 70) census, the family were living at 22 Denison Street, Beeston(possibly no 20 in 1891) : the family was then at 22 Denison Street. The surname is given as "Hazeldine" on the CWGC site.
3He is recorded as number 1799 in the School Admission Register
4The Angular Hole Drilling & Manufacturing Company, founded in Beeston by John W Gaze. Then situated on Station Road Beeston (Wrights Directory 1913) but later moving to Dovecote Lane, Beeston where it continued for many years.
5This description of Boulogne Eastern Cemetery is based on that on the Commonwealth War Graves Commission website. (http://www.cwgc.org)



Return to Top of Page