In Memory of
JAMES MARTIN
Lance Corporal 13903
9th Battalion Sherwood Foresters (Notts & Derby) Regiment
Who died on Monday, 9th August 1915
Age 22

No Known Grave
Panel 151
Helles "Memorial to the Missing", Gallipoli Peninsula, Turkey

Commemorated in Perpetuity
by the Commonwealth War Graves Commission
&
Remembered with Honour




James Martin was the son of Matthew and Sarah Martin, who lived at 1 Villa St, later moving to 30 Chapel Street, Beeston, Notts. Still later, the family moved to 33 Trent Road, Beeston3. He was born on 12th September 1893 and attended Church Street School3.
James Martin was the son of Matthew and Sarah Martin, who lived at 1 Villa St, later moving to 30 Chapel Street, Beeston, Notts. He was born on 18th September 1893. He attended Church Street School registered as No 1731. James joined the Boys Brigade on 12th September 1909 at the age of 15, when the register listed him as having two sisters & three brothers and was working, at this time at Ericssons.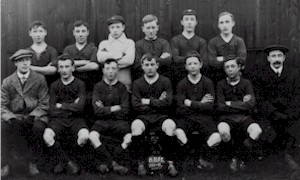 He was a very active member while serving in the brigade; he went to all the camps from when they started, played football in the first team (he is seated next to the officer on the left in the photograph - click to enlarge for more details), was a member of the gymnastic team and seems to have taken part in all the Saturday night concerts at both clubs, either singing solo or as part of the follies troupe.
James was another of those who marched with the founder to enlist in August 1914. His army history followed the same course as Dann Humphreys, serving in the 9th Battalion Sherwood Forester until his untimely death.
An extract from Lance Corporal James Martin's last letter home to his parents was printed in the Beeston Gazette & Echo of 11th September 1915:
Dear Mother, Father, and All,- "Hurrah". That was the cry that went round our little rabbit warren this morning, for at last the long-looked for mail had arrived and I, for one, was not long devouring the contents . . . Lilís parcel was the first received in our platoon and she earns my section's everlasting gratitude for their first taste of toffee since we left England nearly five weeks ago ...You can send on as many parcels as you like, the more the merrier ... Some of the men are dying for a smoke, and it is funny to see them making cigarettes out of tea leaves.

Oxo cubes would come in handy .. . We get bacon for breakfast, and that is the only meal I really enjoy, for we have bread to it. The other meals consist of biscuits, bully beef and jam. We also get "If it" or "Long Distance" pudding, as some of them call it. "If it" goes round you get some. "If it" donít, you donít; but we do not grumble, for we know it is no use.

My arms, knees, and face are quite sunburnt, and I don't know what I shall look like when I come back. We have had very few casualties considering. I have had one narrow escape, an explosive bullet bursting in my loophole just as I got down from it. But out here it is all narrow escapes, and shaves, and we get to take no notice of them. Only yesterday a shrapnel shell burst overhead, some of the bullets dropping into our trench, and hitting the man next to me on the sole of of his boot and making a hole in anotherís shirt without injuring either of them.
And, on 25th September 1915, Beeston Gazette & Echo printed details of a memorial service for James and his pal, Dann Humphreys4:

Two Beeston Heros - Service in Memory of Jim Martin & Dann Humphreys



Captain S H Pearson's Tribute - "The sadness of Farewell"- in Tennyson's heart felt Words - lay over the Beeston Lads Club Drill Hall like a pall on the Sunday 19th September 1915 when a memorial service was held for two brave lads - Lance Corporal James Martin and Lance Corporal Daniel Humphreys who were killed at the Dardenelles on 9th August 1915.

It is said the Pilgim Fathers never really looked apon the new world as their home until they had buried their dead in its soil and the Lads Drill Hall never really consecrated in the hearts of Beeston people until Sunday last.

A huge floral harp with two broken strings were placed in front of the platform and, as Capt S Hetley Pearson finally said, it typified the two young lives whose music would be heard on earth no more, but their notes had already been heard in heaven, just as the great crowd is swayed by the mesmeric influence of an orator or, by some unseen Power, the congregation was moved to heartfelt sympathy towards the chief mourners who occupied seats near the platform which was profusely graced with flowers. All were mourners together that night, and over and above the sense of sad farewell to the two lads who left England so recently full of great hopes and splendid ideals, was a terrible realisation of the meaning of the War, both to those on active service and to those who stayed at home.

The service opened with the organ solo "O Rest in the Lord" by Mr J R Clayton, and in future years it will be recalled that the instrument was purchased specially for this this sad occasion. "I am the Resurrection and the Life" were the opening words which followed, and then, very solemnly, the hymn "When our heads are bowed with woe" was sung.

The lesson - that pean of triumph over death, from the first epistle of St. Paul to the Corinthians - was read by Lieut.A Burnham, and the address was interposed between the soul healing melodies of "Peace Perfect Peace" and the note of Faith:
Not now but in the coming years
It may be in a better land
We'll read the meaning of our tears
And there sometime we"ll understand
Capt. S Hetley Pearson began by recalling memories of the first Bible class held in the Anglo-Scotian Mills some six years ago, when amongst the bright eager voices around the room were those of Jim Martin and Dann Humpreys. To these two lads he paid the high tribute of steadfast and resolution. At drill they rose step by step to the highest rank in the Boys Brigade.
At their games they were especially keen and their untimely death had cut short two promising careers. When the call came last August they responded promptly with a determination to do there duty at all costs.
The local Press the previous week published typical letters from them showing there was no grumbling at hardships, and it was reported that Jim Martin was always the lad to volunteer to traverse the "Valley of Death", known as "Shrapnel Gully" to fetch water for the firing line. That night he recalled the text at the first Bible Class and after six years they bore testimony that these two, whatever their hands had found to do, they had done it with all their might.
A Beeston mother, speaking to Captain Pearson some months ago, after having suffered such a terrible blow as this as this said to him, "It is hard to bear the loss, but if the lads were brave enough to to go we must be brave enough to bear the loss".
At a conclusion of the service Mr J R Clayton played the Dead March in Saul.
---
Footnotes
1The photograph of the Helles "Memorial to the Missing"is from the Commonwealth War Graves Commission website. (http://www.cwgc.org)
2James was listed at 33 Trent Road, Beeston in the Absent Voters List. This was also the address of his parents in September 1915, given by the Beeston Gazette & Echo when the printed James' last letter.
3He appears in the school Admission Register as No 1731
4There was no mention of Albert Turton or Geoffrey Luntley at this service. It may have been that they were still classed as missing although Private Turton was killed on the 9th August, Private Luntley is listed by the Commonwealth War Graves as killed in action on the 9th September, but the battalion history gives his death as 9th August.


Return to Top of Page