In Memory of
EDWARD MARSHALL SINGLETON
Driver 209192
1st Field Squadron Royal Engineers
Who died on Monday 4th November 1918 Age 34

Buried Grave 5289
Nottingham General Cemetery, Canning Circus, Nottingham

Commemorated in Perpetuity
by the Commonwealth War Graves Commission
&
Remembered with Honour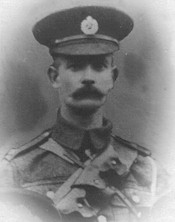 Owing to the terrible loss of lives in the battles of 1914-1915 and the drying up of voluntary enlistment, conscription of men for military service finally became a necessity in 1916.
The "Derby Scheme" was named after Edward George Villiers Stanley, 17th Earl of Derby, in 1915 as Director-General of recruiting, who organised this method of obtaining recruits for the Army on a voluntary basis. Men were invited to attest with an obligation to come if called up but only when the supply of volunteers became insufficient and then according to age and marital status.
The failure of the "Derby Scheme" to recruit sufficient numbers of volunteers prompted the introduction of the Government's Compulsory Service Act, which came into force on March 2nd 1916. This measure was first applied to single men between the ages of 18 to 41. The act was finally extended to married men of the same age groups. Edward Marshall Singleton, aged 34, a married man, was therefore called to the 'Colours' in October 1916.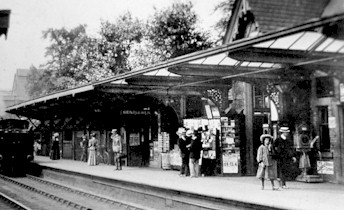 Driver Singleton, who was born in Chesterfield, Derbyshire in 1884, lived with his wife Mabel (née Neal) and two children, Vincent (b. 1909, known as "Vinnie") and Margaret (b. 1917), at 65 (now 69) Victory Road, Beeston, Notts. He was one of three sons of Herbert and Jane (née Marshall) Singleton of, 63 Holgate Road, Nottingham1; the three brothers all served in the Great War2. Prior to enlisting in the army, he held the position of Manager for W.H. Smith & Sons, working at the Beeston & Midland Station Nottingham bookstalls, having joined the company as a school-leaver and gaining steady promotion.3 The photograph, right, shows the bookstall on Beeston Station, probably taken in Edward's time there.
After joining the Royal Engineers he was posted to Aldershot barracks on 1st November where he remained until being sent to France on 16th August 1917.
After serving just over two years, most of which was spent on the Western Front, he was allocated his first leave on 18th October 1918. He was spending this well-earned rest with his wife and two young children when he was struck down with a mysterious illness, which resulted in his early death on 4th November. His death, at Berridge Road, Hospital, was almost certainly due to the 'flu epidemic that had come to Britain in May 1918 and was to cause over 228,000 deaths there over the next months.4. Amongst the troops on the Western Front, there had been an early fast-spreading outbreak in the Spring of 1918 (commonly known as "Spanish Flu" - although there was no evidence that it originated in Spain). At first the condition was mild but it became increasingly fatal as the year progressed; inevitably the crowded conditions associated with troop movements added to the dangers of contagion and it may well be that Edward caught the disease as he travelled home. It was a particularly cruel blow to the family.
Driver Singleton is buried in Nottingham General Cemetery, Canning Circus, Nottingham. Margaret Singleton visited her father's grave before she died herself, being taken there by the priest of the Catholic church on Foster Avenue, Beeston.
Driver Singleton kept a daily diary. Extracts, highlighting his various travels in France and Belgium, from his arrival at the Port of Havre in France, until his untimely death in November 1918 are given here. As the original was written in pencil, the entries have been transcribed so that they can be read clearly.
1917
August 17th
Arrived Havre en-route Rouen
October 16th
Sprained ankle excused duties
November 15th
Arrived Perrone
1918
January 15th
Left Perrone with Sappers to Mons, in saddle 8hrs
Received parcel from Mabs
January 16th
Very cold
January 19th
Lost pipe
January 22nd
Went to pictures in Mons
January 23rd
Neddy Cast found pipe
January 31st
Bert's little daughter died
February 5th
Letter from Bert announcing Hilda's death
(Herbert Francis Singleton, elder brother of Edward, who was serving on the Western front at the time of this tragedy)
February 17th/19th
Air Raids
March 7th
Left Athies for Perrone
March 10th
Poisoned hand, saw doctor
March 16th
Parade in Marching Order
March 20th
German offensive severe bombardment commencing 8.53 "Standing To"
(This was the start of the German Spring Offensive, resulting in the withdrawal of the British 3rd & 5th Armies
March 23rd
Left Brie for Marchaiux, severe shrapnel shelling. Lt. Bayley killed. Left Marchaiux for Churchy
April 5th
Left Davins for Amiens. Basil killed by shell
(Mark Basil Singleton, younger brother of Edward, killed on the Somme)
May 3rd
To Estree, on experimental bridging
May 5th
Rogation Sunday went to communion
June 12th
Sports day
June 14th
C.R.E. Inspection (Colonel Evans). Sports continued
June 19th
Left for Villory
July 16th
Air Raid aircraft brought down by Machine Gun fire
July 17th
Remarkable storm hailstones as big as walnuts
July 18th/19th
Air Raid
July 30th
Left Gezaincourt for Beaurevoir Reviere
August 9th
Left for Cayeux 11am. Arrived 6pm. Bombed and shelled
August 10th
Air Raid
August 11th
Left for Rivery. Air Raid
September 1st
Mabs Birthday
October 3rd
Left Harnelet for Naury arrived 4pm. (Standing To). Air Raid and Shelling
October 4th
Air raid and Shelling
October 5th
Left Naury arrived Harnelet
October 6th
Left Harnelet for Naury and returned 7pm. Air Raid
October 8th
Shelled all day, lost several horses. Collins wounded. Air raid. Arrived Beauvrevoir
October 9th
Left Beauvrevoir with Echelon B on motor lorry for Moislains
October 10th
Left Moislains with Echelon B for Hamelet
October 13th
Left Harnelet for Tertry. Pay Up
October 26th
Left Tertry joined "Leave Train" at Brie 8am, arrived Boulogne 7pm. Stayed at Rest Camp
October 27th
Left Boulogne at 10am. Arrived at Folkestone 12.30pm, left at 12.45pm, arrived Victoria 4.30pm, left Kings Cross 5pm. Arrived home 9pm.
October 31st
MY FATHER TAKEN TO HOSPITAL
November 4th
MY FATHER DIED R.I.P.
The last two diary entries were made by nine year old Vinnie.
---
Footnotes
1Edward's father, Herbert Singleton was born in Chesterfield about 1852; his wife, Edward's mother, was born Jane Marshall in Gilderton, Yorkshire in about 1857. Herbert and Jane had nine children, seven of whom survived into adulthood. Herbert worked for the Midland Railway, apparently moving with the job from time to time. Early in their marriage in 1882, Herbert and Jane lived in Chesterfield before moving to Beeston in about 1890. At the time of the 1891 Census, Herbert was decribed as a Railway Inspector and they were living at 29 Mona St Beeston, Notts (Census Piece 2671 Folio 63)but moved, soon afterwards, to Nottingham. At the time of the 1901 census, Herbert was decribed as a Railway Engineer and the family was living at 15 Pinder House Road, Nottingham (Census Piece 3171 Folio 89). By the time of the 1911 census, Herbert and Jane were living with six of their family at 63 Holgate Road, Nottingham. Herbert was then described as a bridge painter and Jane was self employed as a general dealer (Census Piece 20537 RD 430 SD2 ED24 Schedule 366)
2Edward's brothers were Herbert Francis (b. about 1887) and Mark Basil (b. 1894); each of their Service Records survive, although Edward's does not. Herbert worked as a wholesale druggist's packer before enlisting in June 1916. He served in France as a Sapper with the Royal Engineers (10th Light Railway Operating Company) and was demobilised in January 1919. He was married to Mabel (née Smith); at the time of Herbert's enlistment, they had two children, Hilda Mary (who died in January 1918) and Frederick Arthur and it appears that further children were born after the war. Mark Basil was born in 1894 and worked as a warp hand; he enlisted in September 1914 and went to France in July 1915 with the 13th Battalian, Kings Royal Rifle Corps and became a Lance Corporal. He was killed in action on 5 April 1918 and is buried in Foncquevillers Military Cemetery.
3In 1911 he was described as a Bookstall Clerk. He was then living with his wife and son at 12 Phyllis Grove, Long Eaton.(Census Piece 20827 RD 434 SD4 ED6 Schedule 197)
4The pandemic lasted from March 1918 to June 1920, killed over 50 million people worldwide (3% of the then population).



Return to Top of Page