In Memory of
BERNARD HENRY SPRAY
Rifleman R/8581
10th Bn., King's Royal Rifle Corps
Who died on 5th August 1915
Aged 18

Buried Grave I H 9
Rue-David Military Cemetery, Fleurbaix, France

Commemorated in Perpetuity
by the Commonwealth War Graves Commission
&
Remembered with Honour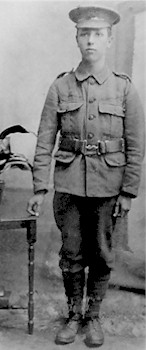 The third member of the "Old Boys" to die on the Western Front was eighteen year-old Rifleman Bernard Henry Spray who was killed in action on 5th August 1915 after just fifteen days on French soil. Bernard was the only son of Edwin Spray and his wife Mary, of 50, Middle Street, Beeston, and was probably Beestonís youngest hero when he died, killed in action on August 5th 1915.
Bernard Henry's father worked from home, where the front of the house was kept as a sweet shop. Bernard was educated at Church Street School, and at the age of twelve, joined the Boys Brigade taking part in all the activities there. After leaving school he found employment at Messrís Ericssons Ltd.
Bernard Henry and Ernest Tonks, a close school friend and Boys Brigade pal, enlisted together at a Nottingham Recruitment Centre - their service numbers being next to each other. There they joined the Kings Royal Rifle Corps and were both posted eventually to the 10th "Service" Battalion which had been formed at Winchester on 14th September 1914, being part of "K2" Kitchener's 2nd 100,000 men who enlisted for the duration of the War. The 10th Battalion was part of the 59th Brigade, 20th Division. After a posting to Blackdown, the battalion found itself at Whitley Bay. In April 1915 Riflemen Bernard Henry Spray and Ernest Tonks did their final training at "Hamilton Camp" near Stonehenge, and on 21st July 1915 the battalion landed at Boulogne.
Bernard Henry Spray was shot by an enemy sniper while serving in the trenches and died in a Casualty Clearing Station. He was buried in Plot I. Row H. Grave 9. of the Rue-David Military Cemetery, Fleubaix. Riflemen Spray and Tonks are also commemorated in the Kings Royal Rifle Remembrance Book which can be found in Winchester Cathedral.
During and after the War, the Beeston Gazette & Echo, for many years Beeston's weekly newspaper, featured a Roll of Honour in which reaers could remember their loved ones who had been killed, usually on their birthday. Typical of these tributes was that by Bernard Spray' family:
Spray: In Loving memory of our dear and only son, Rifleman Bernard Spray, Kingís Royal Rifle's, of Beeston, Killed in action August 5th 1915 Aged 17 Years



A light from our home has gone,
A voice we loved so still,
A place is vacant in our hearts,
Which never can be filled,
Tis sweet to know we'll meet again,
Where partings are no more;
And the only one we loved so well,
Has only gone before.

From Loving Father, Mother & Sister3
---
Footnotes
1The photograph of the cemetery is from the Commonwealth War Graves Commission website. (http://www.cwgc.org)
2The address given in the records of the Commonwealth War Graves Commission. At the time of the 1901 Census, the family was already living at that address. (Piece 3153 Folio 46). Edwin Spray was then working in the cycle trade, probably at the Humber Works in Beeston. He may well have lost that job and started on his own when Humbers abruptly moved to Coventry in 1908. Both Edwin and Mary were born in Beeston about 1877.
3His sister, Florence, was born in about 1905.


Return to Top of Page