In Memory of
JOHN GEORGE STAFFORD
Private 3/17379
1st Battalion Leicestershire Regiment
Who died on Tuesday, 19th September 1916
Age 19

Buried Plot I. Row B. Grave 8
Guillemont Road Cemetery, Somme, France

Commemorated in Perpetuity
by the Commonwealth War Graves Commission
&
Remembered with Honour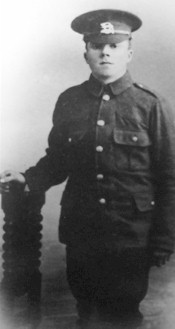 John George Stafford a native of Beeston, was brought up at 5 Broughton Street. His father was a Coal Miner who was born at Cateley Highfield, in Sheffield, Yorkshire in 1860. His mother originated from Cuckney, Warsop in Nottinghamshire. The 1901 Census shows them at the time to have seven children 5 boys and two girls. The family comprised of Joseph age 19, Harriet his sister was one year younger, next in line was Mary aged 16 - these were all born in Cuckney and all three worked in the Lace Trade. Claude aged 13 was born in Beeston, and at this time was employed as a Errand Boy. Charles aged 8, John George aged 4 and Thomas aged 2 were also born in Beeston.2
John George was baptised in the Beeston Parish on 20th April 1898. He attended the Church Street School as a boy, at this time joining the newly formed Boys Brigade in Beeston. He enjoyed his outings in the evenings to the Beeston Lads Club, where he took an active part in the proceedings there, especially the Educational Classes.
Having left school at the age of thirteen he followed in his fathers occupation at the Trowell Moor Colliery, until he was called up. Having attested when he reached his eighteenth birthday, he enlisted in the 1st Battalion Leicestershire Regiment, where he was later drafted to France.
He was badly wounded in action on 16th September 1918, and died of his wounds three days later. He was buried in the Guillemont Road Cemetery. At the time of his death his parents had moved to 44, Villa Street in Beeston.
The following extract is taken from the 1st Leicestershire Battalion history, describing the days leading up to when Private Stafford was wounded during the Somme Battle of 1916:
On 11th September the battalion moved forward to the front line, the next day they began work carrying bombs and ammunition to Trones Wood. On the 14th the battalion formed up during the night with the 9th Norfolk Battalion on the sunken Ginchy-Leuze Wood road, the Leicester's lying close to the village

The War Diary notes the advance of a tank about 5.30am, which fired into German trenches; the response from enemy machine guns seemed to have no effect. The battalion attacked at 6.20am - "B" and "D" Companies advanced followed by "C" and "A" Companies. They were met by immediate machine gun fire from the enemy line. The attacking force were held up by strong wire netting in front of German trench leading to North-West corner of The Quadrilateral. It was during this attack that Private Stafford was wounded. On the 17th the battalion withdrew to Maltz Horn Farm.
Guillemont Road Cemetery - Guillemont is a village, 12 kilometres east of Albert. It was an important point in the German defences in July 1916. It was taken by the 2nd Royal Scots Fusiliers on the 30th July but the battalion was obliged to fall back; and it was again entered for a short time by the 55th (West Lancashire) Division on the 8th August. On the 18th August it was reached by the 2nd Division, and on the 3rd September (in the Battle of Guillemont) the village was captured and cleared by the 20th (Light) and part of 16th (Irish) Divisions. The village was lost again in March 1918 during the German Spring Offensive but retaken on the 29th August by the 18th & 38th (Welsh) Divisions.
The Cemetery was begun by fighting units (mainly Guards Division) and Field Ambulances and was closed in March 1917. It was greatly increased after the Armistice by the concentration of graves (almost all of July-September 1916 from the battlefields immediately surrounding the village.
---
Footnotes
1The photograph of the Guillemont Road Cemetery is from the Commonwealth War Graves Commission website. (http://www.cwgc.org)
21901 Beeston Census Piece 3153 Folio 39



Return to Top of Page