In Memory of
ALBERT TEBBUTT
Lance Sergeant 13905

9th Battalion Sherwood Foresters (Notts & Derby) Regiment
Who died on Monday, 20th August 1917
Age 23

No Known Grave. Panel 102
Tyne Cot Memorial to the "Missing", Passchendaele Cemetery, West Flanders, Belgium

Commemorated in Perpetuity
by the Commonwealth War Graves Commission
&
Remembered with Honour




This is how the October 6th 1917 issue of the Beeston Gazette & Echo described the loss of another ex Beeston Boys Brigade and Old Boys Member, killed during the Great War :
Beeston lost one of the foremost young men on August 20th 1917 by the death of Sergeant Albert E. Tebbutt1. On that date while leaving a trench in France after days of arduous duty he was shot through the back by a sniper.

His close companion for many years who was with him (Sgt. J W. Hart of Mona Street), writing about his pals death says :

"About 12pm on 20th August my dear pal Albert was shot by a sniper when leaving the trenches. We had talked about coming home on leave together but there I had to leave him. The night after his death I took his body, buried it and erected a small wooden cross."

The article continues : Sergeant Tebbutt was in his 23rd year. Previous to September 1st 1914, when he enlisted in the 9th Battalion Sherwood Foresters, he was employed by the National Telephone Company.

The month of August 1915 saw him at Suvla Bay in Gallipoli where he met his brother Willie, and it was there that his Boys Brigade chums (Dann Humphreys, Jim Martin and Albert Turton) lost their lives. A few months later he was ordered to Egypt and there for the last time he again met his brother who had been seriously wounded.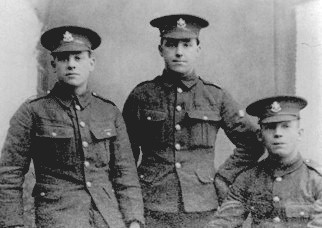 Albert Tebbutt (shown on the left of the photograph with - left to right - his BB pals, Albert Turton and Jack Lea) - was born in Beeston in 1894, the son of Willam and Julia Tebbutt of 19, Derby Street, Beeston.2 He was one of a group of ex Boys' Brigade Brigade pals who in August 1914, marched with their founder Stephen Hetley Pearson to the Derby Road Recruitment Centre in Nottingham and enlisted in the Sherwood Foresters Regiment. Only a month before, many of these young men had spent a happy week together at their annual camp, which in 1914 was spent at Cromer in Norfolk.
For nearly seven years he had been an active member of the Lads Club, where he participated in many activities, distinguishing himself in the gymnasium and was a member of the Brass Band there. He was also a founder member of the Beeston Old Boys Association that was formed in 1910.
He was employed at the National Telephone Company in Beeston until he enlisted for the army. The training and discipline received in Boys Brigade was to put him into good shape when he joined the 9th Battalion of the Sherwood Foresters. This Battalion became part of the 33rd Brigade, 11th Division and during training, was camped in the grounds of Belton Park, near Grantham in Lincolnshire. There is a memorial on the gate of the park commemorating the 11th Division.
In the early hours of July 31st 1915 the battalion boarded the "Empress of Britain" and set sail from Liverpool for an unknown destination. After calling at Malta, the ship sailed towards Gallipoli, arriving at the port of Mudros on July 18th.
The battalion was sent to Capes Helles, for a short tour of the trenches and it was here they suffered their first casualty; Major Fielding was killed by a Turkish sniper while walking along a communication trench on the morning of Saturday 24th July. On August 1st, the battalion was on its way back to the island of Imbros for further training and to await instructions for a big attack, which was planned to take place at Suvla Bay. At "Roll Call", it was revealed the true story of this tragic encounter with the Turks. Along with 350 killed, wounded or missing were the names of many close pals of Albert Tebbutt, Jim Martin, Dan Humphreys, Albert Edward Turton, while Fred Hazzledine George Brackner and his brother Charles were amongst the many names of the wounded.
The battalion left Gallipoli during December 1915, bound for Egypt where he was to see his brother, Charles Tebbutt, again. He was convalescing in the Canal Zone, near Cairo, after receiving three wounds at Suvla Bay,
After the battalion was strengthened by drafts from England and was again fully operational, news came for a move to France. The division left from Alexandria aboard the "H.M.S.Query", bound for France. Albert Tebbutt was promoted through the ranks attaining the rank of Lance Sergeant.
It was on his return from the trenches that Albert Tebbutt was killed by an enemy sniper when passing Battalion Headquaters, near the village of Langemark. He was buried the following night by a life long pal, Sergeant J. W. "Dick" Hart from Mona Street, Beeston. He had also served with Albert since joining the battalion together on the 1st September 1914.
Unfortunately the Lance Sergeant's grave was later to be destroyed by shell fire and consequentially his name is recorded among the Sherwood Foresters missing commemorated on the Tyne Cot Memorial.
---
Footnotes
1In this account, the middle initial "E" was used. It appears that Albert Tebbutt sometimes used a middle name, probably "Ernest", although this does not appear on his birth registration, the 1901 and 1911 census or his CWGC record. Although most of the family were baptised at Beeston Parish Church, no record has been found of Albert's baptism there.
2In the 1901 census the family is recorded at 15 Upper Regent Street, Beeston (Piece 3153 Folio 123). Albert's father, born Beeston and then aged 38, is working as an iron moulder. His mother was born in Beeston in 1860, the daughter of Levi and Jane Smith. Two older sisters, Ellen (aged 16) and Edith (aged 13) are working as lace menders in 1901 and brothers Frederick (11) and William (3) and sisters, Mabel (9) and Louisa (1) are also present. Another brother, George, was born about 1903. Beeston Parish Church Baptism records of the family, show that there was also an older brother, William Joseph, born in 1883 and that the family had apparently lived at 27 Stoney Street until shortly before the 1901 census.



Return to Top of Page