In Memory of
JAMES SHREWSBURY COXON
Articifer 269463
Royal Navy
Who was Killed in Action on Monday, 11th June 1917
Age 46

Plot 6 Row J Grave 25
Dar Es Salaam War Cemetery, Tanzania

Commemorated in Perpetuity
by the Commonwealth War Graves Commission
&
Remembered with Honour




James Shrewsbury Coxon was born in Beeston, Notts in 18712, the eldest son of James and Sarah (née Shrewsbury) Coxon. Sadly, Sarah died in 1876, aged only 34, leaving three children under 53. James senior, married Susanah Gash later that year4 and James went on to have a further eight children. By 1891, he and his wife and family, then including nine children, were living at 3 Dagmar Grove, Beeston. James senior continued to work as a tailor and James junior had started work as a cycle fitter at the Humber factory5.
In the following year, 1892, James junior made a decision that was to change the course of the remainder of his life - he joined the Royal Navy, signing-up initially for a term of 12 years, serving as an Engine Room Artificer, stationed on a wide range of ships and shore stations over those years6. In 1910 he married Alice Gwynn Boxall and in 1912, their daughter, Alice May Coxon was born7. At the time he was serving on HMS Hindustan, a battleship of the King Edward VII Class, then part of the Home Fleet. Between 1909 and 1910 she underwent a refit at Portsmouth - a break which had given James and Alice the chance to marry. Despite the marriage though, James' service with the Navy was extended when his original term came to an end in 1910 and, happily, his service in the years up to 1914 were on ships operating mainly in Home waters. Their son, James Edward Coxon was born in 19148.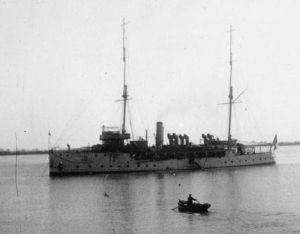 Whatever their plans for the future, the outbreak of war in August 1914 would have meant that he was in the Navy for the duration. In fact, at the outbreak he was stationed at HMS Tamar, the Royal Navy base in Hong Kong harbour. This continued until the end of September 1915, during which time he served for some of the time on board the destroyer HMS Virago as part of the China Station. In October 1915, he joined HMS Thistle (right), an elderly Bramble Class gunboat, which had recently been reactivated following a period of local duties in and around Hong Kong harbour. Under a new captain, Lieutenant-Commander Hector Boyes, she set out from Hong Kong to support Army operations in German East Africa, off the coast of what is now Tanzania. The journey there had been difficult, particularly for Artificer Coxon who, as Engine Room Artificer Class 1, would have had important responsibilities for the engines which, no doubt to his frustration, were old and unreliable. After having to be towed in the early stages of the journey following mechanical problems, Coxon and his colleagues appear to have managed to rectify things such that they had been able to manage the journeys from Singapore to Colombo and onwards via the Seychelles without too many problems - other than being close to running out of coal in the final stages..
Following her arrival in November 1915, Thistle took part in the amphibious campaign against German East Africa, providing inshore protection for landings at Dar es Salaam and elsewhere and proving fire support from difficult channels, to soldiers striking inland. It was during such an operation on 11 June 1917, probably in support of a landing by 3/2nd King's African Rifles10, that the Thistle was hit, ERA Coxon was killed and a stoker colleague was wounded. The ship's log for that day11 records this as follows :
8.30am: Received hit from 4.1" through port side between 1st Lt's and Chief ERA's cabins, perforating engine room bulkhead, killing ERA Coxon and wounding stoker Leach in the leg.
Later that day, the log records his burial:
4.30pm: Landed funeral and firing parties for ERA 1c James Coxon, 269463 (Portsmouth)
Although his original burial was in Lindi Cemetery, East Africa (later Tanganyika, now Tanzania), his remains were later moved to Dar Es Salaam War Cemetery were he now lies. Dar Ed Salaam War Cemetery was created in 1968 when the 660 First World War graves at Dar Es Salaam (Ocean Road) Cemetery had to be moved to facilitate the construction of a new road. During the early 1970s, a further 1,000 graves were brought into this site from cemeteries all over Tanzania, where maintenance could no longer be assured. The cemetery now contains 1,764 Commonwealth burials of the First World War, 60 of them unidentified, and 41 from the Second World War, 7 of them unidentified. There are 112 war graves of other nationalities, the majority of them Belgian and German, all dating from the First World War12.
ERA Coxon was posthumously awarded the 1915 Star, the British Medal and the Victory Medal13. His half brother, George Coxon had been killed while serving with the 1st/8th Middlesex Regiment on the Somme on 16th September 1916. George is remembered on the Thiepval Memorial14.
Alice, James's widow, went on to marry Frank Henry Hatcher in 191815. She died in South Wales in 1983, aged 90. James and Alice's son, James Edward Coxon served in World War Two and was killed in Germany in March 194516.
---
Footnotes
1The photograph of Dar Es Salaam War Cemetery, Tanzania is from the Commonwealth War Graves Commission website. (http://www.cwgc.org)
2His birth was registered, as 'James Coxon Shrewsbury', in Basford Registration District (of which Beeston was part) Q3/1871 (Ref 7b 127) and he was baptised with that name at Beeston Parish Church on 20 March 1872, around the time of his parents' marriage (Basford Registration District Q3/1872 Ref 7b 239).
His full birthdate of 29 June 1871 is recorded on his record in the Royal Navy Registers of Seamen's Services, 1848-1939 (ancestry com)
3Her death was recorded in Basford Registration District (of which Beeston was part) in Q2/1876 (Ref 7b 92). She was aged 34.
4Their marriage was registered in Basford Registration District (of which Beeston was part) in Q4/1876 (Ref 7b 334).
51891 Census, Piece 2671 Folio 117. John William's siblings were Emma Elizabeth (b. 1872) and John Thomas (b. 1875). His half-siblings Sarah (b. 1890). His half-siblings were Annie (b. 1879), William (b. 1882), Lucy (b. 1885), Henry (b. 1886), Peter (b. 1887) and Isaac (n. 1890). George (b. 1895) and Joseph (b. 1897) were born after the date of this census.
6Details are on his record in the Royal Navy Registers of Seamen's Services, 1848-1939 (ancestry com).
7Their marriage was registered in Portsmouth Registration District in Q4 1910 (Ref 2b 1123). In March 1911, Alice was staying with a family in Portland, Dorset, presumably while her husband was at sea (1911 Census Piece 12367 RD263 SD3 ED4 Sched 80). Alice May was born on 7 February 1912 in Weymouth, Dorset (date from 1939 Registration).
8He was born in Portsmouth on 21 July 1914 (date from 1939 Registration)
9More details of HMS Thistle and its involvement in the East Africa conflict are at en.wikipedia.org/wiki/HMS_Thistle_(1899)
10An account of the landing is on 'The Old and the Bold' website at www.25throyalfusiliers.co.uk/ziwani.html. 11Images of this log and a transcription is at www.naval-history.net/OWShips-WW1-19-HMS_Thistle.htm.
12This description of Dar Es Salaam War Cemetery, Tanzania is based on that on the Commonwealth War Graves Commission website. (http://www.cwgc.org)
13James's medal awards are recorded in the Naval Medal & Award Rolls, available on ancestry.com.
14George Coxon's memorial page can be viewed here
15They married at St Albans Parish Church, Portsmouth, Hampshire on 14 September 1918.
16Rifleman James Edward Coxon was killed on 2 March 1945 while serving with the 2nd Battn/Royal Ulster Rifles. He is buried in Reichswald Forest War Cemetery, Germany.



Return to Top of Page