Pop-up notes are active on this page - Click any note number to view


The High Road in Beeston - Wollaton Road to Villa Street
Up until 1903, when the silk mill property was sold to developers following its financial failure in the previous year, this important High Road frontage was commercially undeveloped. The whole frontage and the almost all the land to the rear, extending as far as the smithy, was owned by the mill owner, Samuel Watson. At that time, Watson occupied The Villa, a substantial residence on the site. After 1903, everything was to change and it is that transition that we will explore here, telling the story of the personalities and businesses who lived and traded in this key part of the High Road.
At the time of the silk mill property sale in May 1903, all of Samuel Watson's property, on both sides of the High Road including, of course, the frontage we are now examining, was acquired by a consortium headed by Albert Ball, later to become Sir Albert Ball. Originally a plumber in Lenton, Notts he had, by the early 20th century, become very well established as an estate agent who speculated in distressed or outdated stately homes and other similar property throughout the area and, in this role, he was well placed to put together a syndicate to purchase the Watson property. His offer of £15,200 - in the order of £1.5 million in today's values - included the mill, house, and all the land, was accepted. Ball took a 9/24 share of the deal with other syndicate members being Arthur William Black (the local lace manufacturer) who took a 8/24 share, Frederick Ball, Albert's brother (a Nottingham architect) with a 3/24 share, William Thomas Norris (a Lenton builder) who took a 2/24 share and James Holroyd (a Nottingham estate agent) who also took a 2/24 share. The ultimate success of this sizable investment would depend on the timely development of the site. In the event, it was to play a major part in transforming the High Road into the mature shopping street that it became.
This photograph, dated from about 1905, shows the frontages on both sides of the High Road, viewed from what is now Wollaton Road/Station Road, looking east. On the right of the picture is the south side of the High Road which has already been partly re-developed with a row of shops, very soon after the silk mill sale in 1903. While progress on the north side is not so obviously dramatic, there are some signs that things are underway and, ultimately it would see perhaps the more dramatic changes. It is these changes. on the north side of the High Road, between Wollaton Road and Villa Street which we will examine here.
For the purpose of this study, the frontage seen in the photograph can be divided into five sections which, at this early stage can be described (west to east) as follows :


Section 1 - The corner of Wollaton was then vacant but was already reserved for a key development - a major bank.

Section 2 - A recent development consisting of a pair of retail shops with living accommodation above.

Section 3 - A vacant frontage of about 25 yards. What appears to be a 'For Sale' sign is displayed above the boundary wall.

Section 4 - A further frontage of about 25 yards, behind which stands The Villa, previously Samuel Watson's residence.

Section 5 - A frontage running up to the corner of Villa Street.

The development and history of each section will be described in the order they were put to new use.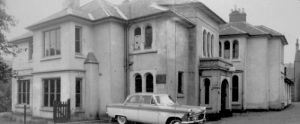 First to change was The Villa (Section 4), now no longer the residence of Samuel Watson which, in June 1903 became the home of the Beeston Constitutional Club - later The Beeston Conservative Club. It is shown right in its final years after it had remained as a Club for about sixty years, and just before much of the north-side frontage was comprehensively redeveloped. The Club itself then moved to a purpose-built building on Acacia Walk (itself now demolished as part the Tesco development and the Club repositioned on Station Road) and its position on the High Road is now the site of Boots the Chemist.
The pair of retail shops (Section 2), like many of the new buildings in the overall project, was designed by Frederick Ball who, as we have seen, was also one of the overall development scheme's principle investors. They opened in 1904, shortly after the developers had taken over, as the first new development on the north side. As such, in their early days, standing on their own in the north-side frontage with all the 'action' on the other side of the High Road, they do not seem to have been too popular although, as we will see this was to change as the development matured as a whole. In these circumstances, the identity of any tenants in the very early days has been elusive and it has not been possible to link even those named on the plan made when the High Road was renumbered in 1908 ('Bexton' and 'Longland') have not proved possible to identify. However, from that date, we are able to identify the shops by their street numbers, west to east, numbers 21 and 23 High Road. In practice, the story of this pair of shops and their tenants begins in 1911 when we have the clear evidence of the Census.
21 High Road - by 1911 the premises were occupied by John William Barnatt who traded there as a furniture dealer. Born in Sleaford, Lincolnshire in 1869, he moved, with the rest of his family, to the Radford area of Nottingham when only four years old. Several start-up companies were making early bicycles in that area and he found work as store keeper in one of these. After marrying Priscilla Mary Tennyson in 1890, they moved to Beeston where John William continued as store keeper and later in the receiving and dispatch department at the Humber Company works there. When Humber moved, somewhat abruptly, to Coventry in 1908, he did not follow but tried a number of alternative ways to make a living, working for a while as a commercial traveler and, for a while, as manager of the Three Horseshoes public house. His occupancy of the shop did not last long as, by the time of the Great War, he had found more work as a stock clerk and store keeper and he, his wife and their family of two had moved to live at 53 Park Street, Beeston where they lived for the remainder of his life and that of his wife. In 1914, although he was 45 years of age, he enlisted with the Royal Army Service Corps in various defensive roles on the Home Front and, remarkably, attained the rank of Company Quartermaster Sergeant, stationed at Woolwich Dockyard. After demobilisation in November 1919 he made a living as a furniture repairer for the remainder of his working life. During his many years in Beeston, with full support from his wife, he made a considerable contribution to the community, as a Councilor in the pre-WW1 years, as the founder of Beeston Friendly Societies' Council which worked for many charities and maintained a bed at the Children's Hospital, was Secretary of Beeston Garden Holders Association and of the Beeston Liberal Club. His rich baritone voice is said to have enriched many local charitable concerts. He died in May 1950, shortly after his wife who had died earlier in the same year.

By 1913, these premises had been taken over by Oliver Tailby, a butcher. Born in 1883 in the village of Gurnley in Leicestershire, one of eight children born to Walter Tailby, a tailor, and his wife Mary Jane (née Dunkley), he had, as a young man, joined the Army and been involved in the Boer War. By 1905 he had traded as a butcher in Gainsborough and, in that year, had married Dorothy Richardson (née Welbourn), a widow who had two surviving children by her first short marriage. After joining Eastmans Limited, a national company that traded in foreign meat, the family moved to Beeston where Oliver held the position of manager for the company's local branch, at 69 High Road, Beeston. Frozen meat imports from America - notably from Timothy Eastman and his son Joseph's large abattoir in New York had started in the 1860s. Without the need for the local slaughtering facilities that were the norm with more traditional local butchers shops, they had done much to make cheaper meat available to a growing population. Eastmans Ltd had been formed in 1889 by Henry and James Bell the British agents who had already begun to establish a chain of butchers shops and now took in the American company as well. By 1900, with increasing interest in Argentine and Australian beef and New Zealand lamb, the American connection was terminated. From about 200 shops at the turn of the century, the chain opened around 1200 more - including the Beeston shop - over the next decade and they were supported by regional cold stores having a massive capacity. But by then, the problems of rising prices and decreasing demand hit hard, even before the war years - when almost 500 of its shops closed - proved disastrous. In 1920, the company was acquired by Vestey Brothers who already controlled the cold store network and had founded the High Street staple, Dewhursts.

Although, the Beeston branch of Eastmans was to continue until at least 1925, Oliver was to demonstrate his tendency towards self-determination, also, it seems, supported by his wife, that was also to be evident later. By 1911, he had opened his own butchers shop, selling imported meat, at 21 High Road. As his advertisement shows, he offered a personal service to attract customers in what was a very competitive marketplace. In 1914, when war came, life became difficult for everyone, including those trying to keep a business going, particularly when they were dependant on imported products and things became particularly acute when conscription was extended to married men in May 1916. After appearing before the local Military Service Tribunal he explained that he had served in the Boer War, had brought up a step-son who had enlisted and that he had a business to run. The Tribunal had a history of being sympathetic to local tradesmen and did grant him exemption providing he joined the "Citizens' Army" - the domestic volunteer force, similar to the Home Guard in WW2. But by August 1916, despite this lifeline, Oliver again demonstrated his independent streak and chose not to join the local volunteer force. As a result, his exemption was withdrawn and he enlisted and, in January 1917, joined 2nd/6th Battalion North Staffordshire Regiment after it had returned to England, after its involvement in the Easter Rising in Ireland. After further training, he left with the Battalion for France, landing there on 25th February 1917 where, along with his colleagues, he faced over nine months of trench warfare during which he earned promotion to Corporal. Early in December 1917, however, he was severely wounded and died at a military hospital near Rouen on 11th of the month. He was buried in the Boisguillaume Communal Cemetery Extension just outside the city.

During Oliver's time in the Army, Dorothy had continued to maintain the butchers business and, despite the deep sorrow she undoubtedly faced she was able to continue it until at least 1921, clearly showing the same determination that her husband had demonstrated. She never remarried and remained close to her children - who often used 'Tailby' as their own and their children's middle names - for the rest of her life. By 1939, she was living with her son Joseph's family at 41 Lower Road, Beeston and died, aged 75, in July 1945, probably at that address.

In 1925, the shop is recorded as occupied by the butchers, Burrows & Son although they have not otherwise been identified. By 1939, another butcher, Samuel Albert Marlow (b. 1897, Nottingham, the son of Albert, also a butcher) and his wife Greta Jane (née Burton) were trading at the address and continued to so into the 1950s, before they retired to live at Toton, Notts. He died in January 1958, aged 60.

After about 50 years as a butchers shop, the shop was then combined with the adjacent shop that had been occupied by Fred Hallam and his family, the greengrocer for many years that still trades today as Fred Hallam Limited. An account of that well-known family business will be told as part of the story of 23 High Road.

23 High Road - By 1910 this shop was occupied by William Edwin Wheeldon who was trading there as a watchmaker. Born in Nottingham in August 1879, he had worked as a telephone mechanic, had married Mabel Ethel Kirk in 1903, moved to Beeston and they had four children before, it seems, he began this business venture. However, this was not to last long and the family left to live in Sherwood with William working in engineering and William and Mabel were to end their lives separated. By 1920, the shop was occupied by Fred Hallam whose family greengrocery and fish business operates there to this day.

Fred Hallam (pictured right) was born in Beeston on 27 August 1888, the son of John Hallam and Sara Ann (née Lees), his second wife. He was baptised at Beeston Parish Church on 5 September 1888. John, his father, had begun selling fish as a 'hawker' before his marriage to Sarah Ann in 1882 and, together, they were able to progress to opening a fish shop on Middle Street West, Beeston. It also appears likely that he had opened a greengrocery on Queens Road, Beeston, between the time of his wife's death in 1897 and his own death in 1899 as, in 1901, it was being operated by Charles Hallam, Fred's half-brother and, incidentally, the grandfather of the owner of this site. By 1901, Fred was living there with Charles's family and, as a 12-year-old, was likely to have already played some part in the workings of the shop and would continue to do so for a few more years - to at least 1904 - after which Charles went back to his job as a heating engineer at Foster & Pearsons. Family legend has it that Charles then gave Fred 10 shillings and he promptly went out and hired a barrow for 6 pence and filled it with vegetables - and the rest is history!

Fred wasted no time making progress and, certainly by 1908, he had established himself in the fruit and vegetable trade. At first he lodged with his elder sister Elizabeth's family on Lower Regent Street, Beeston but after his marriage to Charlotte (often known as Lottie) Salmon in 1911, they were able to open a shop at 3 Wollaton Road, Beeston where he continued throughout the war years until, by 1920, he was in a position to move to 23 High Road which became the basis of the shop that continues to this day, now with the fourth generation of Fred's family in control.

Fred and Lottie had four sons, all of whom were to play their part in the business:



John Frederick Hallam - was born on 14 September 1911 in Beeston and married Annie Bittles (or Brettle) on 2 May 1932 at Beeston Parish Church and set up home at 28 Ensleigh Gardens, Beeston, later moving to 10 Marlborough Road, next door to his parent's home at no 12. They had two children, the eldest of whom, Ronald Frederick Hallam, would eventually take charge. John Frederick died in February 1988, aged 76.

Arthur Hallam - was born on 18 May 1914 in Beeston. In 1938 he married Barbara Smith Storey and they were to live at 30 Fellows Road, Beeston. They had one son. Arthur died in March, 1985, aged 70.

George Hallam - born on 16 August 1919, married Constance Joyce Jackson on 24 February 1941 at Beeston Parish Church and made their home at 12 Marlborough Road. They had two children. He died in April 1996, aged 76.

Frank Hallam - born in 1924, married Delsea Margaret John from Pembrokeshire in Wales in 1947. They set up home in the house at 28 Endsleigh Gardens but, sadly, Frank died in 1953, aged only 29. They had no children and his widow returned to live out her life in Wales and died in Tenby, aged 88 in 2010, having remarried in 1966.


Through the 1920s and into the 1930s, Fred continued to grew his business, which increasingly specialised in fish alongside fruit and vegetables. As the sons grew older, each in turn joined the business and learned the trade alongside their father and in due course they were ready to support an expansion of the business and were able to take advantage of one of the parade of shops that had recently been built opposite what was the Broadgate Recreation Ground. Accordingly, in May 1936, they opened a branch at 123 High Road which was well placed to serve the residents at the eastern end of Beeston, Around that time too, John Frederick, Fred's eldest son took overall management of the business and was soon to face the uncertainties of the war years. In March 1943 Fred passed away, age only 54.

Now the success and progress of the business rested entirely with his sons and would eventually be with future generations. As we can see today, they proved they were worthy of the challenge and the people of Beeston have benefited from the service they have provided. In 1954 the business became Fred Hallam Limited, controlled by family members and, in or around 1960, the business took possession of the shop at 21 High Road and amalgamated it with its existing shop at number 23 to form the shop, with changes over the years, which we see today. The shop at 123 High Road was by then run by Fred's son, George Hallam with other family members and was eventually closed but the main shop continued having passed through the overall management of Fred's grandson Ronald Frederick Hallam and then to two of his sons, the fourth generation of Hallams, Miles Frederick and Andrew John Hallam.



After over 110 years, the shop remains a valued part of the High Road, as we can see in the photograph above, contributing colour to the street-scene and first-class service to its customers.
Next to appear was the property on the corner of Wollation Road (Section 4), a branch of Nottingham & Nottinghamashire Bank, incorporated excellent living accommodation for the manager and his family, which opened in 1908. The bank itself was foundered in Nottingham in 1834, based at headquarters on Pelham Street Over the next 75 years its branch network developed stongly, growing to around 20 with a similar number of sub-branches in communities throughout Nottinghamshire and into the surrounding counties. The bank paid particular attention to the architectural quality of its buildings, many of which were designed by the renowned Nottingham architect, Watson Fothergill who, in 1881, designed the bank's then new headquarters on Thurland Street, Nottingham. The Beeston branch which opened in 1908 was designed by the Coalville-based architect Thomas Ignatius McCarthy (1880-1951). With its art nouveau detailing that is characteristic of that era, it is undoubtably one of Beeston's finer buildings. It is shown below, in about 1910.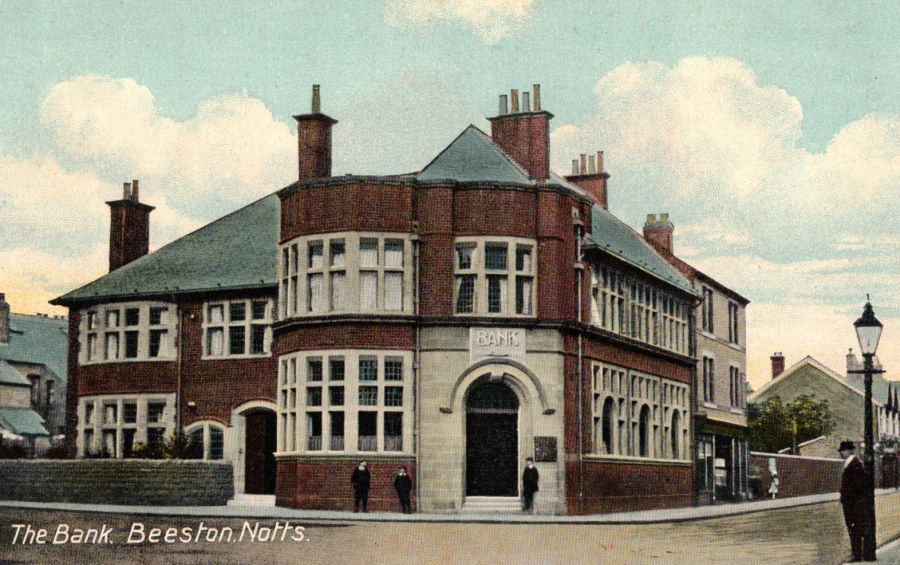 The first manager at the bank was Ernest Stanley Pierrepont who already had strong Beeston connections having been born there in 1874, the son of John Pierrepont who was very well respected locally. It was undoubtably an inspired choice by the bank.

John Pierrepont was born in Ollerton in 1847 the son of George Pierrepont, then an agricultural labourer, and his wife Frances (née Ostick). George was himself able to better his life, a trait that was be demonstrated in later generations. He died in 1904, a farmer in his own right in Kneesall, Notts. John was the middle child of seven born to George and Frances. While most of his four brothers followed their father into farming, John took a different path as a teacher beginning, as was then normal, as a pupil teacher. In 1869 he was appointed to the post of Headmaster at the National School on Brown Lane (now Station Road), Beeston. He proved a hard-working teacher, valued by his pupils, an assiduous churchman and a popular figure in Beeston. In his early days he lodged on Chapel Street, close to the school, and this brought him into contact with Sarah Towle who was then also living on Chapel Street with her parents, the lace manufacture, Edmund Towle and his wife Sarah (née Foster, the sister of Robert Foster, the horticultural builder). John and Sarah married on 30 August 1871 at Beeston Parish Church and were to go on to have eleven children, of which all but four were to survive infancy. Ernest Stanley was their first child, one of three born in Beeston. The second was Francis Helen who was to go on to become the Head Teacher at Nether Street School. In 1878, after nine years at the Beeston school, John was appointed Headmaster at the Holy Trinity School on Burton Street, Nottingham, at first living at the school house before moving to live on Arboretum Street and then to 23 Gedling Grove, Nottingham. By then, in about 1890, the young Ernest Stanley had started work as a clerk with Nottingham & Nottinghamshire Banking Company, most probably at its Thurland Street headquarters. Now, some 18 years later, aged 34, he had moved to Beeston to take up the management of the bank's latest branch. Less than two years earlier, towards the end of 1906, he had married Lillie Maude Hall, a daughter of the then late Robert Arthur Hall and his wife Hepzibah (née Jeeves) who had ensured that she had received an excellent education. After Brincliffe Girls School she gained a place at University College, Nottingham where, in 1898 she gained a BA from London University. By the time of their move, they were already expecting their first child and she was born in Beeston as were the three further children who followed:
Beatrice Mary, was born on 16 October 1908. In 1938, she married Leslie George John Deverell, who worked in banking in London where they were to make their home. They had one son. Beatrice Mary died in 1969, aged 60 and her husband in 1982, aged 73.
John Raymond was born on 7 January 1910 and also followed a career in banking. While working in Leamington Spa he met Marjorie Barff, the daughter of the then late Revd Henry Foard Banff who had been Vicar of St Chads, Derby for 21 years before becoming Rector of Fritton, Norfolk where he had died in 1934. By 1939, Marjorie was living in Leamington Spa with her widowed mother Hattie while working as kindergarten mistress at the High School. John Raymond and Marjorie married in January 1942 at St Philips Church, Dorrige, Warwickshire. They went on to have two children and to move to Derbyshire where John Raymond died in May 1995, aged 84. Marjorie died in the following month on the Isle of Wight. They are buried together in St Annes Churchyard in Over Hadden, Derbyshire.
Ruth was born on 10 December 1910 and married Rupert Wallis Spencer in July 1931 at St Michaels Church, Malton, Yorkshire. Rupert was an auctioneer and valued in Retford, Notts and the couple had met there while her father was manager of the bank in that town, before he had been moved to the branch in Malton earlier in 1931. The couple made their home in Retford and went on to have three children. Rupert died in Retford in March 1991, aged 87 and Ruth in 2006, aged 96.
Margaret Helen was born on 11 January 1913. She became a school teacher, remained unmarried and died in the Chicester area on March 2004, aged 91.
Sarah, Ernest Stanley's mother, died in February 1915 at Jessamine Lodge, a property on Middle Street, Beeston near Wood Street which, it appears, had been occupied by her and her husband's family when they lived in Beeston and was still used by family members. It seems likely that she had moved there so that she could be cared for, in her final illness, by her daughters, particularly Mary Beatrice who became a State Registered Nurse. It would have been comforting to her that she would have been able to see all of her Beeston grandchildren before she died. John, her husband, Ernest Stanley's father, remained active in charity, church and school matters, carried out in his characteristic kind and sympathetic manner, right up to his death in June 1937. He had earned tremendous respect from those whose lives he touched, particularly the many in Beeston who were taught by him and were always quick to attribute to him the excellent grounding they had received. It was entirely fitting that his last resting place should be at Beeston Cemetery.

The Nottingham & Nottinghamashire Bank was acquired by London County Westminster and Parrs Bank in 1919 and this became Westminster Bank Limited in 1923.

In 1921, Ernest Stanley moved with his family to take the position of Manager at the Retford, Notts branch of Westminster Bank and in 1930 they moved again to live at Borderside, Middlecave Road, Malton in North Yorkshire when he became the manager of the Yorkersgate branch in the town. While there he was elected to represent the Cleveland Archdeaconry, in the House of Laity of the Church Assenbly for the York Diocese. He died in the York area on 1 February 1938, aged 63. His widow moved to live with their son in Lemington Spa, Warwickshire and died there on 7 June 1949, aged 75.

After Ernest Stanley Pierrepont left Beeston, his place as manager of the Westminster Bank was taken by Edwin Topham who had been born in Alfreton Derbyshire in February 1877, the son of John Topham and his wife Eliza. John ran a substantial cabinet making factory employing about 50 men, women and boys and was well able to ensure that his son received a private education at Parkhurst School in Fairfield, Derbyshire where he was a boarder. After leaving school, he had joined the Nottingham & Nottinghamshire Bank as a bank clerk.

By 1906, he had progressed sufficiently with the bank to consider marriage and had become engaged to 24-year-old Jessie Briggs, daughter of George Briggs, a retired draper and his wife Betsy. Tragically, on 20 September 1906, she was amongst 18 or more killed and others injured in a train wreck when the train she was on failed to stop at Grantham Station. Edwin was waiting at Victoria Station, Nottingham for her arrival back from a holiday in France when the tragic news was received and he immediately travelled to Grantham where he found that she was amongst those killed and that it was his sad task to identify her badly mutilated body. She was buried in Gedling Churchyard on 22 September.

In 1910 he married Mabel Hilda Walker, the daughter of William H Walker, the headmaster of St Philips School, in the Sneinton area of Nottingham. They set up home at 47 Bingham Road in the Sherwood area of Nottingham and were to have four children. John Edwin, born in 1912, became a Chartered Accountant, William. born in 1917 became a representative for Players Cigarettes. Marjorie was born in 1918. After Edwin moved with his wife and family to take up the Beeston appointment and to move into the adjoining accommodation, a further son, Herbert was born in 1923 in Beeston. By 1939, Edwin had retired from the bank and was living with his family at 30 George Road, West Bridgford. Mabel died in 1956, aged 65, followed by Edwin in 1961, age 84.

Later managers at the bank were Frederick Richard Glossop Appleby (b.1882 d.1952), who was transferred from the bank's Thurland Street, Nottingham office and had previously lived at the address at 30 George Street, West Bridgford which was then taken over by his predecessor. He was still in post in 1939 but, by 1952, he had been replaced by Frank Scott.

In 1968, it was announced that Westminster Bank and National Provincial Bank were to merge, a process that was complete by the beginning of 1970 when branches, including the Beeston Westminster Bank, opened as National Westminster Bank - widely known as NatWest, a name in general use today. In Beeston, it also meant the closure of the branch of National Provincial Bank which had stood in the Square at the corner of Station Road only since 1931 and was now demolished as part of the Central Area Redevelopment Scheme.
---
This section will continue shortly with the story of 41-47 High Road (Section 5), The Palace Cinema (section 3) and the 1960s redevelopment.

A full range of footnotes will be added in due couse
Return to Top of This Page
Notes
Return to Top of This Page
© David Hallam - 2020