Pop-up notes are active on this page - Click any note number to view


The High Road in Beeston - Renumbering in 1908

By 1908, the numbering system on the High Road in Beeston had become a little erratic. Whatever sequence had evolved could certainly not accommodate the new developments that had occurred since the turn of the century and it was clear that there was a need for a renumbering which would take into account both the developments that had already been made and the potential for development in the future.
In response to this need, The Beeston Urban District Council, through its Surveyor, Ernest A Bush, prepared the above plan 1 which was subsequently adopted and which defines the numbering on the High Road to this day. The plan can be expanded in sections so that the available detail may be read - simply hover your mouse over parts of the plan to reveal the name of each section and click to expand a section that is of particular interest.
In addition to providing us with a snapshot of the shape of the High Road in 1908, it also gives other invaluable insights :
In most cases, where a previous number existed, Bush has noted the number, crossed it through and added the new number. As a result, we are provided with a cross-reference of old and new numbers which enable us to make better use of numbered addresses in pre-1908 directories, census and other sources. It should be noted that even numbers 2-14 did not change.
The surname of the occupant has been recorded by Bush in almost all cases. This enables us, by reference to directories and the 1901 and 1911 census, to study the way the High Road was structured as a shopping street.
---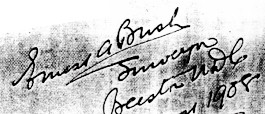 Ernest Anthony Bush was born in New Radford, Nottingham, in 1871, the second son of Anthony & Emma (née Shaw) Bush 2. Anthony, his father, worked as a house agent and accountant eventually, at least, on his own account 3. The family lived comfortably, eventually at Portland Road, Nottingham where they sometimes employed a domestic servant and ensured that the children received a good education and career guidance. Ernest started his career as a civil engineer's clerk 4 but, by 1901 he had secured a position with Nottingham Corporation as a building surveyor 5. By this time, in July 1895, he had married Florence Rogers, the daughter of a Wollaton coal miner 6, and they were living at 143 Forest Road, Nottingham with their first child, Cyril Anthony 7.
In 1905, he was appointed as Surveyor and Sanitary Inspector to Beeston Urban District Council 8 and moved to Beeston, with his family - which was soon to include a daughter, Edith Margery 9. This was a time when many changes were underway in Beeston, so Ernest had taken over a job which was varied and demanding. The renumbering of Beeston High Road, carried just three years after his arrival, was a relatively small task but it is interesting that, as the plan shows, it was carried out personally by him - clearly, he did not have a large support staff to fall back on. In fact, the task would have been a minor diversion to the pressing need, faced by the Council, to respond to several urgent problems including the need to upgrade a sewerage system - built in 1882 and, some 30 years later, unable to cope - much substandard housing which would take a post-war drive to build council houses to begin to address and the need to provide a domestic electricity supply. Happily, by the time Ernest retired in the 1930s, many of these major problems and others which inevitably arose in a growing community, had been addressed.
Ernest and Florence Bush continued to live at the family home at 38 Cromwell Road, Beeston for the rest of their lives. Ernest died in 1954 followed by Florence in 1958 10.

Notes
Return to Top of This Page
© David Hallam - 2012