Pop-up notes are active on this page - Click any note number to view


The High Road in Beeston - Union Street to Willoughby Street
The section of the south side of the High Road, between Union Street and Willoughby Street was typical of much of the Road as a whole, in that it became fully dedicated to retail shopping in the second half of the 19th Century when it added a block specifically built for that purpose and the frontage of any existing buildings - which had been associated with the agricultural land which had abutted the street until well into that century - was largely converted to shop use. Our story will explore this transition and tell the story of the personalities who lived and traded in this central part of the High Road.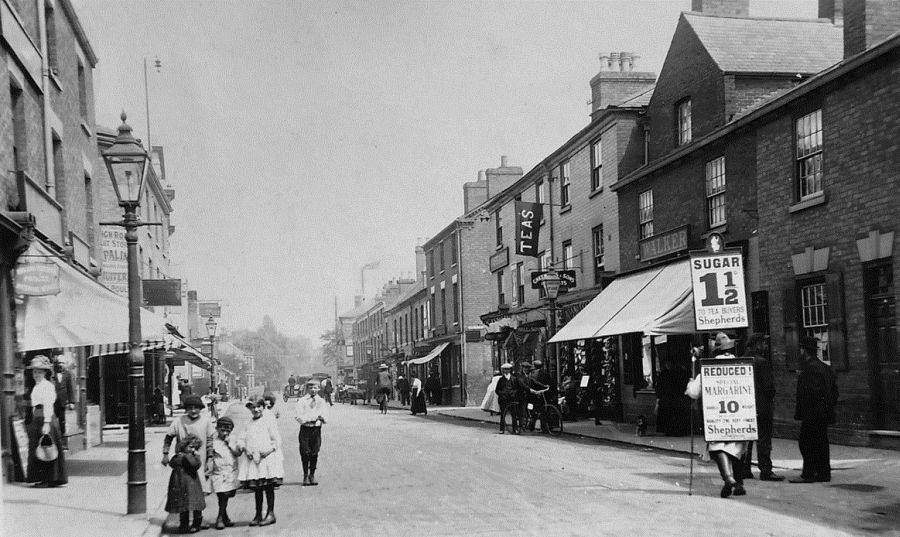 This photograph, dated from about 1910, shows the frontage onto the High Road, between Union Street (just off the right-hand extremity of the picture) and Willoughby Street (which may be seen near the centre of the picture, where the lady is shown stepping into the road). The individual properties, right to left, were then numbered 64,66, 68 & 70 but had been 30,32,34 & 36 respectively before the renumbering of the High Road in 1908 1. On the opposite side of High Road, is the junction with Stoney Street, flanked either side by Paling's greengrocery and Bailey's butchers shop. Alongside the group of perhaps slightly apprehensive children, a sandwich-board man has appeared, appropriately dressed as a shepherd - as he is advertising bargains at Shepherds grocery shop, back along the High Road between Acacia Walk and Station Road.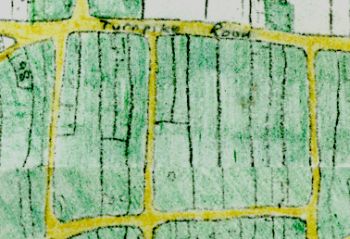 By this date, this frontage was fully developed but, in common with most of the south side of the High Road, it had seen a complete transformation over the previous hundred years. At the time of the Enclosure in 1809 2, that side of what was then the Nottingham to Sawley Turnpike was essentially open pasture made up of crofts, running between there and what is now Middle Street, which had (in contrast to the surrounding open fields now the subject of the enclosure) been individually owned for centuries. These crofts can be clearly seen on the section of the Enclosure Award map shown here. Any buildings that did then exist were cottages and simple buildings to support farming activities and craftsmen who, in turn, supported them.
64 (previously 30) High Road - It was in this stretch, on the site of the larger building on the right, originally No. 30 but changed to No.64 when the High Road was renumbered in 1908, where John Walker traded as wheelwright up to his death in 1844. He was the third of five sons of William (c1760-1830) and Mary (née Thompson c1865-1838). William, it seems, farmed the remainder of croft at this location and this was continued by his second son, William (1789-1862) and this was continued by Joseph Walker (1806-1881), his youngest brother, after William junior's death. Thomas (c1787 - abt1860), their elder brother, worked as a lace maker. James, their second youngest brother (1804-1836), trained as a draper in Nottingham before his excessive drinking led to a downfall. This story, together with that of his eventual religious salvation before his early death is told here. Like his parents and most of his brothers and their wives, he is buried in Beeston Churchyard where their memorials survive 3.
John Walker and his wife Hannah 4 had two children. Elizabeth, their daughter, died aged only 22 in 1854 but their son, John (b.1836) went on to marry Louisa Moore, the eldest daughter of John & Susannah (née Newbold) 5 and eventually inherited the family home on the High Road and developed it to be the building we see in the picture, where he - and eventually most of his family - were to trade as drapers for more than fifty years. In fact, after Beeston was connected to a gas supply in 1861 5, John secured the position of collector of the gas rate, a position he held until his retirement after about forty years in the job. Despite, his parents and brothers' lifelong connection with the Parish Church, John

and his family, like many Beeston people then and since, developed a strong adherence to the Methodist faith - in their case the Wesleyans - and, at one stage, around 1893, perhaps following the traditional Methodist 'self-help' tradition, John appears to have been involved in a private chapel-based school (the advert for tutors shown here is from October 1893 6 ). John is also known to have been a Sunday School teacher at the Wesleyan chapel, then on Chapel Street, Beeston 7. Louisa died in June 1906 followed by John in October 1914. They are buried in Beeston Cemetery where they are remembered as part of Louisa's parents, John & Susanna Moore's memorial 8.
John and Louisa's two eldest sons, Harry (1859-1941) and Horace William Walker (1860-1943), assisted by their sister Lizzie (1864-1941) continued to run the drapery business until it was closed in the mid 1920s. By that time, Harry, his wife Eliza and their two children had moved to 68 Imperial Road, Beeston and, in retirement, were to move to 3 Newcastle Avenue, Beeston. Harry died in 1941 aged 81, followed by Eliza in 1951, aged 84 9. In 1920, their daughter Gladys had married Maurice George Barton, one of the sons of Thomas Henry Barton, the founder of Barton Transport. Sadly the marriage ended in divorce in 1939 10. Both Horace William and his sister Lizzie remained single and moved to live at 14 Cromwell Road, Beeston following their retirement. After Lizzie's Death in 1941, Horace moved to live at 26 Enfield Street, Beeston, with his younger sister Helen, then a widow following the death of her husband, Thomas Wright Thornhill in 1938 11. Horace died in 1953, aged 82 and Helen in 1950, aged 77 12. John, John and Louisa's youngest child had not been involved in the drapery business. After working as a clerk at a cycle works he later became its sales manager while living with his family at 26 Cromwell Road 13. Like is brother, he also lived with his widowed sister Helen after he became a widower.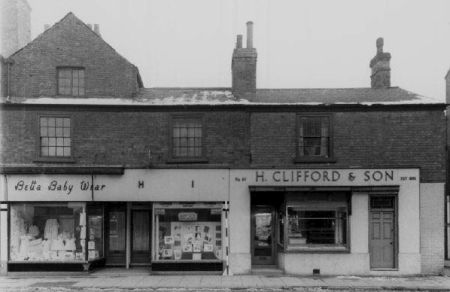 By 1925, after the closure of the Walkers' drapery business, the shop was occupied by Reginald Stuart Applebee who traded there selling 'everything electrical' for Beeston households. This continued until 1933 when he moved across the road to number 63, where he and other family members were to continue to trade for about seventy years. After this move, the Walker home and shop at 64 High Road were remodeled to provide three shop units fronting onto High Road, which were numbered 64, 64a and 64b. These are shown in this photograph, dating from around 1960, which shows that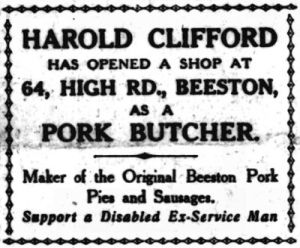 the site of the Walker draper's shop had, by now, been remodeled to form two small shops, designated numbers 64b and 64a, then occupied respectively by Betta Baby Wear and Harry Allen, the local photographer - who had, it seems just moved in as his previous shop, nearly opposite at no. 87 is shown still occupied by him in a photograph taken on the same day. He appears that he remained at 64a until he sold the business and retired in 1972, after which the new owner opened at 96 High Road. Number 64 itself, what had been the Walker house, on the corner of Union Street, was now the site of Harold Clifford's pork butchers shop. Harold, born in 1891, was the son of George Clifford who had originally set up in business in 1897 at what is now 98 High Road, between Willoughby Street and City Road. Harold had trained with his father and was ready to take over when the Great War changed everything. After enlisting in June 1916 with the Sherwood Foresters he was then transferred to France with the North Staffordshire Regiment and promoted to Lance Corporal. Sadly, he was badly injured and, as a result, was discharged with a disability pension in April 1918 15. In the meantime, his father had retired and the original business had been taken over by Joseph Ernest Greenway who continued to trade there as a pork butcher. But, in 1921, with the support of his father, Harold opened up at this new location in direct competition and an advertising battle ensued. This advertisement - shown right - is an example of Harold's side of the 'battle'. See here for Greenway's side of the story 16. As can be seen, a major part of the competing claims was the origin of the "Beeston" pork pie and sausages. Eventually, it seems, the two businesses were able to carry on in the own right. In 1920, Harold had married Gertrude Annie Stephenson 17 and they went on to have two children, Mavis in 1921 and John in 1930. By 1939, Harold and his family had moved to live at 24b Central Avenue, West Bridgford, Notts, were they ran a confectionary shop 18 whilst continuing with the Beeston business. It seems most likely that the West Bridgford shop was run by Gertrude and possibly their daughter Mavis, who was then aged 18, while Harold and eventually John continued with the Beeston shop with practical part-time help from George up to shortly before his death in July 1964, aged 94 19. By that time, it appears that Harold's son John had joined him at the Beeston shop and Harold and Gertrude had moved back to Beeston to live at 11 Cyprus Avenue. Harold died in 1974 20 followed, in 1879, by Gertrude, aged 81.
In more recent times, the whole of the site that had been the Walker property - taking in numbers 64, 64a and 64b - was comprehensively redeveloped to form the building we have today, comprising three sales-shops with a floor above, lit by four small square bay windows. The shops retain the original numbers and are, at the time of our update in late 2023. occupied by Vision Express, Oxfam and Card Factory respectively.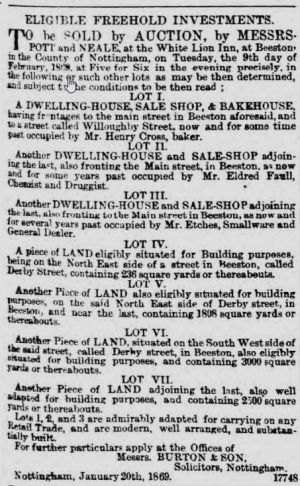 66-70 (previously 32-36) High Road - This part of the frontage that we see in the main photograph, was clearly purpose-built for retail use at street level, with living accommodation in the two storeys above - as often as not, in the early years, occupied by the shop-owner's family. Dating it precisely is not easy as, prior to 1891, the properties were not numbered on the records we have. Nevertheless, a degree of continuity in the trades and occupants in earlier years, alongside evidence that Willoughby Street was opened up and started to be developed in the early 1850s, points to the conclusion that this block of shops, as well as the block on the other corner of Willoughby Street, was built in the 1850s. This means that it was already almost 60 years old at the time of our photograph. Early in 1869, it seems that the freehold of each of the three units was offered for sale (see right), although the third one was withdrawn before the sale. Although we are given no clues as to the identity of either the vendor or the purchaser, the names of the tenants and the type of shop offer useful confirmation to census and directory evidence from that era.

We can now take a look at each shop and their occupants in turn during this time and into more recent times, using present-day street numbers:

66 High Road - this is the property that is shown, occupied by Greenlees as a shoe shop, in the main photograph. This is known to be the position by the time of the renumbering in 1908 21 but in early years it was occupied as a chemist's shop. In 1861 it appears that George Savage was trading there, described as a chemist and druggist 22. Born in Mansfield, Notts in 1811, he had traded in Mansfield for some years before becoming, in all probability, the Beeston shop's first tenant. He had married Mary Ann Sanderson in 1841 and they had four children before her early death, aged only 44, in 1849 23. Although the exact date of his arrival in Beeston is not known, it is likely that it was before March 1860 as it was then that Jane, his second wife, died in Beeston, aged only 53 and was buried in Beeston Churchyard 24' It appears also that his Beeston business was not a success, at least in the early years, as he was declared bankrupt and, although he was discharged by the Court in August 1862 25, it is likely that his circumstances would have continued to be difficult. He died in Beeston in May 1867, aged 57, and was buried with his wife in Beeston Churchyard 26. The contents of his shop, together with his furniture were sold at auction in June 1867 27.

The next occupant, also a chemist, was Eldred Faull, born in 1836 in Stokesley, Yorkshire, one of the large family of John Honey Faull and his wife Jane (née Cooper) 28. As a Wesleyan Minister, John Henry moved about the country over the years and Eldred was apprenticed in a large drapery store in Sheffield 29 before taking a position as an assistant to a druggist in Wath upon Dearne, near Rotherham 30. In 1867, John Henry had been appointed to a supernumerary Minister at Beeston and, it seems. his son took the opportunity of the then vacant chemists shop to start up in business for himself. In the following year, Eldred married Emma Baldry in the Wesleyan Meeting House in Yoxford, Suffolk where, his father had been stationed and where no doubt, the couple had met 31. In due course, five children - three boys and two girls - were born to the couple in Beeston but, sadly, two of their sons died as infant, including John Eldred Faull, their eldest son, who died in February 1876, aged 3, and was buried in Beeston Churchyard. His grandfather, Reverend John Honey Faull, died in the following May, after serving as a Minister for 56 years, and was buried in the same grave. His wife Jane continued to live in Beeston, died in June 1886, aged 84 and was buried with her husband and grandson 31. Their memorial (click to view) survives in the Churchyard. By 1890, Eldred and Emma had decided to move on and was by then trading as a chemist and druggist at 66 Church Street, Warrington, Lancashire but, in November 1890, Eldred died, aged only 54 33 and his widow was left to carry on as best she could 34. For several years she continued to operate the chemist's shop in Warrington with the help of an employed manager and for a while, it seems, by her son William Henry - but this stopped in 1895 when he emigrated to Canada 35. By 1901 she and her two daughters had left Warrington and returned to her roots in Suffolk and opened a newsagents in Yoxford, later moving to Southwold where the business continued as a bookshop 36. Her daughter Mary Elizabeth left to pursue a long career in nursing 37 while Emma Irene stayed with her mother and assisted with the business and, after Emma's death in April 1917 38, continued it in the form of a stationery and newsagents in Southwold 39. Neither Emma Irene or Mary Elizabeth was to marry and they both died in 1944 within three months of each other 40.

After Eldred Faull and his family had left Beeston, around 1890, the shop became occupied by Arthur Blurton Frost who continued to operate it as a chemist's shop, specialising in surgical hosiery and similar products. Frost was born in Sheffield in 1861, the only child of Thomas Frost (c1828-1890), a Nottinghamshire born doctor, and his wife Mary (née Blurton) 41. Sadly, Mary died when Arthur, their only child, was aged about one 42. Although Thomas eventually married again, in 1867, to Jane Elizabeth Bell and they went on to have at least five children together 43, it was likely to have not been the easiest of childhood for Arthur and, after Thomas died in 1890 44, he was essentially alone in the world. But, although we have no evidence of his early working life, somehow, he had gained experience as a chemist and started in business in Beeston. In fact, there is little doubt that his marriage, in June 1883, to Elizabeth Wilkinson, the second daughter of George Wilkinson, the builder, property owner and publican - and brother of Frank Wilkinson, the Beeston and Chilwell based lace entrepreneur - would have placed him firmly within the Beeston business community 45. Arthur was to continue trading at this High Road address until around 1903 by which time he had, in conjunction with his father-in-law, developed Commercial Buildings, the prominent row of shops with bay-windowed living accommodation above that still remains today, essentially in its originally form, on the corner of Wollaton Road and The Square. By 1904, having already diversified into the sale of wines and spirits alongside his chemist and surgical appliances business, he had moved to Commercial Buildings 46. A successful business was now firmly established and was to continue, mainly as a wholesale business, for more than twenty years more. On a personal level, Arthur and Elizabeth were able to live at Clifton Lodge on Devonshire Avenue, Beeston, the imposing property on the south corner on Vicarage Street 47. He died in 1951 followed by his wife Elizabeth two years later, having had no children 48.

The next known occupant of the shop itself - certainly by 1908 when the High Road was renumbered - was a branch of Greenlees, part of the national chain of popular shoe shops which had its origins in Paisley in Scotland where it was founded by the boot manufacturer, James Greenlees in the second half of the 19th century. James had no less than 11 sons, several of whom joined the firm and were able to take responsibility for different area of the business as it expanded from the 1890s onwards, incorporating its footwear brand "Easiephit". By 1907, two of the Greenlees brothers had relocated to Leicester, an important centre for the boot and shoe trade. By the following year, the company had 90 branches - including, it seems, the Beeston branch - and the number continued to increase, using both the Greenlees and "Easiephit" names, reaching 260 by 1935. In 1957, the company with its chain of shops was acquired by Great Universal Stores and continued to trade, now with a total of 380 stores, until the 1980s 49. The Beeston shop was to continue in this location for many years - certainly until the 1950s and possibly longer.

Many of the shops along the High Road were constructed with living accommodation above the ground floor sales area. For those shops that were operated by a family, this often provided a convenient for them to live conveniently and economically, 'over the shop'. Where the shops were operated as part of a chain they were often 'lock-up' units with any space on floors above available for rent for other use where it was not needed for storage. This might also apply if the family shopkeeper had outgrown the available space above the shop, either because of its limited space or the desire to find somewhere to live away from the shop, and had moved to a more conventional home elsewhere. 66 High Road, illustrates some aspects of this with Arthur and Elizabeth Frost the last to live 'over the shop' and the upper floors being used in other ways in the years that followed.

In our main picture, dated about 1910, we can clearly see that, Greenlees operated on the ground-floor, possibly with some storage space on the next floor, with its staff living away from the premises. As we can see, a tea shop is operating from an upper floor - requiring a large flag to make its presence known. However, this venture appears to have been short-lived as, by 1911, the upper-floors appear to be occupied by William Edwin Westmorland, his wife Annie and their 3-year-old son, John Edward (then known as 'Jack'). All three were born in Nottingham 50 so it seems they had recently moved and William Edwin offering his services as an 'extractor and adopter of artificial teeth', probably a carefully constructed description of his role which was to carry out much of the role of a dentist without formal qualifications. Although a Dentists Register of qualified dentists was started in 1879, there were still many - in fact, probably the majority - who were working in the field who had learned their skills through a less-formal apprenticeship and years of practical experience. In 1921, the position on this was to be formalised when the Dentists Act enabled those who could prove they had worked competently in the field to be accepted to the Register without having passed a formal examination 51. Westmorland was accepted on the Register, apparently on that basis, on 11 August 1922 52. In the meantime, however, his life was to face other dramatic changes. His time in Beeston was to be short as he moved with his family to Turney Street, Nottingham where their daughter was born in 1913 53. When war came in 1914, as a married man with a young family, there were not the immediate pressures to enlist but, in December 1915, he attested under the Derby Scheme and was placed in the Reserve to await recall. In the event the mobilization call came in September 1916 when he joined the Army Service Corps as a motor transport driver and was posted to France in October 1916 and served throughout the remainder of the war and attained the rank of Sergeant 54. After his return to civilian life in December 1919, he continued his dental practice in Nottingham - helped, as we have seen by his admission to the Register in 1922. For a time, around 1925, he practiced from a prominent position in the centre of Nottingham, on South Parade, but moved to Ilkeston, Derbyshire in the 1930s and was to practice there, at 1 Market Street, for about 20 years 55. His wife Annie died in 1946 followed by his death in 1949 56.

As already described, the Greenlees shoe shop remained at this address for around 50 years but, in more recent years - as for many of the High Street shops - the changes in occupants has been more frequent. In recent years it has been the location for Belle & Jerome Restaurant, continued for a time as the Rye restaurant. At the time of writing (late 2019) it is about to re-open as the Circle Eatery.

68 High Road - was the property that, as we have seen, was withdrawn from the sale in 1869. Undoubtedly, as we can now see, this was in some way connected to the death, aged only 51, of the then occupant, Jeffery Etches, early in February 1869, 57 just days before the sale was to be held on the 9th of that month. Etches, his wife Elizabeth and their young family had moved there from Nottingham, just a few years earlier and he had traded there as a tobacconist and smallwares dealer 58. Now, with the help of her older children, Elizabeth was able to continue trading from this address for a few years before moving to Middle Street, Beeston where the family business continued 59.

The next occupant, certainly by 1881, was Joseph Anderson (1852-1932), the fifth son of Joseph Anderson senior (c1816-1891) who, along with his younger brother John Roger Anderson (1856-1941), were to trade as ironmongers before going on to become very active in property development in Beeston and in local politics 60. This was the beginning of the retailing of ironmongery on this site which was to continue, under various owners - as we will see, one in particular - for over 70 years.

By 1891, the business was in the hands of John James Procter who was born in Newark, Notts in 1862, the son of Robert, a chemist, and his wife Jane 61. It may well have been expected that John James would have followed his father in the chemist shop on Castle Gate, Newark but, after Robert's early death in 1873, aged only 42 62, John James' career took a different direction. After an apprenticeship with E A Hussey, an ironmonger in Islington, London 63, he married Rebecca Moore in the Grantham area in 1889 64 and took over the shop in Beeston. It was here that their two youngest children were born - Jane in 1891 and James Richard in 1892 but, although they were trading her for s few more years - they are known to have been there until at least 1894 - by 1901 they had moved on and were living at 48 Imperial Road, Beeston 65. It was later in 1901 when Frank William, the couple's third child, was born and John James had, by then, left self employment behind while still associate with his trade, working as an ironmonger's fitter.

The next occupant of the property was Frederick Sisson Dalton and his wife Adelaide Florence (née Holmes), both born in Nottingham in 1864 and 1866 respectively. In 1891, Frederick had worked as an ironmonger's assistant in the Newington district of Hull and it was there that the couple married in 1891 and where their first child - Florence Sisson Dalton - was born in the following year 65. By about 1895, the couple had moved to Beeston and taken over the Procter's ironmongery business. It seems quite possible that he was assisted in this move by his father, William Dalton, who was a successful Nottingham butcher who was to leave over £27,000 when he died in 1917 67. But, by about 1910, Frederick, with his wife and, by now, their family of three, had moved away from Beeston and set up as a furnishing ironmonger in Southampton 68. He died in 1927, aged 62, having moved to live in Bournemouth 69.

The next occupant was to become particularly well established in Beeston and was to continue in that location for more then fifty years. Those who can remember the High Road in the 1950s will recall this shop as a traditional ironmongery where, for instance, one could buy anything they would need - including nails and screws by weight rather than in small quantities in plastic packets that is so often the norm today. The new occupant was C Hall & Sons, a company founded and controlled by Clay Hall, his sons and, eventually, his grandsons. Clay Hall (the 'C Hall' in the name) was born in Sutton in Ashfield, Notts in 1835 and started his working life as a wheelwright 70. After his marriage to Isabella Shephard in Nottingham in 1861, 71 he became the landlord of the Fox & Hounds in Union Road, Nottingham and later moved to other licensed premises on Great Alfred Street in Nottingham's St Anns District 72. In 1889, however, he changed direction completely and opened an ironmongery at 93 Derby Road, Nottingham. His two surviving sons, Arthur Clay Hall (b. 1868) and Albert Edward Hall (b. 1871) assisted him in the business from the start 73 and it was eventually to became the longest surviving ironmongers in Nottingham in that era. Clay died in 1909 74 and it seems likely that the Beeston shop was acquired at that time, coming under the direct control of Albert Edward who moved with his wife, Lucy Ann (née Cousins) and their son, to live above the Beeston shop 75. Arthur Clay Hall, who had previously lived for a while in Harcourt Street, Beeston 76, had, by then, moved back to Nottingham and remained in day-to-day control of the Nottingham shop.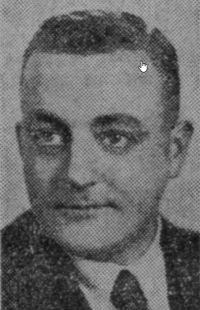 At some point in the inter-war period, probably in the late 1920s when the principals' grandsons were old enough to take over, there was another major change to their respective involvement and responsibilities. Albert Edward and his son, Charles Herbert Clay Hall (b. 1901), left the business to set up a new venture at Uttoxeter Road, Derby, manufacturing horticultural tools, including tree pruning and fruit picking equipment 77. Arthur Clay Hall continued in overall responsibility for the Nottingham shop, now with increasing assistance from his elder son, Cyril Raymond Hall (b. 1898). This enabled Arthur to take on senior positions with the National Federation of Ironmongers, both at the local level - he was the Secretary of the Nottingham Branch for ten years and was its President for three - and as a member of the National Council He was the local Honorary Treasurer at the time of his death in 1946 78.

These changes were to bring Arthur Lewis Braithwaithe Hall (b. 1901, generally known as 'Lewis', shown right), Arthur Clay Hall's second son, to take over responsibility for the Beeston shop. In 1924, he had married Gertrude Annis Cooper and they later bought a house on the newly developed Peveril Road in Beeston 79 where they were each to live out their respective lives. Electrical goods, including radios, became an important of the Beeston business in particular and Lewis was take a pioneering and energetic interest in the development of radio retailing and, eventually, in the provision of television broadcasting in the Midlands. After an early attempt by a group of Nottingham area retailers - eventually between 40 and 50, including Halls - to form a branch of the National Federation of Radio Retailers failed, it was Lewis' undaunted efforts that led to the formation of a Nottinghamshire branch of the Wireless Retailers Association in 1930. As Honorary Secretary he worked tirelessly to help to strengthen the industry and to ensure that it provided a good service to its customers. In 1937, he became Chairman of the Nottinghamshire Branch at a time when television broadcasting had just recently started and only in the London area. in the years up to the beginning of the war, he campaigned for the provision of a television service outside of London and in the Midlands in particular but, in the event this had to wait until 1949, three years after transmissions had restarted in London following the war-time close-down. In 1945, in recognition of the work that he had done in this field, he was elected President of The Radio and Television Retailers Association of Great Britain and Northern Ireland, a new national body which had amalgamated a number of earlier smaller bodies 80.

The business closed on Beeston High Road in August 1964 followed, in the following February by the death, age 63, of Lewis Hall 81. He had lived to see television ownership blossom during the 1950s - although it appears likely that his business saw little direct benefit from this demand. Ironically, it was to be others - notably, as we have seen, Alex Owen, who was to turn it into a big business success in the area. But we can say that each made their contribution in their respective era.

Since that time, the shop has had various occupants and is now (late 2019) the site of Eco Vape.

70 High Road - occupied the position on the corner of Willoughby Street and was, for much of its life, occupied by grocery or bakery businesses. The earliest occupant that we can trace is Henry Cross, born in Beeston in about 1801 and a widower for much of his life. He appears to traded here as a baker, with the help of his daughter, Milicent Elizabeth, for a few years around 1871 82, up to his death in 1873 83. He was followed by George Marrison who, certainly by 1881, was trading there as a grocer and employing one man and three boys 84. Born in Quorndon, Leicestershire in 1854 he had served an apprenticeship with the draper and grocer, Joseph Gale, in Tuxford, Notts 85. In 1878, he had married Fanny Maria Codd of Lincolnshire 86 and moved to Beeston and opened his business at this on the corner of High Road and Willoughby Street. Their first child, John William, was born there towards the end of the next year and there were to be seven more children - three of whom died as infants - over the next nine years. In around May 1890, however, tragedy hit the family when Fanny died, aged only 35 87. Apparently unable to continue the Beeston business, George arranged for his children to stay with relatives while he took a job as a grocer's assistant in Bolton, Lancashire 88. In 1891, he married Louisa Martha Lofthouse, then living in Long Eaton, Derbyshire 89 and they then settled in Bolton with his children where he had become a grocer's manager by 1901 90. The couple had a daughter of their own in 1896. George died in Bolton in 1909, aged 55 91.

The next occupant of this property was William Asher who was born in Nottingham in about 1841. He and his wife Mary (née Willis) 92 had previously lived at Alfreton Road, Nottingham where William traded as a grocer and tea dealer 93 and by the time they moved to Beeston, around 1890, they had five children, aged between about 18 and 6. In this new position, William was described as a grocer and provision dealer and, already aged 50 with two working aged sons 94, he perhaps might have hoped that one or two of them would join him in the business and take over when he retired. However, both sons followed a different path as house painters and decorators and, as it turned out, by 1894, William had begun to assist his elder son, Ernest Leonard, then based in Radford, Nottingham 95, in his growing painting and decorating business. Apparently finding this a better option than his Beeston business, William, Mary and their younger children had moved back to Alfreton Road, Nottingham 96. Their second son, William Herbert, left to settle in America in 1896, returning briefly to marry Florence Ann Wilson in 1897, before settling first in Delaware, Pennsylvania before moving to Winnipeg, Manitoba, Canada 97. Although William died in Nottingham in 1910 98, there was to be a later return to Beeston by Ernest, his wife Helena and family who, in 1939 were living on Broadgate, side by side with their son Bernard and his family in the adjoining cottage 99.

For a short period, between about 1893 and 1895, the shop was occupied by James Arthur Glazier, a relatively young man aged about 27. Although his father, step-grandfather and grandfather had all been grocers in the Horncastle and Boston areas of Lincolnshire 100, he had faced much difficulty in his childhood when his mother died, aged only 33, when he was nine, followed by his father's death 101 when he was thirteen. Nevertheless, it appears that he was able to establish himself in that trade - perhaps with an apprenticeship - as, by 1891, he had moved to Beeston and was working as a grocer 102. His wife-to-be,was Ruth Powell (née Lawrence), a Lincolnshire woman who had herself faced difficulties when her first husband, John Charles Powell, had died in 1887 after less than two years of marriage. Having then moved to Beeston to take up a position in domestic service to a family in Station Villas 103, she was to meet James Arthur. They married in towards the end of 1891, returning, as is the custom, to the bride's district in Lincolnshire for the ceremony 104. Soon after the couple settled back in Beeston, James Arthur began to trade at the High Road shop 105and, while there, two children were born to them in 1892 and 1894. For some reason, however, the venture does not appear to have been a success as, soon after this, the couple left Beeston for Staffordshire, later moving to Birmingham and then Nuneaton, with James Arthur working in a number of manual jobs 106. Three more children were born to the couple between 1897 and 1900, Ruth died in Nuneaton in 1948, after which, James Arthur was able, after their daughter Amy had married widower Frederick Everard there in 1948, to return to live out his days Lincolnshire. He died there in 1958 107.



But for a single entry in the White's Directory of 1894, there was nothing to connect James Arthur Glazier with the shop at 70 (then 36) High Road - although he had appeared elsewhere in Beeston by the time of the 1891 Census as a 'Grocer'. Based on this slim evidence, further investigation revealed the circumstances of his difficult earlier life and that of his wife to be - as well as their contrasting life together after leaving Beeston. And, as so often happens, more in depth research revealed an interesting story from the past :

James Arthur's mother was born Matilda Baumber Turner, in November 1843 to Saul and Eleanor Woodroffe (née Baumber) Turner. In turn, Eleanor's parents - James Arthur's great-grandparents - were Joseph and Elizabeth (née Fowler) Baumber. This Elizabeth's parents, Thomas and Elizabeth (née Matthews), were, it seems acquainted with Reverend George Clayton Tennyson, rector of Somersby, Lincolnshire from 1807 until his death in 1831. His somewhat turbulent marriage to Elizabeth Fytche (1781-1865), blighted by mental illness, produced twelve children, the most prominent of which was their fourth son, the poet who became the Poet Laureate, Alfred, Lord Tennyson 108.

Remarkably, it is said that Tennyson based the subject of his "Northern Farmer" poems - either the "Old Style" or the "New Style" farmer 109, it is not clear which, on Joseph Baumber, the son-in-law of Thomas and Elizabeth Baumber and great-grandfather of James Arthur Glazier 110. The poems are written in Lincolnshire dialect and give an interesting insight in the way that Lincolnshire farmers spoke in the early and mid-19th century.

A real example of the need to follow up every line of enquiry when tracing ancestors.



William Walker Tipton, the next occupant at this address has already been described when he was trading at 7 Church Street at the western end of The Square had already traded on or near the High Road. There we saw that he had been born in Newark, Notts in 1858, the son of William and Jane (née Walker) Tipton. William senior was also a grocer and, almost certainly, his son had become his apprentice when, in 1871 Jane, wife and mother respectively died, aged only 33, followed tragically, by William senior in 1876. In 1878, he married Annie Jackson in Newark and had been able to move to Beeston by 1881 and set up in business at 7 Church Street as a baker. As we speculated when we looked at that property, it is highly likely that the intervention of Miss Gamble, a Newark miller who owned the Church Street property had made it possible for this young man, in these difficult circumstances, to make the move to Beeston and get started in business. By 1891 he had moved, still trading as a baker, to the eastern end of the High Road, to what was then number 92 and now, in the mid 1890s he and wife and their five children now moved to this more central location, to trade as a baker and grocer. Sadly, in 1908, Annie Tipton died and William retired from his Beeston business to live out his life with his eldest daughter's family. This daughter, Jenny, had married had married Horace Wheatley who was to find success as a plumbing contractor. Together, they later moved to live at Skegness, where William was to die in 1917 and Jenny and Horace in 1936 and 1956 respectively.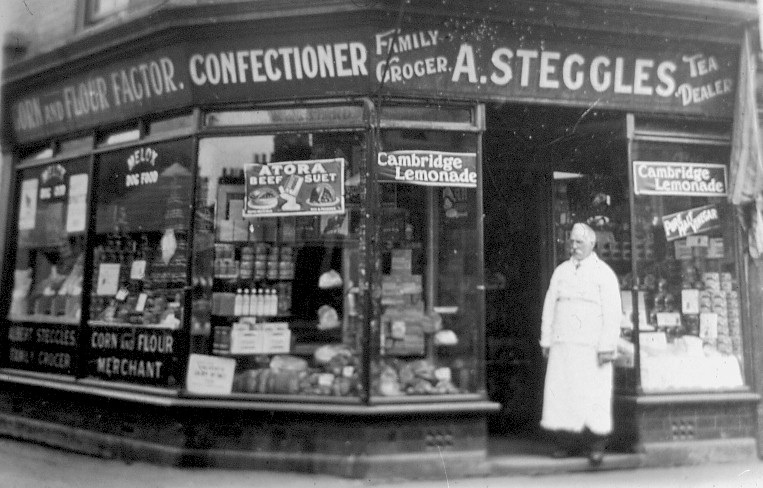 The next to occupy this shop was Albert Steggles who was born in Stevenage, Hertfordshire in 1853 111 and had moved to Nottingham as a young man as a grocer's manager 100 by the time he married Elizabeth Emma Hough there in 1879 113. After thirty years as a manager in the grocery trade, Albert had decided to put that experience to the test by moving, with his wife and the four youngest of their six children to take on the Beeston shop on his own account in about 1910 114. As the picture shows, the well turned-out Albert ran a traditional family grocer's shop, offering the personal service that was demanded by discerning customers at the time and he was also a baker as well as specialising as a tea dealer and corn and flour merchant. Memories of that time also recall his neat horse-drawn delivery van - also a must-have to serve his customers. It was a formula that appears to have worked as he was able to trade there successfully for almost twenty years - in fact, up to his death in 1929, aged 75 115. His son Walter continued in the bakery trade in Beeston while another son, Charles traded as a grocer on Queens Road, Beeston.

The shop at this location had now served as a locally-run grocery outlet, through at least six occupants, for about sixty years but now the next occupant signaled the change that had already begun to creep into the High Road when a outlert for a regional chain - the pork pie specialist, Parrs Stores were located here for several years.

Today (late 2019), the property is occupied by CeX which buys and sells DVDs, video games and digital devices



Return to Top of This Page



Notes







Return to Top of This Page





© David Hallam - 2019